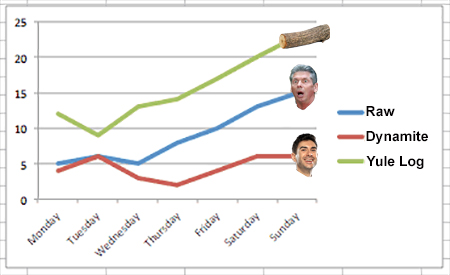 New York, NY – The revelation that the Yule log absolutely obliterated both Monday Night Raw and Wednesday Night Dynamite shocked the wrestling world and absolutely no one else. Despite running for 24 hours the entire week, ratings remained high, soundly defeating both wrestling programs.
"The traditional burning log has been a Christmas-time television staple for years. It's a built-in audience that's always clamoring for the return," explained Wrestling Observer's Dave Meltzer. "Across the board, the yule log defeated both Raw and Dynamite. Every demographic. It doesn't matter what age group, gender, ethnicity, income. Even international viewers went for it. Yule log laid the ratings smackdown on wrestling, no question."
AEW head Tony Khan was deferential to the log.
"Yule log is the true demo God," conceded Khan. "It's log, it's log. It's better than bad, it's good. Look, AEW is still a young wrestling company. It's hard to compete against a holiday tradition. That's like asking Holiday In Handcuffs to go up against A Charlie Brown Christmas. If only we had done things a little differently. I knew we should have dressed the Young Bucks up like logs for an Inferno match!"
WWE CEO Vince McMahon was less polite following the news
"Stupid crappy piece of wood," muttered McMahon. "I eat pieces of wood for breakfast. Seriously. I don't have time to cook things. Kevin Dunn and I just walk out into the woods and nibble on some trees. It keeps me regular!"
"Pop. Pop. Crackle. Sizzle," said a victorious Yule log.