Jacksonville, FL – AEW head Tony Khan chastised tag team champions The Acclaimed for running while scissoring this past week. In recent months, the duo popularized the hand gesture where they shape their fore and middle fingers like a scissor and interlock them.
Sitting in his office, the CEO addressed Anthony Bowens and Max Caster.
"Guys, it was brought to my attention that The Acclaimed was seen running while scissoring backstage at Dynamite. In fact, it was Another tag team that told me about it," revealed Khan. "For privacy's sake, let's call them The Y. Bucks. No, wait. That's too obvious. We'll say they're The Young B's. The point is, people are concerned for their well-being and we can't have you running around backstage.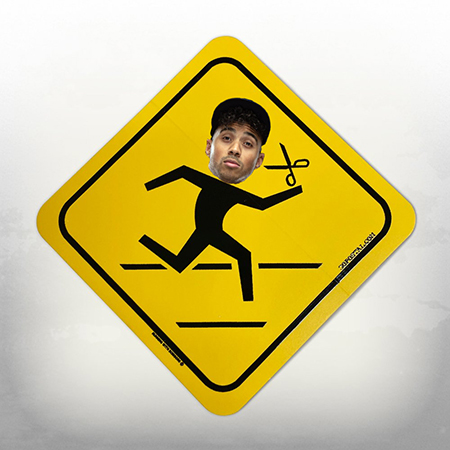 Bowens looked at his feet sheepishly while Caster already began writing a new rap in his head.
"Fellas, I run a tight ship here at AEW. Safety is priority number one for me," said Khan without a hint of irony or self-awareness.
"We simply can't have you running around while scissoring all willy nilly. Someone could get hurt. They could lose an eye or get a really bad papercut. Discipline must be meted out. First, both of you will stay after Dynamite and help break down the ring. Second, you'll sweep up the concessions and then throw out the trash. Finally, you two will write a 500-word essay on the importance of scissoring safety.
"Awwwwwww!" The Acclaimed exclaimed in unison.
Khan continued.
"From now on, I want you all to wear these as a precaution."
Khan handed Bowens and Caster two hollowed-out foam novelty scissors.
"Here, stick these on your fingers. If you're going to be scissoring while running, you're going to do it safely," said Khan putting the foam on his wrestlers like a glove.
The AEW Tag Team Champions awkwardly tried to do their signature gesture, accidentally hitting each other in the face several times. Eventually, they slowly shuffled out of the office with their fingers wrapped in foam. Laughter from other members of the roster could be heard echoing throughout the building.
"Scissor me timbers, those are some safe wrestlers," said Khan proudly.