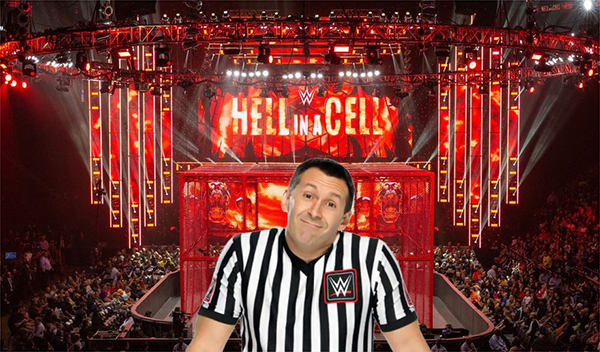 Rosemont, IL – Last night's WWE "special event" was delayed for over two hoursl after the keys to the Hell In A Cell were accidentally locked inside the cell.
After setting up the ring and lowering the steel structure, two referees locked the cell door. All appeared to be well, until they stopped halfway up the ramp. Dread swept over the ring crew after several members patted their pockets in search of the keys. Their fears were realized when they saw the keys lying just out of arm's length inside the cage.
Backstage officials frantically tried to open the door to no avail. The WWE locker room emptied, each wrestler trying in vain to reach the keys. Several tried to rip the cage door off, but with no Mark Henry or Kane on the active roster, no wrestler was strong enough to do it.
"I tried releasing the keys, but that didn't work," said a frustrated McMahon. "I was all out of ideas after that."
"When bolt cutters didn't work, we tried calling AAA. Unfortunately, they said it would take a few days before El Hijo del Vikingo could make it to the arena," explained Executive Director Bruce Prichard.
Finally, someone had straightened a coat hanger, placed a wad of chewed up gum on one end, and reached into the cell. A low "Ooooooh" from the crowd rose as the makeshift key catcher got closer and closer. The sticky gum pressed into the keys, lifting them off the crowd. The arena roared with approval as the keys were removed from their prison. Chants of "Yes! Yes! Yes!" echoed throughout the building when the lock was opened and the event could finally begin.
To prevent future issues with locks, McMahon has instructed his team to leave a spare key underneath the doormat of every arena.