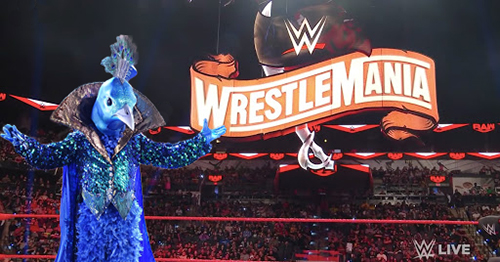 St. Petersburg, FL – In a shocking turn of events, a man in a giant peacock costume won the Royal Rumble.
With its iridescent coloration and expansive feathers, the large man-bird entered the Rumble at the coveted 30th spot. Confused and terrified, many Superstars eliminated themselves in an act of self-preservation. After extensive flexing, preening, and pecking, Peacock made short work of eliminating the rest of his opponents.
"Party fowl!" yelled Riddle after being unceremoniously dumped over the top rope by the peacock.
"On the one hand, I'm mad that I lost. On the other hand, it's great to see nature thriving," said Daniel Bryan.
"That's the scariest effing thing I've ever seen," said The Fiend.
Amid complaints from other Superstars, WWE Official Adam Pearce said, "There's nothing in the rulebook that says a bird can't compete. Therefore, Peacock is going to Wrestlemania."
Winning the Royal Rumble earned the peacock the right to challenge for a world championship of his choosing. Due to not having a peacock-to-English translator available, no decision has yet been made. Both current WWE men's champions issued statements following the match.
"The Roman Empire will never fall to some overgrown chicken," said WWE Universal Champion Roman Reigns. "This is the Big Dog's yard, not some private zoo owned by an eccentric weirdo."
"Look at him strutting around like he's cock of the walk. Well, let me tell you he is cock of nothing!" declared WWE Champion Drew McIntyre.
While many fans believe this win is due to WWE's new deal on NBC's Peacock streaming service, Vince McMahon
"Peacock has been on our radar for a long time. He was trained by fellow WWF legends the Gobbledy Gooker in all forms of bird combat. What better event to debut this fine, feathered friend than on the road to Wrestlemania?"
Following the event, a documentary featuring Peacock's early life premiered on the Peacock streaming service.