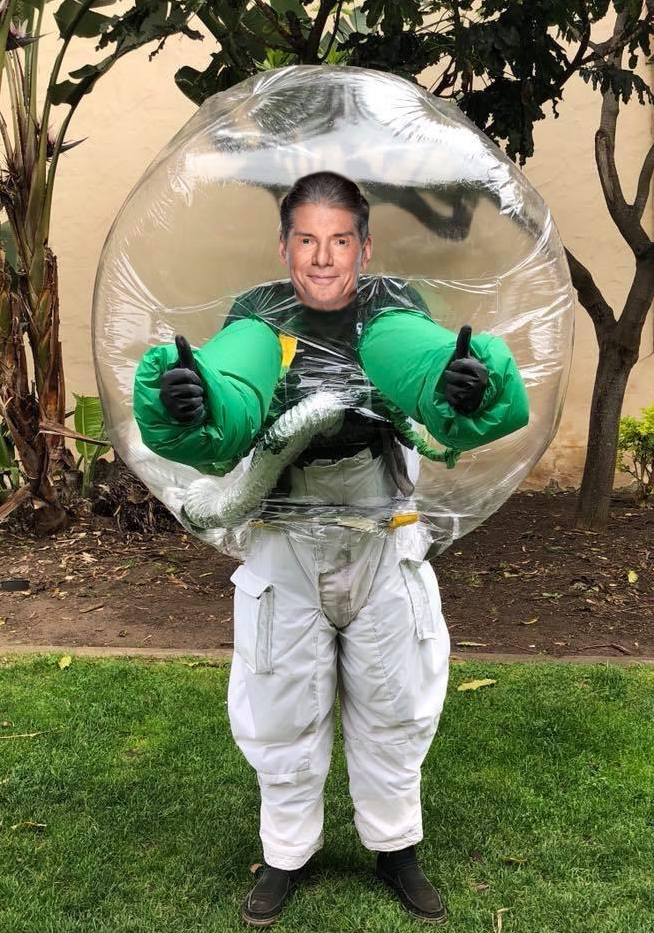 Winter Park, FL – WWE CEO Vince McMahon reiterated his declaration that Superstars, personal, and fans not wear masks. Despite his decree, McMahon himself has encased himself in a plastic sphere similar to the Bubble Boy, David Vetter.
McMahon, who entered the protective bubble earlier this week, as opposed to the metaphorical one he's lived in for the past 40 years, insisted that the Performance Center is safe.
"We've taken every possible precaution," insisted McMahon. "Everyone who enters the building has their temperature taken. We ask how they're feeling. Then we douse them in a mixture of water and vinegar. Masks are unnecessary and only show weakness. We have nothing to worry about!"
To allay the concerns of the WWE Universe, McMahon pointed to WWE producer Kevin Dunn.
"See? Kevin doesn't have a shield or mask or anything and he's fine!" maintained McMahon. "The warm Florida sun has disinfected any possible diseases and viruses Kevin may have come in contact with when I take him for a walk around the block."
Dunn sneezed violently, causing McMahon to recoil.
"Get him out of here! Unclean! Unclean!" screamed the medically vulnerable 74-year-old. "Is it hot in here? I can't breathe! The bubble is fogging up again! Help!"
Terrified, McMahon tripped inside the bubble, causing it to bounce throughout the Performance Center. It took several minutes for WWE staff to get McMahon under control, leaving him queasy and questionable for tonight's Raw. Dunn has offered to donate his immunities to McMahon until he recovers.