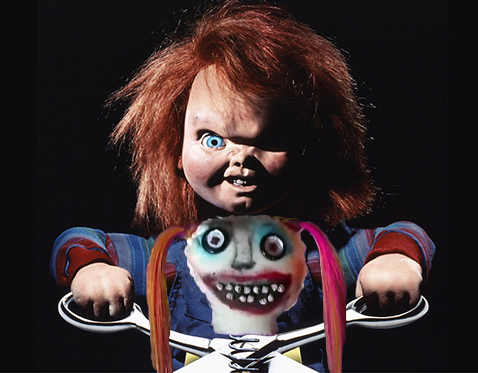 Hollywood, CA – Killer doll and former WCW alumni Chucky spoke out recently condemning Alexa Bliss's magical doll Lilly.
The serial killer-possessed "Good Guy" doll expressed his disgust in a Youtube video from his Power Wheels.
"We may be magical, killer dolls, but we have our dignity," said Chucky. "Hollywood has a long history with murderous marionettes. Whether it's Annabelle, Talky Tina, or even those freaks from Puppet Master, we always had our self-respect. This Lilly chick is an embarrassment to the artform. Shutting the lights off? Appearing in mirrors? That's child's play."
Chucky then went after Lilly's unique looks.
"What happened to your teeth, sweetheart?" cackled Chucky. "Did you owe some money to Isaac Yankem? Who did your hair, Brutus 'The Barber' Beefcake? Was your makeup done by Ronda Rousey? The only thing you're killing is the ratings!"
The 13-minute video continued in the same vein through several ad breaks. After recapping his legendary appearance on WCW Nitro, verbally jousting with both Rick Steiner and "Mean" Gene Okerlund, Chucky issues an open challenge.
"Lilly, I'm calling you out," said Chucky in-between fits of laughter. "You versus my main squeeze Tiffany at Hell In A Cell. Loser has to star in a direct-to-Netflix sequel!"