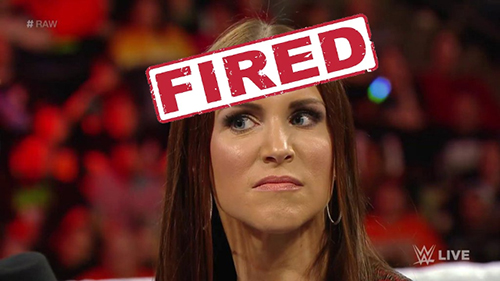 Stamford, CT – Citing budget cuts, WWE officially released Chief Branding Officer Stephanie McMahon this past weekend. The surprise firing came directly on the heels on releases of rising stars such as Karrion Kross, Keith Lee, and Franky Monet.
Initially, journalists and fans did not pick up on the release. The news went under the radar for several days until Sean Ross Sapp of Fightful.com started digging.
"Buried in all the news was this weird, one sentence on the website, talking about the release of someone I'd never heard of," explained Sapp. "The WWE would like to wish Gertrude Lipschitz the best of luck in her future endeavors'. That's all it said. I asked around to my contacts and no one would give me a straight answer. After searching the Fightful.com archives, I came across a microfiche of an article from a small-town newspaper announcing a casting call for Vince McMahon's daughter."
The shocking revelation led Sapp down a rabbit hole of backroom deals, misdirection, and double sitches.
"I knew I was on to something big when I received a tip from someone going by the alias, 'Slobberknockers'," explained Sapp. "They gave me everything. Audition tapes, contracts, receipts. All of it. There is no Stephanie McMahon. There never was. There's just character actress Gertrude Lipschitz. You don't want to know how far this thing goes."
"I've been playing the role of Stephanie McMahon for almost 25 years," said Lipschitz on the Figure Four Daily radio program. "Early on, the role of Stephanie went to a few different child actresses, but after a casting call I got the part and managed to keep it for years. At first it was great, seeing the world, getting to yell at and berate giant men in front of millions every week. The whole thing got stale over the past decade or so. Just the same stuff every week. I mean, what even is a 'Chief Branding Officer' anyway? At the end of the day, I was just tired of playing this character and wanted to move on. I'm now free to take on new characters, new stories, and not have people yell 'What?' at me every time I speak."
Following her departure from WWE, Lipschitz has announced that she will be taking on the part of Eliza Doolittle the Waterbury Community Theater's production of My Fair Lady.