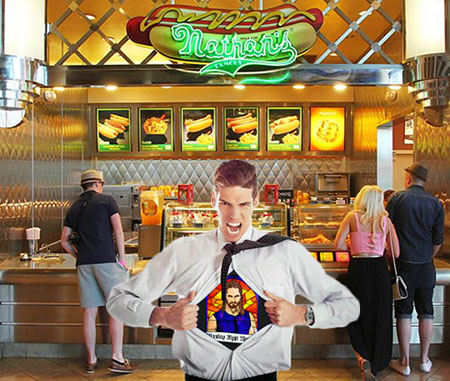 Brooklyn, NY – In a shocking turn of events, a concession stand employee at the Barclay's Center ripped open his shirt to reveal that he is a disciple of "The Monday Night Messiah" Seth Rollins.
Rodrigo "Hot Rod" Robles, a part-time Assistant Manager at Nathan's Famous and diehard Rollins fan, spent his shift messing with the food of any Kevin Owens fan. His culinary mischief included over-salting chicken nuggets, switching the ketchup and mustard dispensers, and squishing hot dog buns. Any fan wearing a Rollins, Authors Of Pain, or Murphy shirt received a surprise onion ring in their french fry order.
Mid-way through Raw, Robles' prayers had been answered. None other than Kevin Owens himself was standing in front of his register.
Owens, who last week slammed a referee wearing a Rollins shirt through a table, approached the stand. "Yeah, can I get two chili cheese dogs, fries, and uhhhhh, a liter of cola?"
Robles flashed a devious smirk and said "Coming right up." After arranging the food and telling Owens his meal was "on the house", Robles watched the wrestler with impatient glee.
"That's right, Kevin. Enjoy your meal. Muhahahaha!" laughed Robles maniacally under his breath.
Owens, sipping his drink, said "Huh. Tastes like root beer. Oh, well." The former champion shrugged and walked away.
"Yes. Yes!" screamed a triumphant Robles, tearing his work shirt to reveal a Seth Rollins shirt beneath. "That's what you get for messing with the Crossfit Savior! All hail the Monday Night Messiah!"
Robles was quit the next day to open his own traveling tent revival dedicated to Rollins.