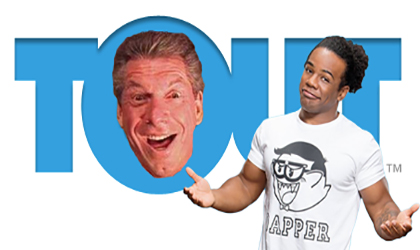 Stamford, CT – Following Vince McMahon's directive to close all third-party social media accounts, WWE wrestlers have now been instructed to set up accounts on Tout.
Tout, a social media platform that specialized in 15-second videos, was heavily promoted by WWE in 2012. Despite investing $5 million into Tout, WWE left the partnership in 2014. The company became inactive a few years later, but WWE CEO Vince McMahon is bringing it back.
"On this Labor Day, it's important for a humble businessman like myself to assert total control and dominance over the proletariat wrestlers," said McMahon. "No outside deals. WWE employees can only use Tout for social media. Days now contain 25 hours. Triscuits will now be replaced by Saltines in catering. Boss McMahon has spoken!"
Several WWE wrestlers have expressed their concern about Tout and McMahon's iron rule.
"It's kind of hard to do 'Let's Play' videos in fifteen second clips," said Xavier Woods. "By the time I say 'Welcome to UpUpDownDown', the show only has twelve seconds left!"
"I don't like it. It's going to be a lot harder reaching fans around the globe," said flat-earther AJ Styles.
"Without my endorsements and Instagram followers, I'm just a wrestler. Gross!" said Lana
Not all wrestlers were unhappy with the move though. A few have tried to put a positive spin on the harsh restrictions.
"Eat a whole pizza! Fifteen seconds! Challenge accepted! Oh yeah!" said Money In The Bank Winner Otis.
"Wow! People will actually get to see me again!?" said former WWE Champion Jinder Mahal.
To assuage fears of lost income, McMahon has offered to give each employee an unopened tub of ICOPRO or a St. Louis Battlehawks jersey. So far, there have been no takers.