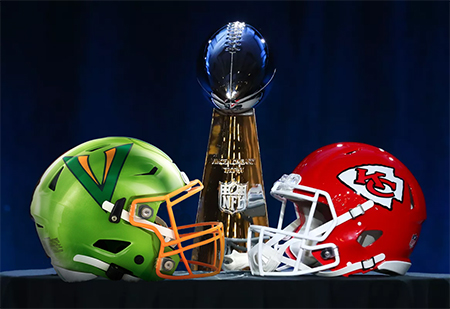 Tampa Bay, FL – In an unprecedented turn of events, the XFL's Tampa Bay Vipers defeated the Kansas City Chiefs to win their first ever Super Bowl.
Led by quarterback Taylor "Corndog" Cornelius, the Vipers decimated Chiefs' secondary. Crisp, tight spirals soared majestically through the air all night, netting a record seven touchdown passes. On the defensive side, former Super bowl MVP Patrick Mahomes was constantly under pressure by the Vipers' relentless line. The normally agile Mahomes was smothered with 7 sacks for a loss of 83 yards.
The incredible switcheroo occurred after Buccaneers quarterback Tom Brady took the team out for dinner. Trouble soon bubbled up after the team finished their meal at the last Sizzler on the east coast.
The combination of "savory" seafood, Double Malibu chicken, and, hand cut steaks created a perfect storm of gastrointestinal problems for the team. The entire team was unable to compete and, rather than delaying the biggest sporting event of the year, an audible was called.
"The tickets say 'card subject to change'," said XFL co-owner Dwayne Johnson, pointing to his head. "The NFL laid a hot tag to the XFL who was on the apron, chomping at the bit. The Tamp Bay Vipers laid the smackdown on those rooty-poo Chiefs. If the NFL wants to compete with us, they'd better bring it next year."
With confetti still falling in Tamp Bay, the NFL is already considering adding the Vipers to the league. The Buccaneers, on the other hand, are currently resting at home and getting lots of fluids.
"Gronk's tum-tum still angry," said former WWE 24/7 Rob Gronkowski.