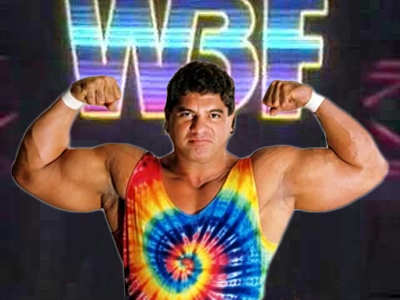 Sunset Beach, HI – WWE Hall of Famer Don "The Rock" Muraco shocked the business world this week by announcing that he has purchased the World Bodybuilding Federation.
The WBF was the brainchild of WWE CEO Vince McMahon in 1990. Believing that competitive bodybuilding was the way of the future, the WBF held two Pay-Per-View events before disbanding in 1992.
The surprise announcement has taken the world by storm. Stocks soared on Wall Street with record gains being reported by GNC, Under Armor, and Krispy Kreme Donuts. Unopened tubs of ICOPRO are currently being sold for exorbitant amounts on eBay. Even a Craigslist post selling former WBF competitor Berry "Flexing Dutchman" De May's Dutch oven appear before quickly being removed.
The purchase, reportedly in the tens of dollars, was a no-brainer for Muraco.
"The Magnificent Muraco knows how to diversify his portfolio," said Muraco wiping powdered sugar from his tie-dyed shirt. "First you have to buy a portfolio. Then you have to buy stuff to put in the portfolio. See? This one has some M&Ms, a couple of ham and cheese slices, Ritz crackers, and a Capri Sun. That's called smart investing. No, wait, this is just a Lunchable."
After hearing of the acquisition, former WBF Champion Gary Strydom said, "I'm incredibly excited to hear that the WBF is back. I would love to come back and be a part of this tax scheme…I mean legitimate return for a legitimate company in a legitimate sport."