A Wrestlecrap Guide to G-1 Climax Shirts
Hi my name is Paul Sebert, and I've been a wrestling fan since childhood even writing a (a frankly terrible) wrestling column for college paper during the Monday Night War years. In more recent years I've been something of a contributor to this website, submitting many candidates to Paul Kraft's "It Came From Youtube" and "Someone Bought This" columns. You might also know me as Paul In Barboursville, a somewhat regular Observer Live caller. Anyway I'm Wrestlecrap's new correspondent on New Japan Pro Wrestling. Far from being the dry purist promotion that some American fans believe it to be, NJPW has a colorful history full of hilarious, strange, and outright bad moments. In coming months we'll talk about Brock Lesnar's disastrous run as IWGP champion, the sadness of the Hunter Club stable, and outright insanity of "Inoki-ism." For now, enjoy this look at the wacky world of New Japan Merch.
---
For those who are unfamiliar with New Japan Pro Wrestling, the G-1 Climax is a grueling round robin tournament between 20 men spread out among 19 cards over the course of a month. Grudges are settled, title matches are set-up, and fans get to see bouts that cross the usual heel/face dynamic. This year also has a theme-song performed by a rock-group made up exclusively of furries. It's a pretty awesome time to be a wrestling fan…and it's also a time that New Japan puts out a ridiculous amount of merch. While popular stables like Los Ingobernables De Japon and The Bullet Club get most of the merchandise, almost everyone down to the lowliest jobber entry in the tournament gets his own gear. Thankfully, many of these shirts are now available on NJPW's Pro Wrestling Tees store . You can even import merch from the company's Japanese shop, such as an Okada Bath Towels and an EVIL Teddy Bear.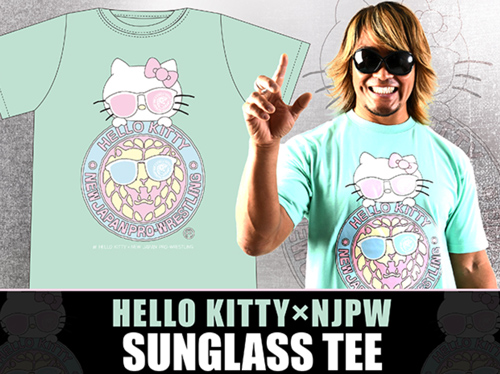 Hello Kitty X New Japan Tee
Sanrio has had an unlikely partnership with New Japan for a number of years now, but this new shirt may take the cake as the most bizzare. It's a Miami Vice pastel green nightmare that has both Hello Kitty and the Lion Mark Logo wearing sunglasses. Together they fight crime! Not pictured: Yuji Nagata as the cranky police chief who wants them both off the force.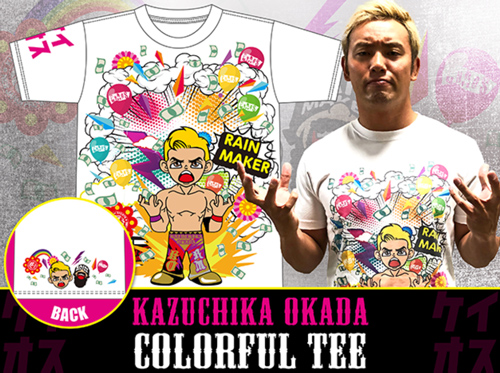 Kazuchika Okada Sure Is Colorful
You gotta respect Okada. He's come off the longest IWGP title run in history and perhaps the greatest year any wrestler has had in any promotion ever. He also had the top-selling T-shirts in both Japan and the United States and set a number of trends. It's like he said "So what sells now are serious looking black shirts with simple designs? Give me the exact opposite of that! I want a white cartoon-shirt bursting with color… and can you slap some balloons on there?" It's like a wrestling shirt designed by Street Cherub.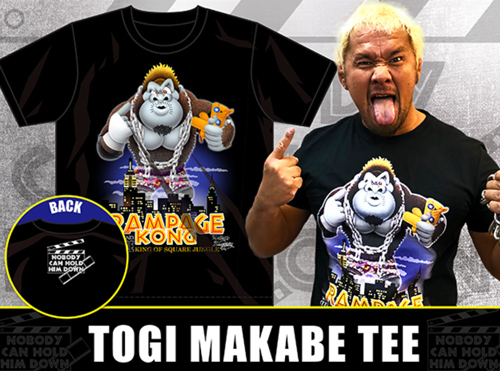 Togi Makabe Is a Cartoon King Kong
"The Unchained Gorilla" Togi Makabe is a grizzled veteran who has found a whole new audience as a popular food blogger and frequently makes appearances on Japanese Television visiting various bakeries and ice cream shops. He's like if Guy Fieri was a professional wrestler! I can think of few shirts more fitting than one depicting him as a lovingly illustrated cartoon King Kong…though this design reminds me more of that weird Netflix Cartoon where King Kong fights a sexy robot lady.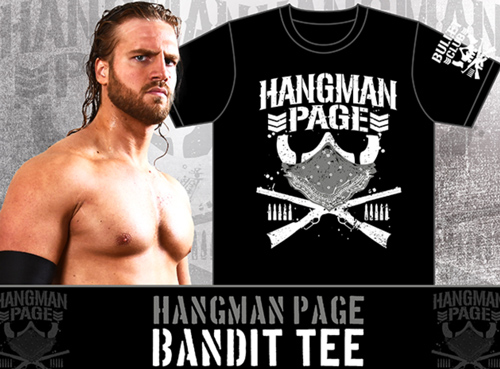 Hangman Page Has a Bullet Club Shirt
Ring of Honor stand out, Being The Elite star, and alleged murderer of Joey Ryan, Hangman Page is getting a great opportunity to make a name for himself in this year's G-1. While his ring work will give hopefully allow him to stand out his shirt…probably won't. It's a Bullet Club Shirt and well if you already have one of those plus Kenny Omega, Young Bucks, Cody, Marty Scurrl, and Guerillas of Destiny shirts well… here's another one to round out your collection.
Speaking of Bullet Club Members here's Bad Luck Fale….
You know how it used to be that once a year the WWE would pretend that the Big Show is completely unbeatable leading into the Royal Rumble? That's Bad Luck Fale's deal. As the Bullet Club's resident 344 pound monster, Fale spends most of the year playing the part of a bodyguard and beating up Yoshi-Hashi in Six-Man matches. Then the G1 rolls around and the announcers are like "Bad Luck Fale has pinned Okada! Bullets cannot stop this man! We may all die at the hands of this indestructible Tongan ubermensch! It was perhaps the greatest folly of all mankind to incur his wrath!" You know, all the way up until he inevitably gets eliminated in the last week of the tournament.
Recently The Guerillas of Destiny, Bad Luck Fale, and weirdly enough King Haku broke off from the Bullet Club to form a rival group, The Firing Squad. Fale has a partnership with a site called Silver Lion Sports King that distributes New Japan Merch in New Zealand & Australia which allows him to market his own unique T-shirts – clearly a great opportunity to market himself.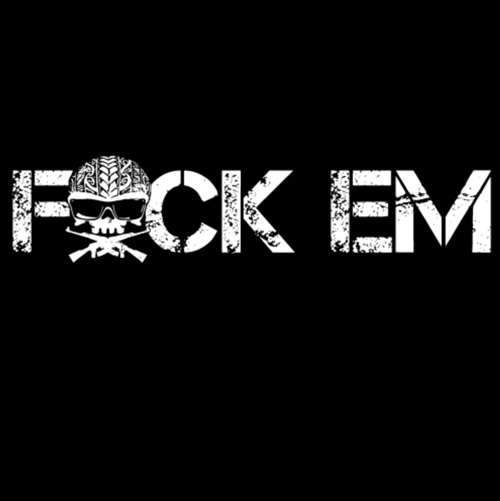 Or… not.
Apparently Fale yelling this is now a running gag. Good luck explaining that to non-wrestling fans.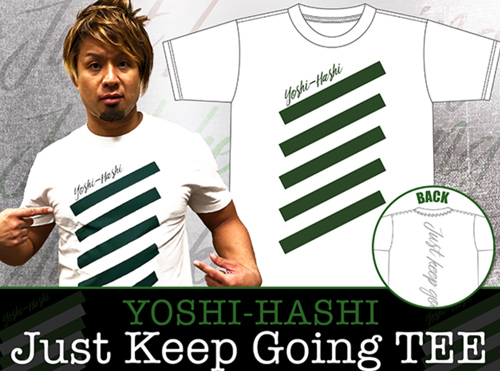 Not Even Yoshi-Hashi Wants A Yoshi-Hashi Shirt
Poor, poor Yoshi-Hashi. Not that long ago he was a star in the making just waiting to break free of the pack. Now he's the guy that Bad Luck Fale pins in six and eight-man tags. As Chaos's resident jobber this shirt perfectly captures the existential sadness of Yoshi-Hashi. It's his name over a few stripes and the words "Just Keep Going" on the back. Yoshi-Hashi looks like he's going to say "eh… it's a living" like a bird in a Flinstones cartoon.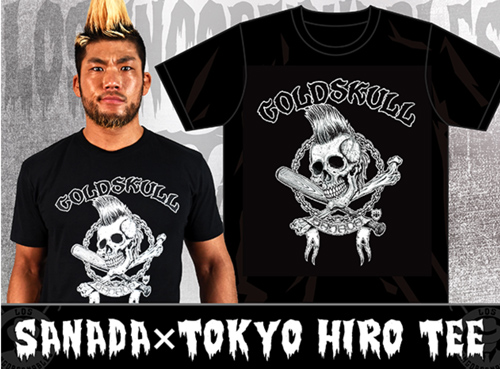 Sanda & Tokyo Hiro: Coming to a Hot Topic Near You
"Cold Skull" Seiya Sanada is one of those countless talented guys that Impact had and yet dropped the ball on (assume an induction of James Storm's Revolution is inevitably down the line.) As a member of the super popular Los Ingobernables De Japon faction, he's a former tag-team champion and a standout. His new T-shirt is designed by Tokyo Hiro, a very famous and respected tattoo artist. That's cool, but I can't help but wonder how long it's going to be before dozens of confused U.S. Hot Topic employees place it in the music section, thinking "Coldskull" must be some new Grindcore band.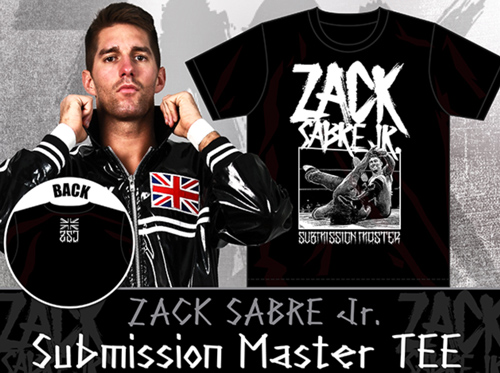 Zack Sabre Jr. Tortured A Man For This Shirt
Noodely British Wrestler Zack Sabre Jr is an utterly charming human being who, when not talking smack about the Tory Party, enjoys putting people in submission holds that defy the standards for Geneva Convention. So one can't be too surprised his new shirt is a photo of him doing just that. But remember – some poor sap was maimed in order for this shirt to exist.
That man no longer has a spleen.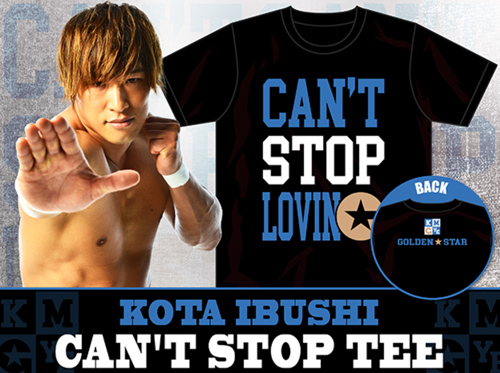 Kota Ibushi Can't Stop Loving
The last two years for Kota Ibushi have been remarkably weird. He's starred in a movie where he wrestles giant monsters, competed in the WWE's Cruiserweight Classic, became a live-action cartoon superhero, and now he's IWGP Heavyweight Champion Kenny Omega's tag partner/life partner as one half of the Golden Lovers. His new shirt is here to remind you of all the sexy times he's having!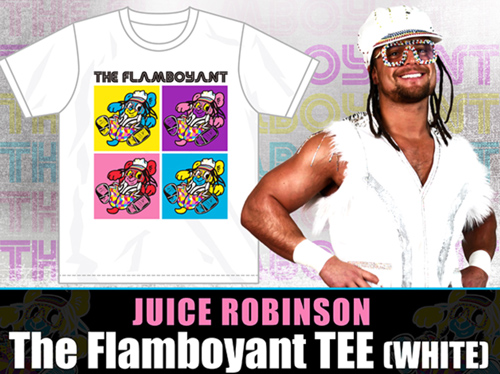 The Flamboyant Juice Robinson's Shirt Isn't Really That Flamboyant
Remember C.J. Parker the NXT rookie, with the thankless gimmick of being an evil hippie? After leaving NXT he came to New Japan, completely reinvented himself, becoming a much better wrestler and one of the company's rising stars. He has also taken up a new persona that mixes elements of Superstar Billy Graham and Jesse The Body Ventura. The Grateful Dead-esc multicolor hippie bears are kind of puzzling throwback to his NXT days.
---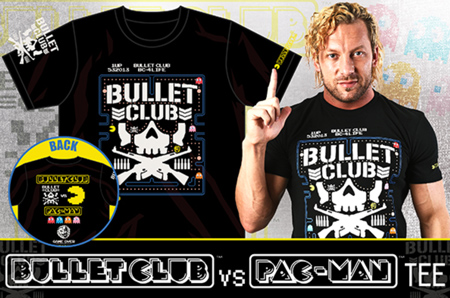 Love Bullet Club AND 80s Arcade Games? Who Doesn't?
Well do you? Because you can choose between Pac-Man running through a maze…or a tiny Bullet Club logo running around a maze that is about to be devoured by a Giant Pac-Man.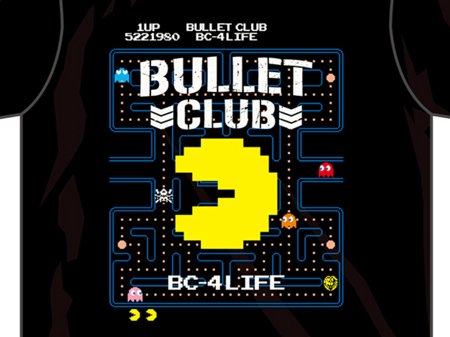 Kenny Omega is fairly famous for being a gamer having challenged Xavier Woods at the E3 convention, and he also booked a show at this year's CEO Gaming convention…but this shirt is kinda puzzling. We love the yellow guy and all, but the most recent Pac-Man game Pac-Man Championship Edition came out three years ago. So it's not exactly top of the mind. Personally, we'd have preferred a Tekken tie in – after all, the newest Tekken game gave you the option of dressing up your fighter in a Bullet Club shirt!
---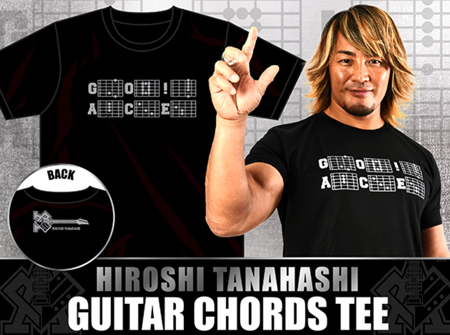 The Japanese John Cena
Hiroshi Tanahashi is for all intents and purposes Japan's answer to John Cena and the fact the two will in all likelihood never have a match makes me immensely sad. Like Cena, Tanahashi became the face the company mid-decade following a sharp downturn in business in the early 2000s. Both Cena and Tanahashi have consistently great main events despite having a vocal backlash from fans who resent them for being a clean-cut babyface that almost never loses. Tanahashi is even dabbling into movies now with a family comedy called "My Dad Is A Heel Wrestler" coming out in September. If that doesn't sound like some horrible z-budget flick coming out of WWE Studios, I don't know what does.
Anyway Tanahashi's new shirt is features the opening cords of his current entrance theme "Love & Energy" along with the "Go Ace!" chant at the beginning of it. However a lot of fans prefer his classic theme song "High Energy" and consider the change a couple of years ago to be a mistake.
I agree and I also consider "The Time Is Now" to be inferior to "Basic Thuganomics." Not that it matters, I suppose, as no Cena shirt has ever featured sheet music.
---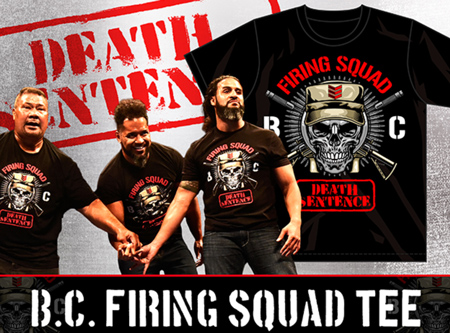 The Firing Squad is an Exercise In Excess
The Firing Squad AKA The Tongans AKA The Bullet Club-OG are a heel spin-off of the Bullet Club nominally heel stable. You see, before the Bullet Club were anti-heroes or even cool heels they basically existed as a way of getting heat on Prince Devitt (Finn Baylor) by interfering in all his matches as evil Westerners. It was a meta-storyline about WWE style Sports Entertainment Bullshit invading the more traditional New Japan. Over time the dynamic changed as the company became more entertainment based and other heel factions started to pop up. Today the club's leader Kenny Omega is the IWGP Champion, The Young Bucks are Tag Team Champions and together they are the popular face of the company's western expansion. In the end, you could argue The Bullet Club won.
But The Guerrillas of Destiny AKA Tama Tonga and Tanga Loa (the sons of King Haku AKA THE MONSTER MENG) and Bad Luck Fale appear to miss being unrepentant vulgar dirty heels. Therefore, they've split off into their own completely vicious evil version of the Bullet Club. Sound good? It would be, were it not for the fact that if you've seen one Tama Tonga singles match, you've seen them all. It doesn't help that you can set your watch by the timing of the run-ins.
As for the shirt well… eh. I like the idea it answers the age old question "how do we make an evil version of the Bullet Club Skull?" with "More bullets! Make the skull scowl! Oh and put a hat on it!"
---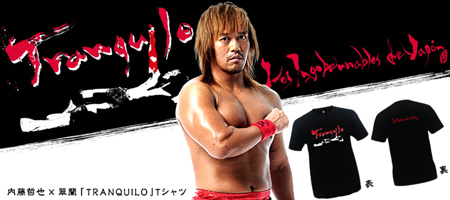 Naito is maybe a little too Tranquilo?
Four years ago, Tetsuya Naito was a fairly bland babyface character that was booked to fight for the IWGP Heavyweight title at WrestleKingdom. Fans were so apathetic to Naito that the main event for the company's biggest show of the year and for the first time ever an Intercontinental Title match closed out the show. Naito was promptly sent off on an extended tour of Mexico and brought back with new gear, new music, and a new smart-ass bitter heel persona. That was a very good thing.
He was also given a new heel stable a spin-off of CMLL's popular Los Ingobernables. Over time, Naito would become one of the company's top stars and Los Ingobernables De Japon became such merchandise movers that they're now defacto babyfaces.
As for the shirt…it's pretty good I guess. Naito pointing to his "Tranquilo" catch-phrase in a signature pose. Maybe a little too relaxed, like he's about to take a nap or something. I'd suggest ordering this one two sizes too big so you could wear it as a nightshirt.
---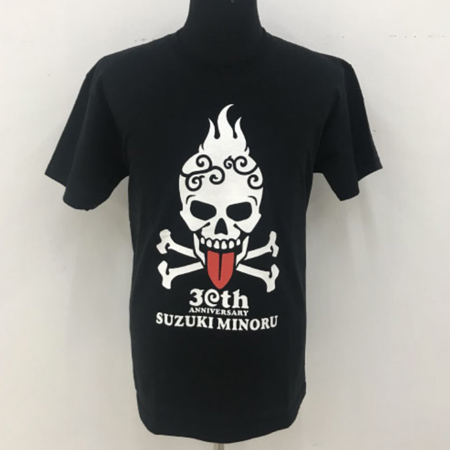 Minoru Suzuki's Anniversary Shirt is Prematurely Dated
Minoru Suzuki is a grizzled old martial artist who is like the real life modern day version of a villain in a Shaw Brothers Kung-Fu movie. He has a faction called Suzuki-Gun (translation Suzuki's Army) that used to belong to Satoshi Kojima until Suzuki was like "Nice army…I'll take it." Whenever Suzuki loses a match he takes out his frustrations by beating up innocent bystanders, such as wrestlers in training or the geeks on the ring crew. When this happens, bystanders celebrate.
In case something is lost in translation, let me simplify things by saying Minoru Suzuki is pretty freaking awesome!
Suzuki has his own clothing company called Piledriver and occasionally produces his own indy shows including one called "The Great Pirate Festival" which commemorates the 30th Anniversary of Suzuki's career. The commemorative shirt has a pirate flag with Suzuki's signature top-knot haircut, a haircut Suzuki actually hasn't had since January of this year when Suzuki lost a hair match. It's sort of like when Ring of Honor used to sell a "Fear the Mullet" Michael Elgin shirt after Elgin had his head shaved. Whoops!
---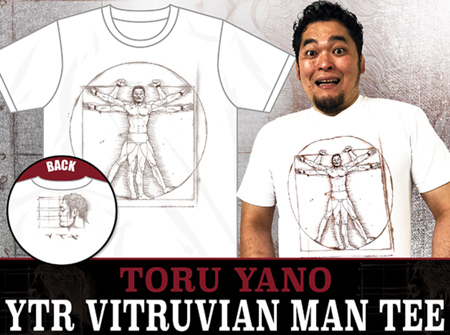 Yano Is The Hero We All Need
Tor Yano is a rather divisive figure among NJPW fandom as fans tend to love him or hate him. The fact you're visiting WrestleCrap.com is probably a sign you're going to love him. You see, when Yano has a match New Japan, suddenly stops becoming a technical showpiece wrestling show and turns into a Three Stooges comedy. Yano's a borderline pathological cheater who frequently employs clever and frankly ridiculous underhanded methods. One time he tied Juice Robinson's dreadlocks to a guard rail – another time, he attempted to mummify Minoru Suzuki with athletic tape.
One of Yano's nicknames is "The Genius Producer" because hosts and shamelessly promotes a series of comedy DVDs. Because of this, Yano's merch usually depicts him as some manner of genius. Such is the case here, as we get an amalgamation of Leonardo da Vinci's Vitruvian Man with Rob Van Dam.
That is genius. And probably the greatest sentence I will ever write in my life.
---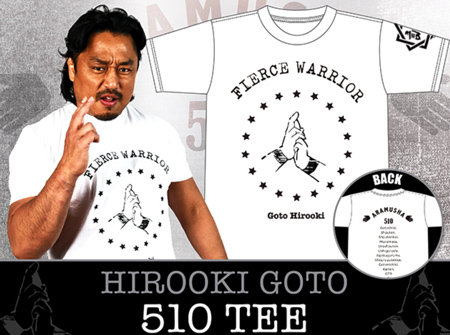 Hiroki Goto, Never As Awesome As You Want To Be
Remember back in the mid 1990s when every WWF wrestler had a part time job like The Repo Man, Duke "The Dumpster" Drose, or Dean Douglas? Hirooki Goto is like that but his job is a samurai. That may sound awesome, but while Goto is certainly a talented wrestler, he's never quite as exciting as you want a modern samurai to be. This despite the fact he's essentially a real-life SNK fighting game character walking around. I realize a lot the depictions of Japanese wrestlers in American history are regrettable, but this guy would totally benefit from having Gary Hart in his corner talking about the "deadly secrets of the East".
As for the shirt… it's certainly a cool idea. You have a nice minimalist design of Goto's hands in a Misogi (waterfall meditation) pose and a list of his moves on the back. It just seems perhaps a little too minimalist?
Much like Goto himself something just seems to be missing.
Man I miss Gary Hart.
---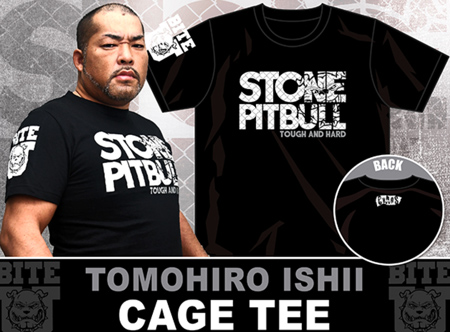 Tomohiro Ishii Rocks…But His T-Shirt Doesn't
Tomohiro Ishii freakin' rocks! He's an angry barrel of meat with sledgehammers for fists!
And just like that, the greatest line I'd ever write is replaced.
Ishii is rarely at the top of the card, but pretty much anyone in title contention has to go through the "The Stone Pitbull." Imagine 2000's era Smackdown GM Teddy Long in a New Japan ring blurting out "Tonight you're facing Ishii player!" and there would be real suspense over whether Randy Orton could actually beat Ishii in order to get a championship opportunity.
Player.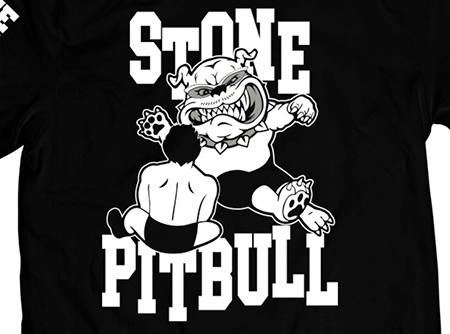 Sadly, his new shirt is disappointing as it obstructs the view of Ishii's rad dog logo with text and a chain length pattern, suggesting that Ishii's going to…I dunno…have a cage match? If you want an Ishii shirt check out this one instead… I mean look at this glorious thing.
---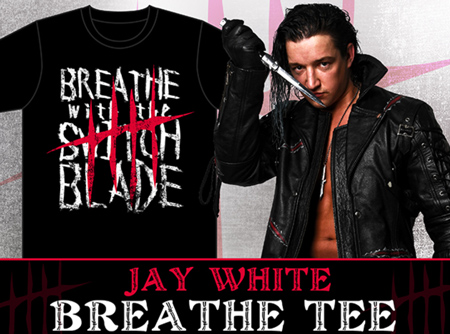 Just What Is Switchblade's Deal?
Last year for several weeks NJPW fans were treated to weeks of hype videos for "Switchblade", a creepy serial killer like character. Fans speculated several different candidates, with many thinking it would be Sami Callihan who was booked for his debut at the World Tag League. Instead Switchblade was revealed to be Jay White, a skinny young wrestler from New Zealand who appears to be barely old enough to shave and talks like a theater geek. He's overtly a heel, yet inexplicably a member of the babyface Chaos faction. His catchphrase is "Breathe With The Switchblade"…maybe I'm just not cool enough to get that, but it seems to make zero sense. How on earth does one breathe with a switchblade? Do you cut a hole in your neck to get air flowing closer to your lungs?
Despite being booked with Kenny Omega, Hiroshi Tanahashi, and Kazuchika Okada the best match White has had all year is with former NXT castoff Juice Robinson. So perhaps he's the rare person that would be better off in NXT than in New Japan.