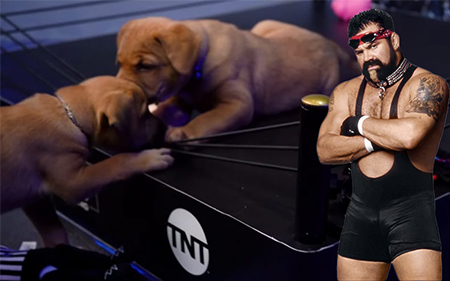 Orlando, FL – Former WCW star Rick "The Dog-Faced Gremlin" Steiner has issued an open challenge to Puppy MJF following his win at the AEW Puppy Battle Royale.
Steiner, foaming at the chance for a match, vowed to come out of retirement to take on this four-legged newcomer. He expressed his desire to be the top dog in All Elite Wrestling with a biting promo.
"The Dog-Faced Gremlin is the true leader of the pack," barked Steiner. "I'm going to maul that little floppy-eared cutie pie! Just because he's cute and cuddly doesn't mean I'm going to take this lightly. I'm going to spin him around, play tug-of-war, and pretend to throw a tennis ball. Puppy MJF is in for a world of belly rubs and forehead smooches!"
Much like his human namesake, Puppy MJF has responded with quick wit. After hearing Steiner's challenge, Puppy MJF threw up on the kitchen floor, scooted across the carpet, and sneezed directly in his owner's face. The vicious back-and-forth has set the wrestling universe ablaze with anticipation.
"Yeah, y'know, a lot of people are really excited for this," said Dave Meltzer during an Observer Live show. "Bringing Rick Steiner back is a great move since AEW is on the retro kick and everybody loved the Puppy Battle Royale. Wrestling is going to the dogs and I'm all for it."
"Woof," replied a dog-tired Bryan Alvarez.
AEW is already preparing a dog-based title belt made out of Milk Bones, rawhides, and kibble. There has been no word yet if Steiner will have to be neutered in order to compete.