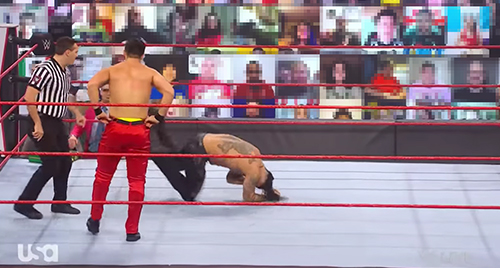 Orlando, FL – A Valentine's Day event where fans show how much they love the WWE turned X-rated and forced the company to turn off the ThunderDome.
The event, dubbed 'Show Your Love For WWE' was advertised as a chance for the WWE Universe to show their affections for the company. WWE officials got more than they bargained for as the affections became unsuitable for broadcast.
"We were thinking that people would make signs like "We Love Drew" or kiss a picture of Charlotte," said Triple H. "I never suspected the people I told to 'Suck it' every week for years would be so gross."
The misguided event soon devolved into a plethora of unmentionables. The WWE production team quickly swapped out the inappropriate images for presentable fans. Unfortunately, the rapid nudity and graphic adult images soon overwhelmed the system, causing the screens to go dark.
"So many tushies," shuddered Executive Producer Kevin Dunn. "There hasn't been such naughtiness on the USA Network since La Femme Nikita."
While many in the office declared the event as a disaster, WWE CEO Vince McMahon remained surprisingly upbeat.
"You see?" crowned McMahon. "Nia Jax screaming 'My hole!' last week started a new trend. Now everyone is doing the Hole Hop! Quick, someone trademark that and put it on a shirt!"