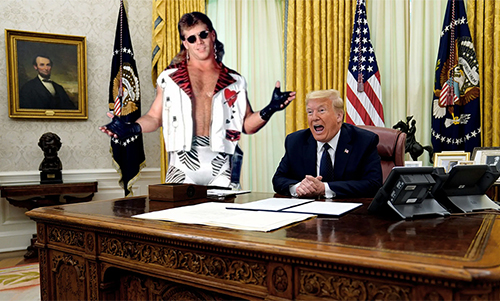 Corpus Christi, TX – WWE legend Shawn Michaels received a full presidential pardon this week for the infamous Barber Shop Window incident in 1992. The event, which saw Michaels throw his Rockers partner Marty Janetty through a window, has been on Michaels' record for decades.
In a last-minute flurry of activity before leaving office, President Donald Trump issued a slew of pardons and clemency to various people. Trump took special interest in his fellow WWE Hall Of Famer's case. Aides say he watched the incident hundreds of times, outraged at what he referred to as a "miscarriage of justice."
"Shawn Michaels is a sexy boy. He is not your boy toy," stated the federal pardon. "Everyone knows that Jannetty tried to dive through the window to escape. What an act of cowardism. Shawn Michaels, or as I like to call him Mr. Wrestlemania, is hereby pardoned of such an unfair crime."
Upon hearing the news, the sort-of-retired legend expressed relief.
"This has been hanging over my head for years," said Michaels. "I feel like a new man. Now I just have to wait for WWE to schedule another show in Saudi Arabia and I'm good to go."
Michaels' former partner Marty Jannetty responded to the news by telling an unsettling and high improbably story on Facebook. The wrestling community has already agreed to ignore the story and eventually forget about it.