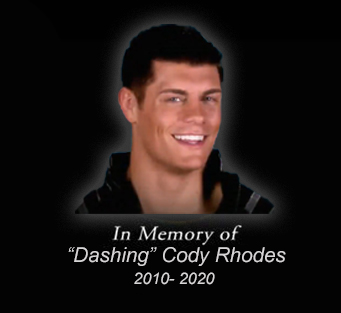 Salt Lake City, UT – The pro-wrestling community is currently mourning the loss of former WWE gimmick "Dashing" Cody Rhodes.
The gimmick, which focused on Rhodes' handsome looks, was pronounced deceased minutes after Rhodes revealed a large tattoo on his neck. The tattoo, a red, white, and blue American Nightmare logo, received widespread scorn and mockery in and out of the wrestling world.
Fans of the "Dashing" gimmick gathered outside the Maverik Center in West Valley City to hold a candlelight vigil.
"So tragic," said a misty-eyed Roberta Eda Abuov. "Dashing Cody Rhodes was so handsome. Now, he's just…gone."
"It was just so sudden," said Dashing Cody Rhodes Fan Club president Harland Younger. "One day he was here and the next day he went to some tattoo shop in Atlanta. It really shows you just how fragile wrestling gimmicks can be."
"This is what a Five Finger Death Punch song looks like," said a disgusted Michael Ioane. "He took Sinistar, poured a Monster energy drink on him, and wrapped it in an American flag. His beautiful neck never saw it coming."
After several speeches and ten-bell salute, those in attendance sang Rhodes' old theme song "Smoke And Mirrors".
Rhodes, who currently wrestles for and serves as the Executive Vice President of All Elite Wrestling, is still very much alive. He addressed the controversy this weekend.
"It's just a tattoo!" exclaimed an exasperated Rhodes. "So it's a little big and colorful. It's not that bad! Right? Right?!"
At the urging of AEW President Tony Khan, Rhodes is considering adding a tiny mustache to the tattoo to appease "Dashing" fans.