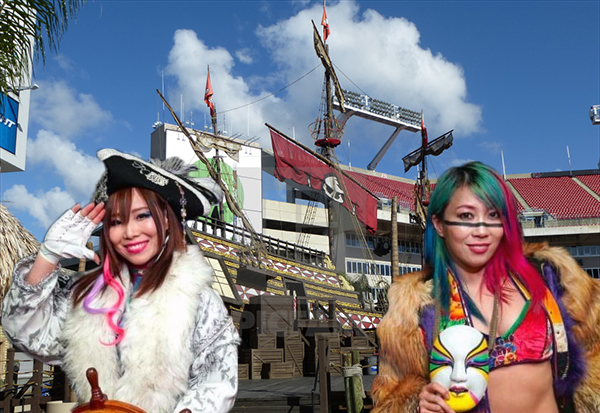 Tampa, FL – Searching for her own "Wrestlemania Moment" this weekend, beloved Superstar Kairi Sane snuck into Raymond James Stadium and stole the Tampa Bay Buccaneers'' iconic pirate ship.
Due to the global pandemic, Wrestlemania plans have been thrown into chaos over recent weeks. Typically a weeklong celebration of professional wrestling and sports entertainment, this year's Wrestlemania has been marred with multiple cancellations and changes. While the two-day event saw many entertaining matches, grand entrances from the participants had to be scrapped. WWE's "Pirate Princess" had other ideas.
Late last night, Sane and her partner Asuka snuck in to Raymond James Stadium, the original site of this year's Wrestlemania. Her exaggerated tip-toeing and excessive 'shush-ing' was captured by security cameras. Using her umbrella to break a giant padlock over the steering wheel, Sane commandeered the ship. Asuka hoisted the mizzenmast and raised the anchor. A strong gust moved the ship, sending it crashing through the stadium and through the parking lot.
"Kairi thiiiiiiissss!" yelled Sane triumphantly.
"Asuka thiiiiiiissss!" responded Asuka from the Crow's Nest.
Due to the stay-at-home-order, Tampa's streets were empty, giving Sane plenty of sailing room. The ship's hull scraped mightily along the asphalt, shooting sparks out in all directions. Several store fronts were damaged when Asuka accidentally discharged the ship's six cannons.
The tag team's reign of terror ended when the ship encountered a moderately-sized hill.
"We stopped the nautical vehicle on Highway 275, about a mile from the Hillsborough River," said Tampa police chief Brian Dugan. "Police officers boarded the ship at 0700 and apprehended the two suspects. We confiscated several chests full of gold coins, one parrot, and a mysterious treasure map."
When asked what charges the city is going to bring against the two, Dugan said, "At this time, Tampa will not be charging Ms. Sane. I mean, look at her. She's just so darn cute. She's learned her lesson."
Dugan's smile turned to a frown when addressing the other culprit. "Asuka will be charged with multiple counts of assaulting a police officer after she spit green mist in their eyes."
Sane is currently at home with her adorable dog Cheese. Asuka is awaiting trial because WWE CEO Vince McMahon has yet to bail her out of prison.