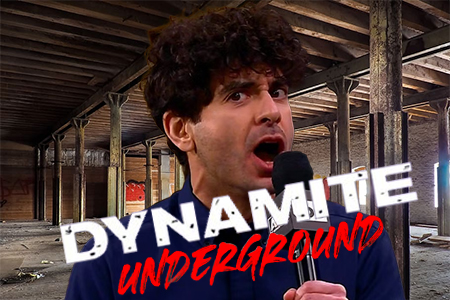 Jacksonville, FL – Building off the backstage altercations and drama, AEW has created their own fight club dubbed Dynamite Underground.
Over the past few weeks, fights among the roster have spilled out into the public eye. Eddie Kingston and Sammy Guevarra had an altercation recently. Former Women's champion Thunder Rosa has issues with both Britt Baker and Jamie Hayter. Of course, most recently CM Punk and Ace Steel versus everyone except Adam Cole.
In a move that actually has precedent, AEW wrestlers will settle their real-life disputes. Set in the dark and dingy bowels of Daily's Place, members of the roster compete in shoot-like fisticuffs. Fights will go for three 3-minute rounds and will only be stopped by knockout, submission, or hurtful comments made on podcasts.
"I just wanted to have a nice wrestling company, ya know?" said a visibly frustrated Tony Khan. "It was so good the first couple of years. Now everyone is yelling, saying bad words, and hitting each other. People are even cutting in line at catering. I can't control them anymore so they'll just need to fix things on their own."
Much like the early UFC, the only rules for Dynamite Underground are no biting, no eye-gouging or groin shots. This leaves open the possibility of chair throwing, still giving Ace Steel an advantage. It is unclear if animals will also be allowed to participate.
Members of the roster are hopeful that Dynamite Underground will help settle disputes and pull in better ratings than Rampage.