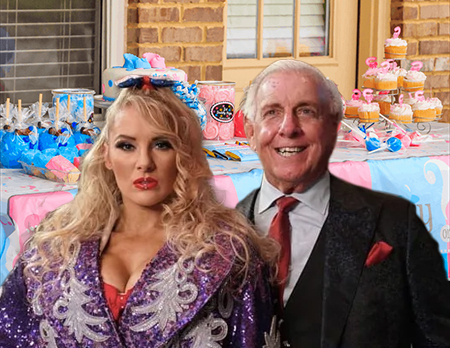 Charlotte, NC – A gender reveal party for Lacey Evans and Ric Flair's child resulted in a time-limit draw with no clear winner.
The amorous septuagenarian and the Sassy Southern Belle celebrated their unexpected conception in Flair's backyard. Joining the happy couple were friends, family, and members of the Four Horsemen not currently under AEW contracts. Even Ric's daughter, Charlotte Flair, who is currently feuding with Evans, attended. Charlotte showed her displeasure by performing a technically sound, but unnecessary moonsault.
In current popular fashion, Evans and Flair created an elaborate plan to reveal the gender of their baby. A sixteen-foot-high steel cage was erected in the backyard and the two proceeded to have a match. The lovebirds put on a clinic during the sixty minute time-limit performance.
Onlookers oo-ed and ah-ed at the back and forth. Chops, eye-pokes and whatever Lacey Evans does kept the action going. Several false finishes, including Flair taking a bump into a cake with pink frosting and Evans putting on a blue hat, kept the audience on the edge of their seats.
In a dramatic crescendo, Flair bladed his forehead. The former world champion bled blue and pink buckets just as time ran out. In an ending that would make Dusty Rhodes blush, the gender reveal party was ruled a draw.
"The Nature Boy thinks society should move beyond the tired, out-of-date gender constructs," said Flair, mopping up his cotton candy-colored blood. "It's time to live beyond the binary. You can be a limousine riding, jet flying, styling and profiling greatest wrestler in the world without having to check off some box. It's the 21 century people! Respect people's pronouns! As long as my child doesn't look like Shane Douglas, I'm happy. Wooooooo!"