AGGGGGGHHHHHHH! "Can't sleep! John Cena'll eat me…"
If someone had gotten this for me as a gift as a child, I'd have had nightmare about it coming to life and trying to kill me like Chucky The Killer Doll from the Child's Play movies!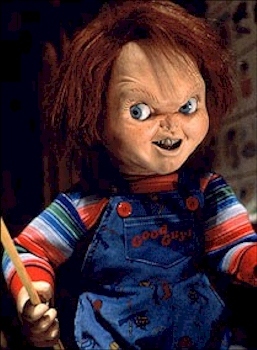 Next thing you know, The John Cena Backpack Pal will go around threatening Rick Steiner with lame insults.
Anyway, if I were a grade school aged child, I certainly wouldn't have wanted to take this abomination to school with me, and I don't think even the most die-hard Cena Nation member would, either. He's like Stubby's creepy, bloated rapper-wannabe cousin.