Here's an addendum to RD's hilarious collection of off-brand wrestling costumes: a mask of the middle-aged drummer from a local band playing The Friendly Tap on a Tuesday night. Oh, and also, The Undertaker.  Sure, 'Taker's hair eventually went the Steve Austin route, but this mask is from the WWF era. Why is Undertaker sporting a skullet? The hat to cover up his receding hairline must've been sold separately. Undertaker does care about his looks though, judging by his Black No. 1 dyed goatee and eyebrows. How much more black can they be? None.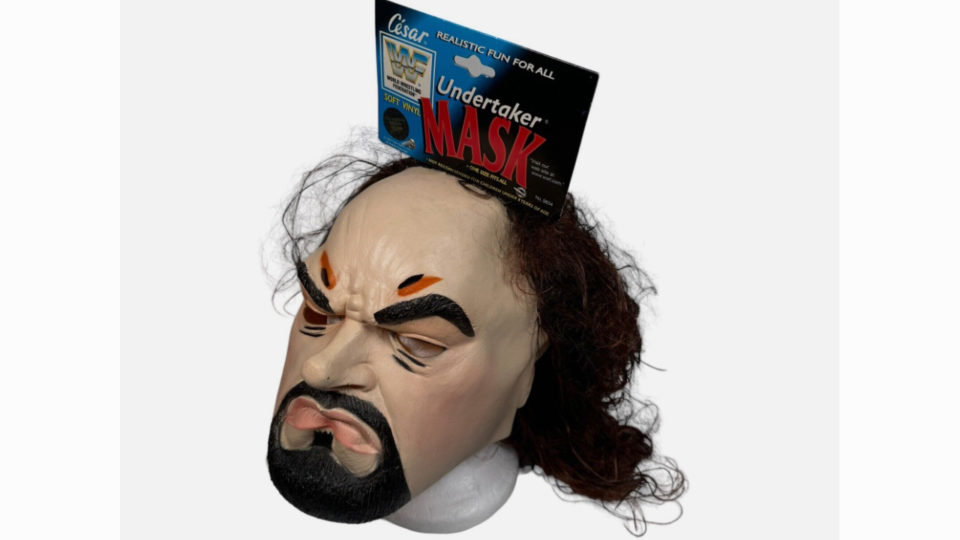 But that's not all! This mask includes some red and black swatches on his forehead. You don't often see costumes come with gig marks. Maybe he headbutted one of the Legion Of Doom. 'Taker also sports two lines underneath his eyes signifying that he's really, really tired. Probably from staying out playing with his band and then having to take his kids to school the next day.
"Realistic fun for all ages!" it says on the hanger.  Probably a little too real for unintentional reasons.  I mean, it's really more Sinister Minister than Mark Calloway, but regardless, this is one for the ages.  I am willing to bet at least one of you has this…but will any of you be fan enough to post pics of you in it?