There's a debate often at the Reynolds Ranch as to what season in the rolling year is best. Mrs. Deal, who hates the cold, is steadfast that it would be summer, even though she doesn't like being outside when it's hot. RD Jr., who hates the heat, is adamant that it's winter, even though he doesn't go out in the snow. Which of course means that I am the correct one who says, without question, the absolute best season is fall. Think about it – it's not too hot, it's not too cold, and it ushers in all those awesome holidays. What a line up – Halloween, Thanksgiving, Christmas, and New Years all within essentially a two month block. Hanukkah, Kwanza, and so many others as well. Even though it ain't what it used to be, throw in Black Friday as well. Don't forget we get the World Series in baseball, football season kicks off in both college and pros! Naturally there are a ton of parties, get togethers, you name it. I rest my case.
Of course, the festivities start with Halloween. It's the wackiest of holidays as it combines gorging on candy and playing dress up. And if you're like me, you may well want to go out pretending to be your favorite wrestler. With that in mind, ol' Uncle RD has done his research for you to help you pick out the very best costume. Not only will I be giving my thoughts on these, I've given you links, pricing, and even reviews pulled from the folks who have actually bought them! So without any further adieu let's set the place on fire with…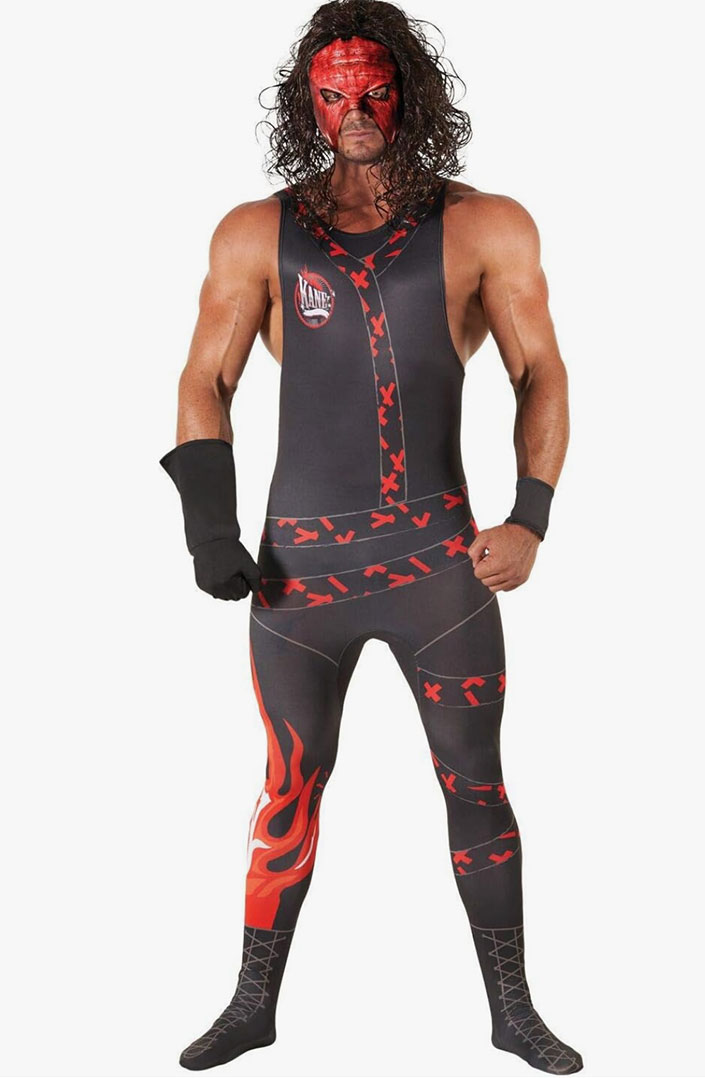 Review from website (*): "Brought for my boyfriend for a stag do outfit he had it on 15 mins and the crotch ripped.. also no wig or wrist band was with it!!"
RD'S THOUGHTS: No idea what a STAG DO OUTFIT is, but I do feel sorry that the crotch ripped in 15 minutes. I mean, unless the girlfriend is super hot and that happened accidentally on purpose. Also what on earth is up with the guy they put in the product shot? Is Seth Rollins wanting to be the Undertaker's brother?
---
YOUNG BUCKS – Walmart.com – $53.95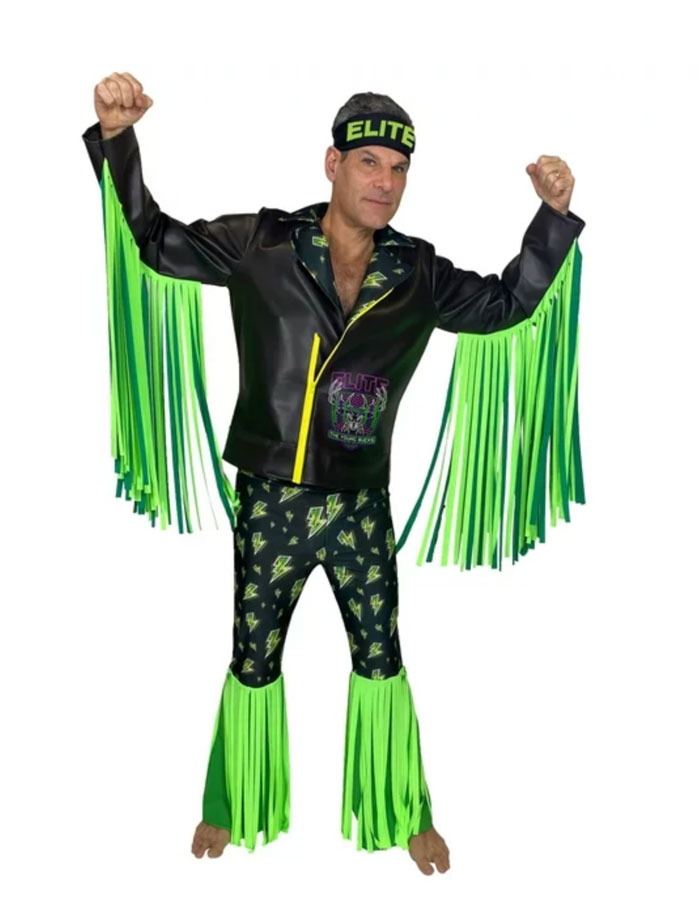 Review from website (*******):"Perfect for the Cucamonga kid in you! Wednesday nights I like to stay up late and watch Kenny omega while l …. Wear this costume. Meltzer says I am the key demo. Good fit nice and tight for all my gymnastics competitions. Or as aunt Lola used to say to mama Cornette used to say "that outfit is slicker than c… on a gold tooth"!! Thanks you f…you bye"
RD'S THOUGHTS: If you thought that Kane model was bad, check out this guy, who looks kinda sorta not unsimilar to Dave Meltzer. That's a great rib. But why on earth is he not wearing any socks or shoes? Are those even feet? They kinda look like talons!
---
ANDRE THE GIANT – Amazon.com – $74.99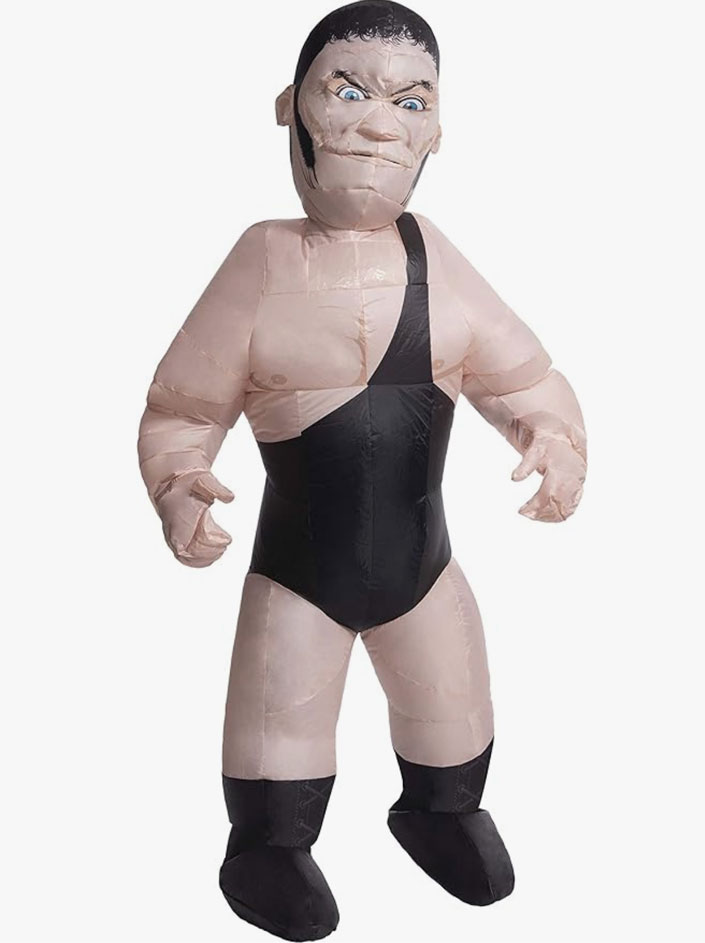 Review from site (*****):"This costume was perfect! A big hit for all my wrestling fan friends. There was a harness of sorts to like slides on your head to sort of keep everything upright. The fans clipped on comfortably and the hand gloves Velcro right on to the costume with no issues. Combined with the miniature coke can you truly can feel like Andre The Giant!"
RD'S THOUGHTS: I despise inflatables as yard decorations (blow molds or get outta here!), and this horrifying creature doesn't have me on the inflatable costume bandwagon either. And it's not like it even looks like Andre really either. Kinda more Joe Don Baker. So I guess if you wanted to go as Mitchell for Halloween, have at it.
---
ULTIMATE WARRIOR – Amazon.com – $47.95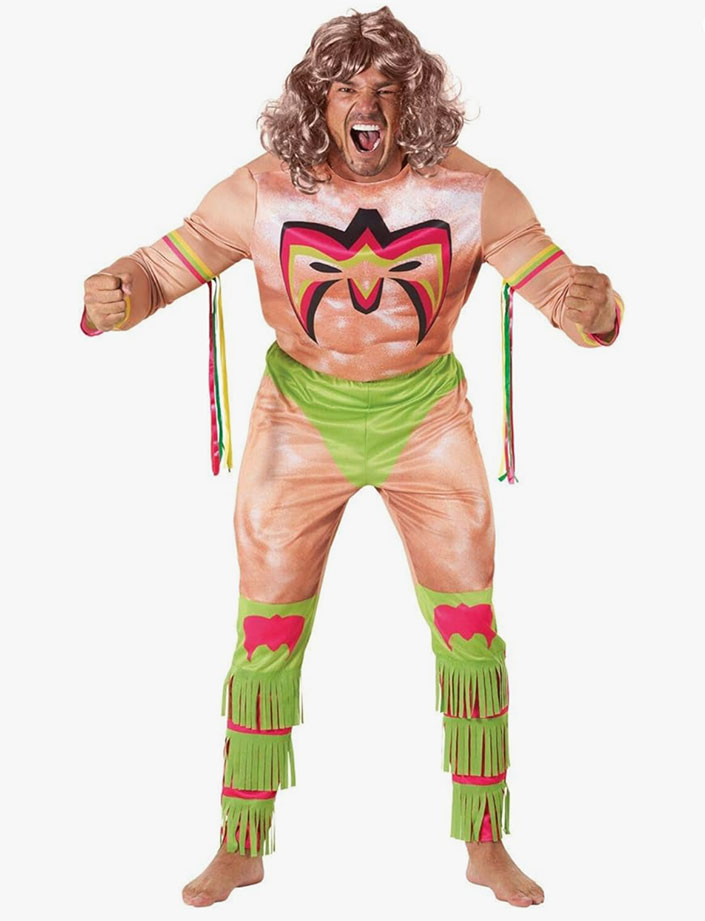 Review from website (*****):"I have put it on and it's just so very good. Love it, looks fantastic. I will report back if I ever get the chance to use it outside ( it was for a party, I'm not using it to start my own indoor wrestling club! )"
RD'S THOUGHTS: The trend of costume models forgoing footwear continues! I truly hope the helpful reviewer on Amazon gets to actually wear it outside one day, although the thought there's some rando who puts this ensemble on just hanging out at home is fascinating. I picture him cooking a breakfast of skim milk, then washing the dishes, playing some Super Mario Wonder, taking a nap, binging Wednesday on Netflix, having some chili, gulping down a Rice Krispie treat or two, then retiring to bed. Actually, that sounds like a fantastic day to me. Except for wearing this stupid costume, of course.
---
Stone Cold Steve Austin – Amazon.com – $49.95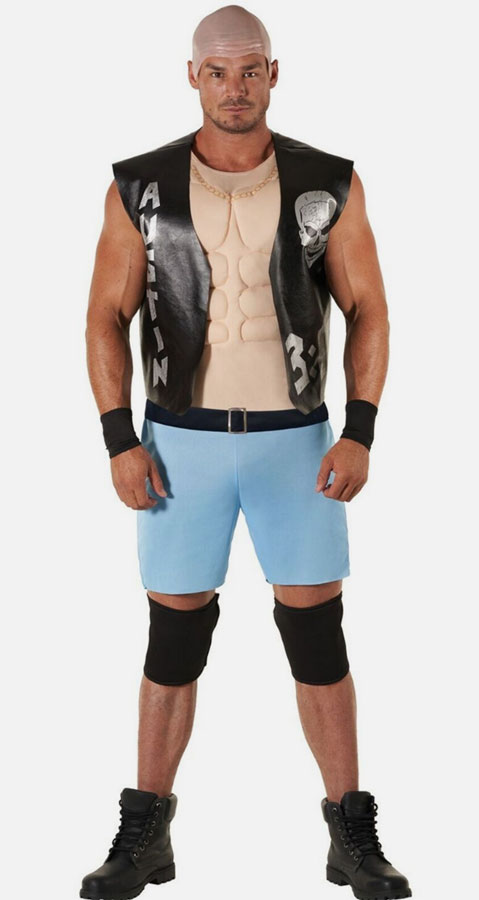 Review from website (****) – "The product was a little bit and the material was a a little cheap, but what do you really expect. It's a costume. The bald cap is just one size, so if you have a big head(like me) it will be tight, or rip. It was for a party and I was happy with it simply for the nostalgia factor. But nothing really fantastic."
RD'S THOUGHTS: Sorry, but bald caps are for posers. Thank goodness Steve Austin made being bald cool or I'd be living my existence having people ask me, "What's up, Kojak?" And that's a world in which I don't want to live.
---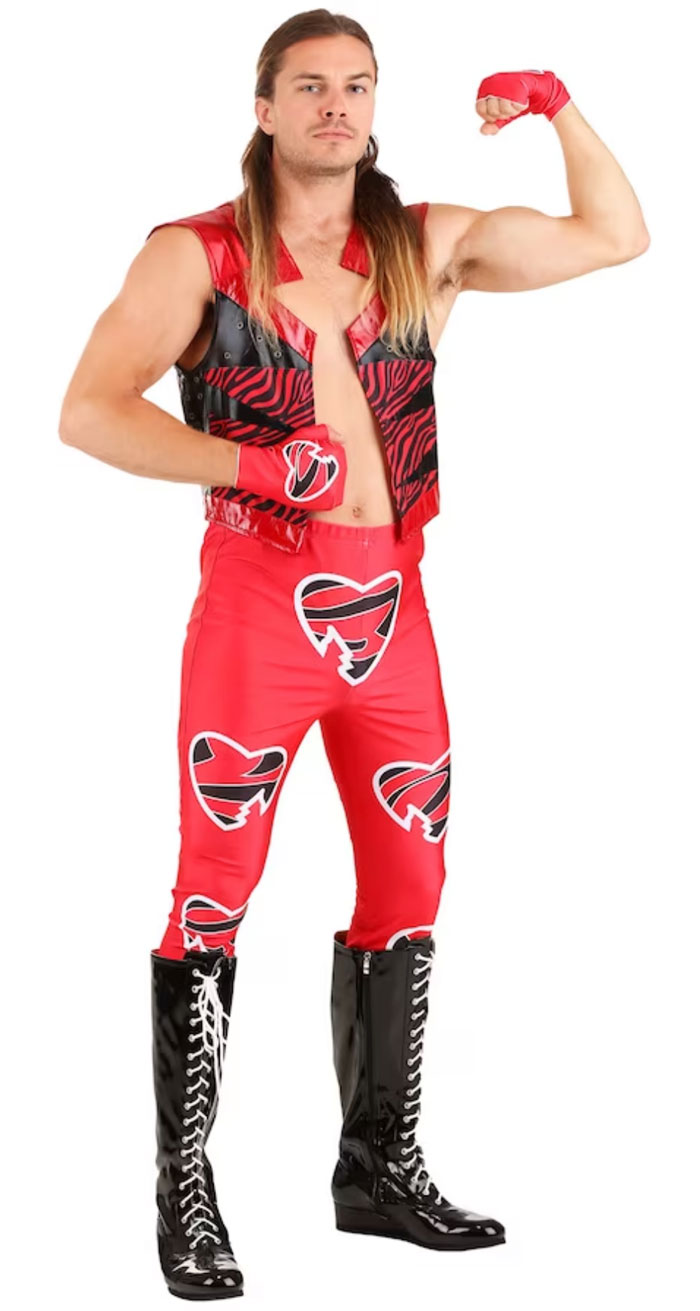 Review from website (****):"Bottom Line Yes, I would recommend this to a friend."
RD'S THOUGHTS: You know the best thing about this ensemble? It has shoes. I didn't go into this article thinking that would be a selling point, but here we are. No wonder it got an absolutely glowing (albeit only four star) review of "I would recommend this to a friend".
---
THE ROCK – Amazon.com – No Price Listed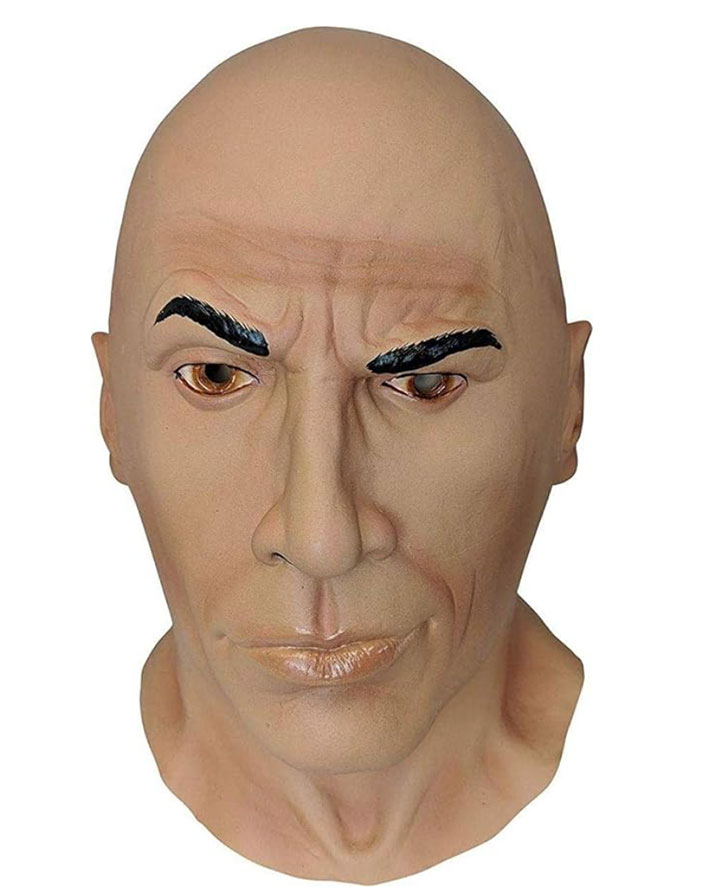 Review from website: (3.8 average, no written reviews)
RD'S THOUGHTS: Cheating a bit here as this is only a mask and not a costume, but seriously…how could I leave THIS monstrosity off the list? Not sure why it doesn't have a price listed, but guessing it falls into the classic "if you have to ask you can't afford it" realm. This thing is super creepy as it doesn't seem to know if it wants to be accurate or a parody of Dwayne. All I know is that it's good old fashioned nightmare fuel. So I guess if your goal is to scare people this Halloween, you could do far worse.
---
Hulk Hogan – Amazon.com – $60.99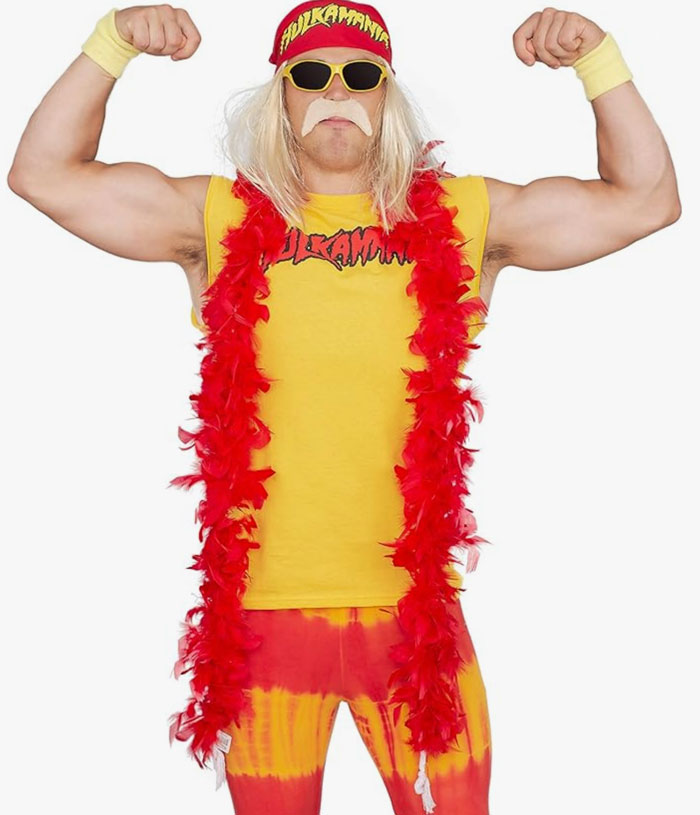 Review on site (***):"Color of shirt and bands were more of a mustard yellow and the mustache does not last too long so definitely invest in lash adhesive. Glasses come in their own case which was awesome. Bandana is the best part I love it! The wig is a bit sick and stays pointed like a conehead but bandana covers that up. The boa is fine but sheds a bit. Overall it was a hit at the party I needed it for regardless."
RD'S THOUGHTS: Who cares about the color being slightly off, let's talk about the fact that this outfit apparently allows you to make the Hulkster an honest to goodness CONEHEAD. Why on earth would you WANT to cover that up? If you can create some kinda weird Dan Akroyd-Terry Bollea combo you RUN with that and never look back.
---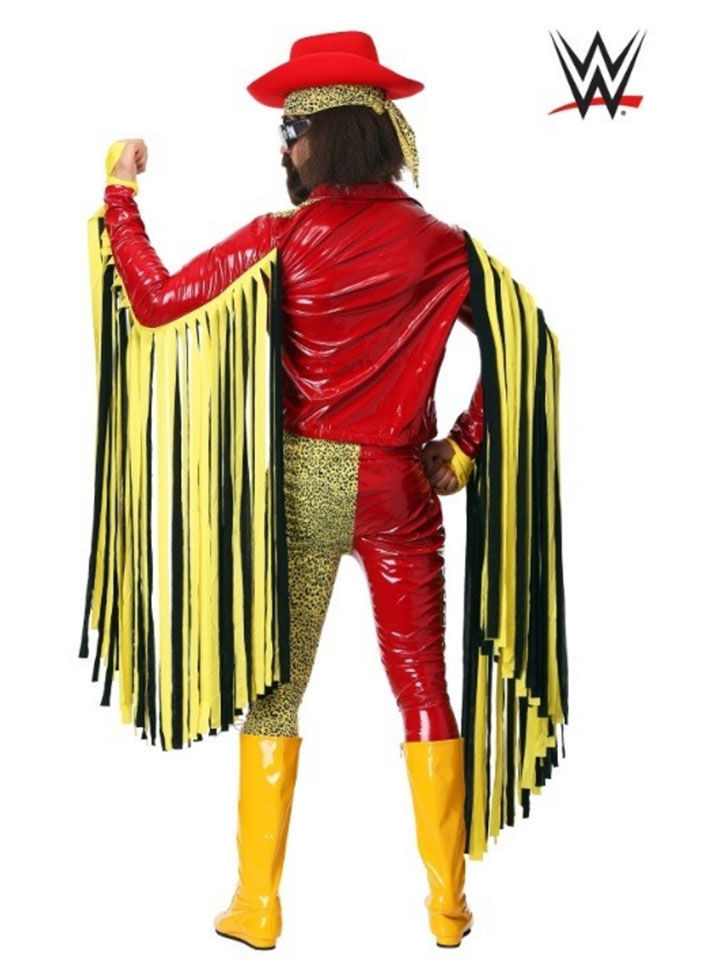 ** Review on site:"Pant ripped at workplace costume contest. Bad stitching job. Material feels like garbage bag. Will def rot in the closet before a second Halloween. Hat is too small., This is not a large sized hat. Pants ripped after an hour of wear at my desk."
RD'S THOUGHTS: As much as I want to talk about this poor sap ripping his pants (at work no less!), I must instead note that this listing featured not only photos, but a video showcasing THIS GUY: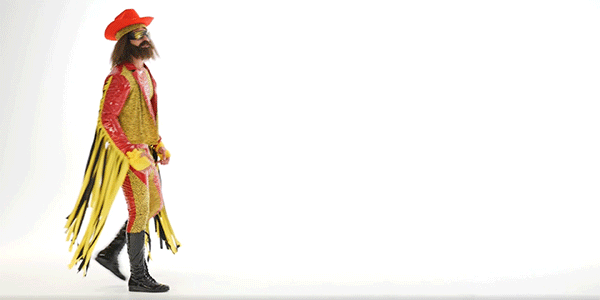 Yes, you too could look like a guy who has zero idea who Randy Savage is or why he is wearing this outfit! Couldn't they have shown him like 5 minutes of Macho Man clips on YouTube before filming this?
---
RIC FLAIR – Amazon.com – $39.95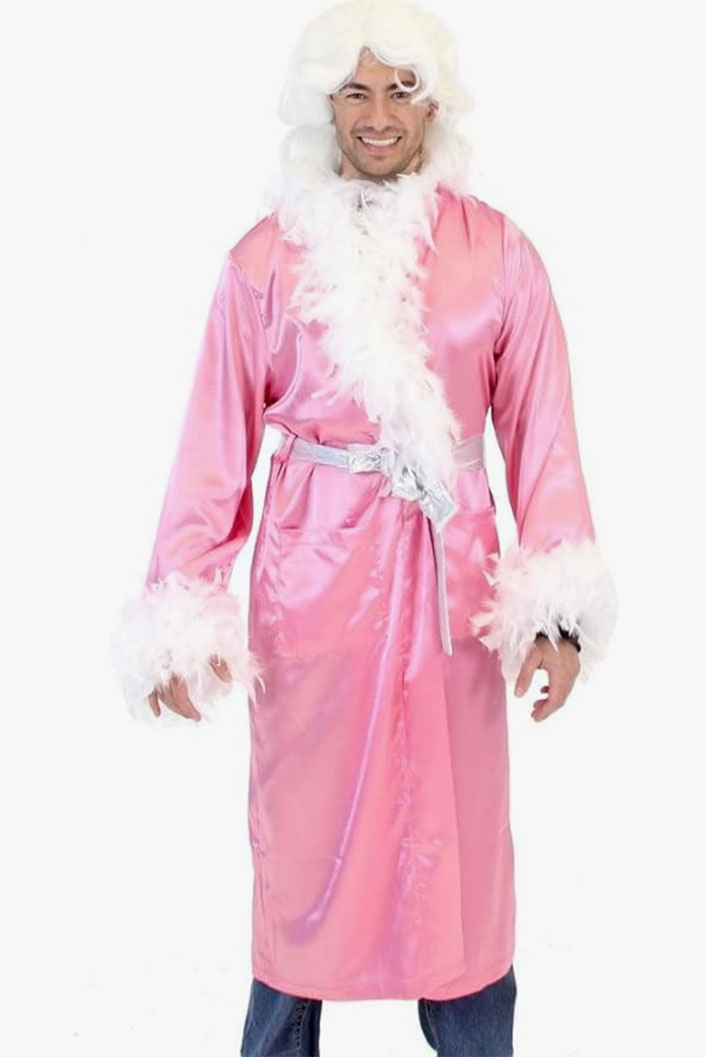 Review from website (*):"This thing was just a bathrobe with a feather boa lazily glued to it. How do I know it was a bathrobe? It has pockets on the front, just like the "nature boy" robes used to have. I tried putting my arm in the sleeve and the boa was already coming off of the sleeve. I'm sure there are better options than this."
RD's THOUGHTS: I think we have bigger issues than feathers being glued to a bathrobe. What might that be you ask?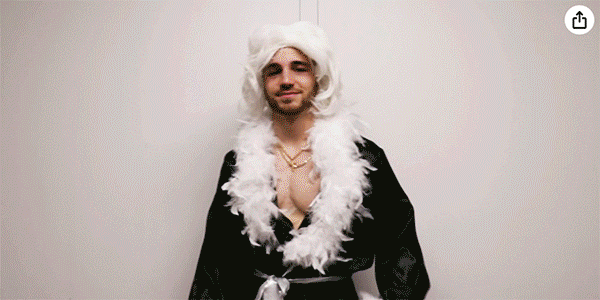 The fact that Ric Flair has now been abandoned in the woods for some reason! Remember when he got buried in the desert in WCW? Yeah, I need to induct that too. But not before I buy this and look like a total idiot this Halloween. I hope you all join me and make this an October 31 no one will ever forget! Wooooooooo!!!!!