Holiday episodes of wrestling have never must-see television. Knowing that most fans will be spending time with family rather than watching the boob tube, but unwilling to just show re-runs like normal TV programs, wrestling writers typically phone it in around Thanksgiving and Christmas time. During the Attitude Era, these throwaway episodes were filled with food fights, gravy bowl matches, pudding matches, and other matches involving whatever substance was deemed appropriate for underwear-clad Divas to wallow around in on the particular holiday. With the so-called PG Era of WWE, the blatant degradation and humiliation of women has become unfashionable, leading the writers to instead humiliate the viewers, perhaps as punishment for watching wrestling within a week of Christmas.This week's induction is not only a prime example of worthless holiday wrestling programming, but a veritable perfect storm of WrestleCrap.If WrestleCrap had its own WrestleMania (and I don't mean IX), the December 21, 2009 episode of Raw would be it..
The show begins with its new intro, set to the music of the polarizing band Nickelback. Say what you will about the Canadian band, which was once pelted with rocks by audience members in Portugal, but at least their song, "Burn it to the Ground" is much more evocative of wrestling and action than the previous theme, entitled, "To Be Loved."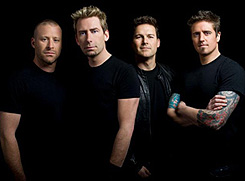 No, the true Wrestlecrap would have to wait a while.
And by "a while," I mean the second verse of the song.
Because with the theme music still playing in the background, the announcers break down tonight's proceedings. The first thing out of Cole and Lawler's mouths is that tonight is the "moment of truth" for DX. That's right, it's time for D-Generation X, which by this time consists of two forty-something dads, to enter the Little People's Court to take on Hornswoggle in the legal battle of the century.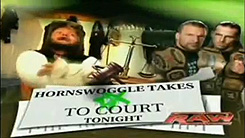 This storyline trial has been festering for weeks ever since D-X 2009 did the only thing that could possibly justify their existence, which was to beat up Hornswoggle, who had been wearing DX merchandise and imitating DX's trademark gestures.
I know that WWE is all about "anti-bullying," but when you're dealing with Hornswoggle, who for months ran around chopping his crotch yet managed to win the Gooker Award that year for something completely unrelated, a little physical persuasion by Shawn and Hunter was totally justified (and the cheering Madison Square Garden crowd agreed).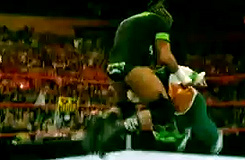 With Little People's Court already hanging over our heads, the Raw crew continues their pitch to get you to turn off the TV by introducing tonight's guest host, Johnny Damon. Remember, this is during the "guest host" period of Raw, when everyone from Jeremy Piven to Buzz Aldrin was plastered over Raw to make a fool of themselves, waste air time, and plug their upcoming movie, book, or NASCAR race.
Johnny Damon, who would have been a reasonable choice for guest host had this episode taken place in Boston after their famous World Series victory…however, he is at this point a New York Yankee appearing in Tampa, FL, home of their American League East rivals, the Rays.
Is this stuff THAT hard?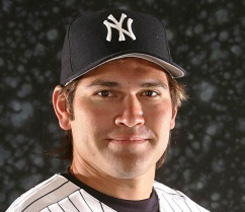 After posing on stage and doing what I can only guess is his best Superfly Snuka impression (which is still lousy) to John Fogerty's "Centerfield," Damon gives a "hey hey" delivered more flatly than Krusty the Clown at his surliest.
He wishes everyone a Merry Christmas, to which the Tampa crowd, predictably, boos lustily.
"They can't boo Christmas! What's up?" says Lawler, realizing that it's going to be a long two hours.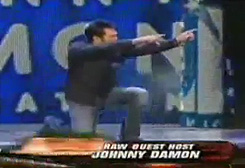 Damon takes it all in step. "I get some boos. I get some applause." He's half-right. He then mentions his World Series rings from Boston and New York, then waves his hands in a circle. I don't think he's trying to get cheap heel heat here. He just has no idea what he's doing. Need proof? Listen to him tell the fans that it doesn't matter where he's playing next year, because tonight, he's hosting Raaaaaw.
Really, he says it exactly like that.
He doesn't scream it.
He just kinda says it.
With, like, no exclamation point or nuthin'.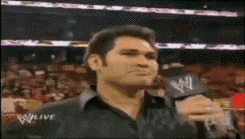 Just before the poor guy can have a nervous breakdown on live TV, he gets interrupted. It reminds me of Saturday Night Live, when the host has no comedy experience and lets the regular cast to carry him or her through the opening monologue.
Except, in this case, it's not a wrestler (like, say, Kane) interrupting Damon, but a tiger. Or should I say, a TIGER, as in Tiger Woods!
Oh oh, my sides, they are a' splitting!
Yeah, this Raw takes place during the Tiger Woods sex scandal, so the creative team thought it a brilliant idea to have a guy in a tiger suit be chased around by a blonde woman with a golf club.
I will say this for it: if they wanted the crowd to hate Damon less, then it really was a brilliant idea, because the audience's unrest and vitriol is immediately redirected to the ham-fisted attempt at topical humor unfolding in the ring. We're talking "Rosie" vs. "Donald" levels of audience revolt.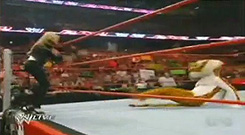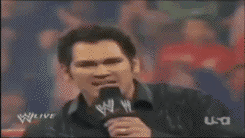 As you might have gathered from Damon's enthusiastic intro, a Divas match follows, with two teams of three women dressed as Santa's helpers. The only thing notable about this match is Alicia Fox's entrance. She might look good in a photograph, but in motion, the pendulum-like swinging of her hips is anything but appealing.
Unless you have a grandfather clock fetish.
Then she would be quite fetching.
The biggest (read: first) cheers of the night come when Maryse is pinned by Kelly Kelly, the Diva so nice they named her twice.
Barbara Blank is her other name.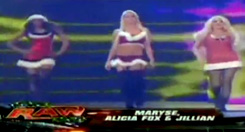 Next is the long-anticipated "Little People's Court," which was filmed earlier in the night at the Tropicana Field, home of the Tampa Bay Rays.
Oh, my mistake!
It's at the same arena as Raw, but before doors opened. I got confused when I saw the empty seats.
To get to the courtroom, DX must crawl under the ring. You know the story about how WCW would have guys stay under the ring the entire show, and that Curt Hennig accidentally tipped over their bathroom bucket while doing #2? I think Vince McMahon is playing the role of Curt tonight (and the audience is Scott Norton, vomiting at the sight of it).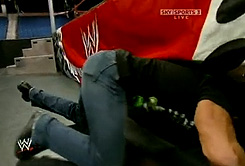 DX overcomes the pitch-black darkness under the ring with their DX glowsticks, which they use to "ironically" shill wweshop.com, just as they have done every single night during their 2006 and 2009 reunions. When you do the math on Shawn and Hunter's time paired together in DX, they spent more months as middle-aged sellouts hocking merchandise than they did as "rebels."
Maybe the Voodoo Kin Mafia were right.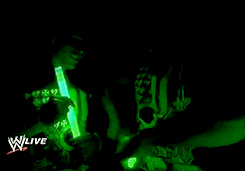 They walk through a series of halls under the ring to get to their courtroom, which is filled with (get this!) MIDGETS!
In LITTLE PEOPLE'S COURT!
What are the odds?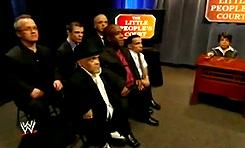 Triple H then points out that the bailiff might be Shawn's son, because despite the little person looking to be about the same age as the Heartbreak Kid, Hunter is under the impression that all dwarves are children.
This same mistaken impression by WWE writers would result in an unintentionally disturbing segment in 2011 where Hornswoggle would give flowers to the 13-year-old star of The Chaperone in exchange for a kiss.
Pretty sure that is an illegal act in most states.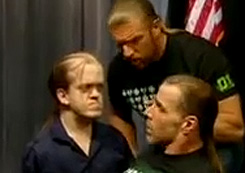 Hornswoggle testifies with a bunch of nonsensical gibberish that is still better-delivered than most of Johnny Damon's lines, but only Triple H fails to understand it.
Swoggle then shows Exhibit A, which is simply a recap of the angle so far.
And how does this courtroom drama end?
Well, we don't find out, because the conclusion is being held off until ANOTHER segment later on in the night, since seven minutes of short people jokes isn't enough.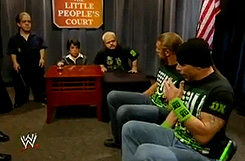 After a six-man tag match, this Christmas Raw gets back to its Ho-ho-ho theme with Eve, Brie Bella, and Nikki Bella, respectively.
They are hanging out with our guest host and Santa Claus, who breaks up a fight between Carlito and pec-popping Chris Masters and makes a match between the two rising stars of 2006 (and yes, I am aware that this is 2009). Santa gets unmasked (or un-bearded) as Sgt. Slaughter, but Damon approves the match anyway.
The two then find themselves underneath the mistletoe, with Sarge begging Johnny, "Come on, Johnny! Don't ask, don't tell!"
Somewhere, Pat Patterson is laughing.
Even if no one else is.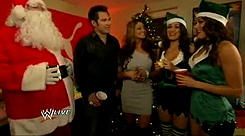 A little person then recaps the events so far in the Little People's Court, which itself included a recap of the DX-Hornswoggle feud, which the narrator calls "DX's past discretions" (rather than INdiscretions).
I'm starting to think that the person who wrote this segment is not very smart.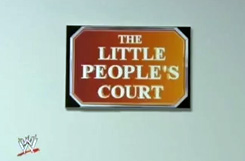 Back in the courtroom, Triple H and Shawn Michaels plead their case, but can't help making a bunch of really easy height jokes by accident. We then see the only redeeming aspect of this segment, which is a replay of Hunter pedigreeing the two-time Gooker Award winner. The two defendants are declared guilty and get the Nickelback treatment, getting pelted with plates and cups by the jury, which forces them to flee the courtroom and climb out from under the ring.
For the record, that's 11 minutes, 15 seconds of Little People's Court so far tonight.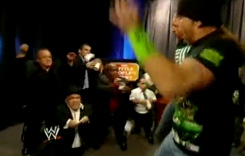 Following a Cena-Swagger match, our beloved host Johnny Damon appears backstage again, this time with Dusty Claus, who is there to tell him that he received his Christmas list, but he can't deliver the charisma Johnny asked for until Christmas Eve.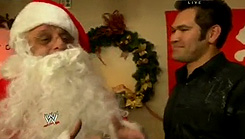 MVP shows up to ask Santa to make 2010 the year of MVP. That would end up being the year Montel Vontavious Porter was released from WWE, implying that he really hadn't been a good boy. Maybe Santa still remembers that armed robbery back in '89. Dusty Claus can't grant MVP's Christmas wish of a match against champion Sheamus, either, but Johnny Damon can, as it sounds like a home run idea to him.
He says so, at least.
But no exclamation point.
Maybe he should have asked Santa for that for Christmas.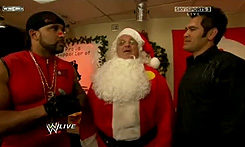 In an effort to beat a dead horse (and to prove that the Bella Twins will cozy up to literally anyone backstage), "Tiger" returns, this time being fawned over by WWE's resident escorts. While the Bellas admire Tiger's whiskers and paws and prove their Furry bona fides, the Miz plays hardball with Irwin R. Claus, demanding to become WWE champion in 2010.
Yeah, right.
Irwin threatens Miz with an audit before "Tiger"'s "wife" catches her "husband" with the Bella Twins and takes another swing with her golf club.
Since he's already going to be handing out punctuation this year, maybe I should ask Santa for more quotations marks.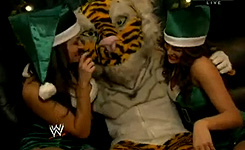 IRS then calls our dynamic host Johnny a tax cheat in the legit highlight of the night…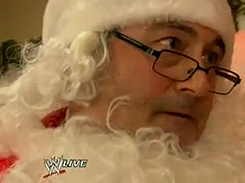 …which is followed up by the obligatory Mae Young makeout session. It lasts an uncomfortable 15 seconds before Mae wishes everybody a "Merry Christmas" with the sort of authenticity possessed by an octogenarian who gave birth to hand, but lacking in a multi-time World Series champion.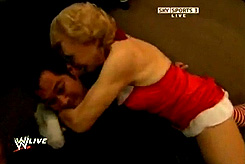 The new WWE champion Sheamus beats MVP with Razor Ramon's Razor's Edge (which he calls, the "Celtic Cross"), his old finisher before he adopted Finlay's Celtic Cross (which he calls, "White Noise).
Got all that?
John Cena then confronts the champion.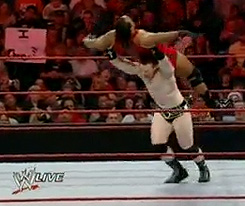 Johnny Damon is getting cleaned up by an assistant backstage while proving that he can't even act disgusted after getting Frenched by Mae Young. Vince McMahon, who gets a pop despite being responsible for bring the Yankee onto Raw tonight, asks our host what he thinks about John Cena's challenge to Sheamus.
Damon recites his lines and sets up the match for next week's Raw, which he will NOT be hosting.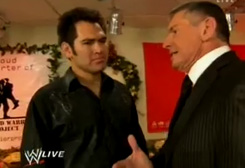 If all the Raw guest hosts had known that they had the power to book matches for future events, we could have seen Kofi Johnston vs. "The Show" Triple H at Wrestlemania 26. Damon then surprises Vince, asking him about Bret Hart possibly hosting Raw. If people had only paid attention to how Bret's return was foreshadowed on TV (first by Dennis Miller, and then by Johnny Damon), they wouldn't have been so shocked at how horrendous his match against Vince was.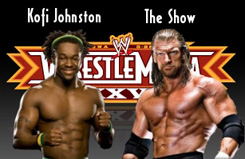 The Christmas crap continues, as Santino is the next superstar to don the Santa suit. He gets flattened with a clothesline by the Miz, who must still remember the whole "Santina" fiasco earlier in the year. Santino Claus falls prey to the Skull-Crushing Finale after struggling the entire bout with his cumbersome costume, leading Miz to celebrate by stomping Santa's bag of presents (that's not a euphemism for Santino's testicles; it's an actual bag).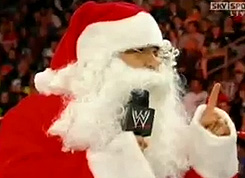 Remember when I talked about writers phoning it in around Christmas time? We are then shown a three-and-a-quarter-minute replay (which feels waaaay longer) of Little People's Court, bringing the total amount of time wasted by DX and Hornswoggle to 14 minutes, 30 seconds, even though the whole skit could generously be summed up as, "People with dwarfism are fun to laugh at."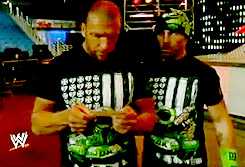 In lieu of a main event, the Big Show comes to the ring to call out the real Santa Claus, who fortunately has his own theme music and Titantron graphics. Santa, flanked by the Bellas, speaks in a rather queer-sounding British accent (think Stewie from Family Guy) and asks to sit on Big Show's knee.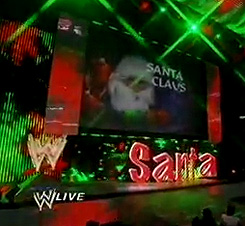 Show asks to bring his tag team partner Chris Jericho back to Raw, and Santa agrees.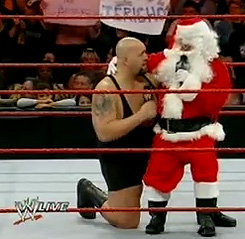 However, Hornswoggle's music hits, signaling that the 2009 Gooker Award winner is going to get even more airtime tonight. The Little People's Court plaintiff rips off Santa's beard, revealing Chris Jericho before doing more crotch chops and hiding under the ring.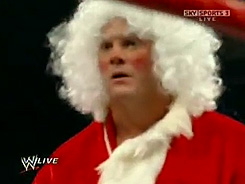 He re-emerges with a whole army of little people in DX merchandise. Jerry Lawler calls this the most bizarre night in Raw history, butlike the British Bulldog, I don't think bizarre is the word he's looking for.
JeriShow clear the ring of the midget army, but not before the Big Show hits a side slam on one of the fifty-pound soldiers. Hornswoggle gets cornered, only to hit "Sweet Shin Music" (which was kind of funny the very first time we heard that term) and be saved by DX, who were apparently just fine with that other, unnamed midget being brutally beaten.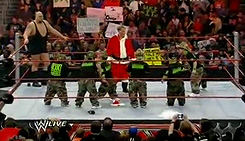 DX stands in the ring with Hornswoggle as Triple H delivers his backstage catchphrase, "Let's squash him!" Shawn tells him that it's Christmas and convinces Hunter to take him aboard. HHH makes him DX's mascot in exchange for dropping all the charges against them. The normally mute, kid-friendly Hornswoggle then yells into the microphone a command to all non-DX fans to perform fellatio on him.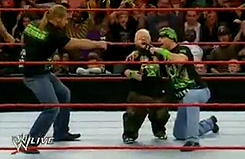 The new DX line-up then chops crotches as digitized snow falls on screen and the single worst episode of Raw signs off.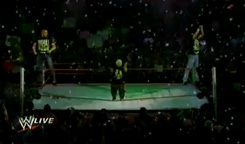 Here is a chilling thought: At Wrestlemania 26, Shawn Michaels would be retired by The Undertaker.
At Extreme Rules the next month, Triple H would be sidelined for the rest of the year by Sheamus, not to return until the following February, sans DX gear.
Meanwhile, Hornswoggle would continue to appear on WWE TV as the mascot of DX. Yes, over a decade since the original formation of D-Generation X, its last remaining member would be Hornswoggle.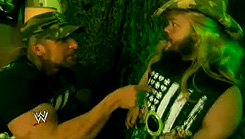 So after two hours of a guest host stumbling through his lines, infantile pop culture spoofs, and Hornswoggle segment after Hornswoggle segment after Hornswoggle segment after Hornswoggle segment, there are but two redeeming qualities of this episode:
One, it was the last time Johnny Damon would ever have to deal with tigers…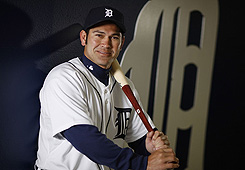 …Okay, scratch that. There is but one redeeming quality of this episode:
It took place in 2009. If it had taken place now, it would have been three hours.
And spending three hours with Johnny Damon is something no resident of Tampa would ever want to do…