Look what I found on this Commodore 64 website.
It's a a Commodore magazine featuring Hulk Hogan and The Blues Brothers strangling Bart Simpson.
Maybe they picked up some strangling tips from Homer?
Or maybe The Blues Brothers are trying to save Bart from Hulk's clutches?
Someone needs to make a Bart and The Blues Brothers vs. Hulk Hogan and Man Mountain Rock match in WWE2k16.
Do you think that's a good idea?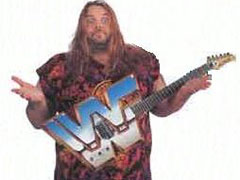 Oh come on dude, you need to shake off the ring rust and get back into it! You need to pay for some guitar lessons in the worst way!
"Polly Wolly Doodle? Sounds Polly Wolly Crappy!".
(That one's for you, Randell!).