1980's Recipe For Disaster:
– Start with an aging 50 year old French Canadian wrestler.
– Add a sequined glove patterned after a famous pop music star of the era.
– Stir until Gorilla Monsoon dubs him, "the Michael Jackson of the wrestling world."
Submitted for your amusement is the almighty "Number One Frenchman," Rene Goulet.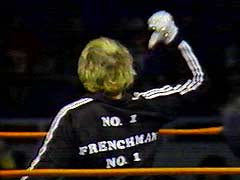 Before becoming a pale (pun intended) imitation of the King of Pop, Rene actually had something going for himself. After making his wrestling debut in his homeland of Canada in 1957, he soon found success in Verne Gagne's AWA, the place he called home for the bulk of the 60's. Along the way, he added a few regional titles to his resume, then hit the big time with a stint as WWWF tag team champion with Karl Gotch in 1971. Rene even went on to make history by becoming the first man ever to defeat Ric Flair, pinning a young Nature boy in his rookie year of 72.
Nothing in wrestling lasts forever though and just like his musical idol Jacko, Rene's career went south in a hurry. As Vinnie Jr. expanded his WWF in the early 80's, more fans then ever tuned in to see Goulet become a nonstop jobbing machine for the best and the worst of the "Ro ck and Wrestling" era. But he wasn't jobbing alone. By his side was his faithful companion – "the Glove." At one point in time, Goulet was known as the "Master Of The Clawhold," and the old, beat-up leather glove he wore on his hand helped him attain a few submission victories. However, since Rene no longer was winning matches and he was smack-dab in the middle of the MTV-generation, he figured a makeover was in store. Pitching his tired old glove in the trash, Rene wandered into the Neverland Valley Ranch and got himself a shiny, sequined glove that rivalled the one Michael Jackson made famous. Would his new look make him any more successful? Well, on the untelevised undercard of MTV's War To Settle The Score, Goulet attempted to become the premier heel in the business. After his loss to Hillbilly Jim, he wound up getting into a heated exchange with ringside guest Mr.T., one which saw an enraged T hop over the rail. Goulet hightailed it out of there, leaving both a skid mark on the MSG floor…and probably in his trunks as well.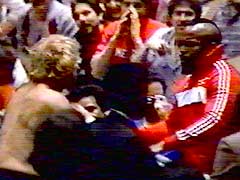 Sadly, any hopes of Goulet headlining Wrestlemania with a match against than-pop culture icon T were crushed when Roddy Piper one-upped Goulet by laying the mohawked one out later in the evening, and in turn, beginning the era of the mainstream WWF. His quick bush with fame now behind him, he stuck around for a few more years of losses, finally hanging up the glove for good in 1987.
It was not, however, the last time Goulet would work for the WWF. He transitioned right into a career as a road agent for the company. Aside from making sure things went as planned at house shows, he occasionally popped up on tv whenever extras were needed. It was here where he had perhaps his most infamous moment.
In a scene previously covered here at the 'Crap, the vile Undertaker had stuffed do-gooding lunatic Ultimate Warrior in a casket. With hopes were fading fast, to the rescue came wrestling's equilalent of the Three Stooges – Goulet, Tony Garea, and Blackjack Lanza.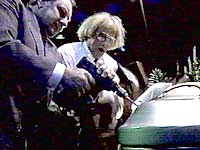 But they didn't come empty handed! In a scene straight out of "Home Improvement On Acid," Goulet and the boys used every drill, screwdriver, and crowbar available to help our nutty hero escape. Because, you know, the best way to open a coffin is by smashing it with a sledgehammer.
After a decade of working behind the curtain, Goulet and the WWF parted ways in 1997. Rene settled in Charlotte, North Carolina, where he spends his spare time on the golfing range. We here at Wrestlecrap hope he – and his glove – are enjoying retirement.