"There's a man who leads a life of danger.
To everyone he meets, he stays a stranger.
With every move he makes, another chance he takes.
Odds are he won't live to see tomorrow.
Secret agent man.
Secret agent man.
They've given you a number and taken away your name."
In 1965, singer Johnny Rivers would unleash his little pop diddy, "Secret Agent Man," to the music world. Twenty-three years later, Rivers' words echoed thoughout WCW rings, as fans would be witness to a wrestling agent who led a life of danger alright, every time he stepped into the ring. And like the song, the people at WCW took away his real name, one of the most famous ever in the business. They didn't give him a number though, only a silly name. He became Agent Steel, this week's Jobber Of The Week.
The sport of wrestling is filled with the rich history of famous wrestling families. Throughout the years, fans have watched various generations of Von Erichs, Armstrongs, and Gagnes come and go. But one of the most famous had to be the Anderson family. From Gene and Lars, to Ole and Arn, their family legacy of brutality was among the most respected. One amusing point must be noted, however. With the exception of Gene, none of the other guys were actually born with the name Anderson, or related in any way. So when the time came for Gene's son Brad to enter the ring, you had to think WCW would he happy to add a true blooded Anderson to their roster. Perhaps young Brad could become the next Anderson legend, the man who would carry the Four Horsemen into the 90's.
Not so fast, young man.
When Brad arrived in WCW in late 1988, there would be no Anderson family reunion invitation waiting for him. Instead he found a mask and a secret mission from WCW staff. His mission, if he chose to accept it, was to get pummeled by upper-to midcard talent on WCW Saturday Night, on a weekly basis. With no support from "Uncle" Ole or "Cousin" Ric, and with really no other choice, Brad accepted his mission. He was now Agent Steel, your friendly Parts Unknown neighborhood super spy. He donned his new outfit, and boy, was it a doozy. His black leather mask was reminiscent of the gimp from "Pulp Fiction." His rather homoerotic, pink and blue lilypad-style tights looked liked they were purchased at "Exotic" Adrian Street's annual garage sale. Forget about becoming the next James Bond. With Agent Steel wearing crap like that, he was more likely to be cast in the role of "James Bondage."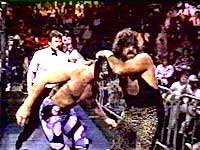 Poor Ol' Steel. The only thing more brutal than the Agent's choice of colors, was his won – loss record. He would have killed just to be "Double 00-7." After a year of his masked escapades, being known as "Double 00-127" would be more appropriate. Things got so bad for Steel, he even got beat up by guys who weren't even involved in his matches. As our lovable Agent was getting set to face Tommy Rich on a Saturday evening, out came Cactus Jack, who proceded to brutalize Mr.Steel, throw him back into the locker room, and take Steel's spot against Rich.
That was about the last straw for our wannabe "international man of mystery." Brad had enough of being a secret agent, and decided a change was in order. Unbelivably, in 1990 things went from bad to worse. Brad ditched the bondage mask and sissy tights. Then he made the ultimate sacrifice. He exchanged his secret agent's card for a flute. Yes, Agent Steel was now…drumroll…Zan Panzer, master of the pan flute.
You know, sometimes when it rains bad gimmicks, it pours.