Recently, the New England area saw one of its own go down in a crushing defeat. Now, while John Kerry may call it a day after his first and only loss, there is one man in the Massachusetts area who never had an ounce of quit. He was neck and neck with the Red Sox in terms of losing streaks in the 80's. But that didn't stop him from becoming one of the biggest cult heroes to ever step foot in the ring. The one and the only Bostonian madman. This week's Jobber Of The Week. The Duke of Dorchester, Pete Doherty.
Like so many before and after him, the Dorchester, Massachusetts raised Pete was lured into the ring after first becoming a fan. One day while in the local gym, he met some pro wrestlers who were working out, and they sent him on his future path in the sport. After some initial training, Doherty turned pro in 1971, and soon found himself in Vince McMahon Sr's WWWF. Throughout the 70's, stints in various regional areas like Georgia, Florida, and Canada kept Pete on the move. By the late 70's, Pete's hard work finally paid off in the form of his first push. Managed by Captain Lou Albano, he was repackaged as the masked Golden Terror. Initially having a winning streak, his luck soon went south and his "golden terror" soon resembled the type of "golden terror" you would encounter in a flooded, out of order urinal. Much like said urinal, Pete's masked gimmick was soon flushed. Albano ditched him, and by the time the Terror lost a mask-vs-mask match to Mil Mascaras, Doherty wasn't even behind the mask at the end.
Why was Doherty pulled out of the Golden Terror gimmick? Well, the main reason was probably due to Pete's day job. As much as he loved the squared circle combat, he wanted the pension and benefits that a full-time job as a cable puller provided. Not wanting to give up his wrestling career completely, he became the ultimate overtime worker. After working a full eight hour shift at his job, he would clock out and hit the road to the local wrestling arena. With his pedal to the floor, Pete would make the hours long drive to Philly, New York, or Baltimore. Sometimes running late, Pete often annoyed the bookers with his tardiness. One such man was Chief Jay Strongbow, who was the man who sarcastically christened him "the Duke of Dorchester" one night as Pete showed way late for a show. Now a part-time, full fledged enhancement talent, Doherty found himself doing the j-o-b to everyone from the Rock's grandaddy, Peter Maivia, to a young Larry Zbysko.
As the 80's wore on, the Duke continued to make his local stops. Sometimes he even ventured down to Memphis, where in 1984 he had a unsuccessful title shot vs. Jerry "the King" Lawler. But as Vinnie Jr. began his expansion, Doherty's cult status was soon to be put in overdrive.
May 10th, 1985. The first Saturday Night's Main Event, and the first network broadcast wrestling show in God knows how long. With all these new cartoon-like wrestling characters in tow, Vinnie Mac proudly presented a "new" product, one that targeted not only the old-school fans, but families and children as well. To help introduce the debut of Saturday Night's Main Event and the WWF to the kiddies viewing at home, the Duke showed up on everyone's screens, entered the ring, and proceeded to yell the words, "Fu*k you, you fu*king motherfu*ker." Yep, that "smoky, bingo hall" charm was now in living rooms nationwide.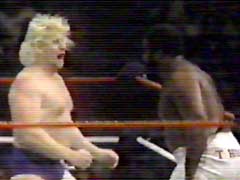 Doherty, who went down in defeat to the JYD that evening, was now a certifiable lunatic inside the ropes. With his few remaining teeth, and spastic ring style, a Doherty match was like no other. For instance, in a showdown with Bad News Brown, instead of the token resthold, for four straight minutes Pete bit Brown on every area of his body except where the sun doesn't shine. HIs teeth, in bad shape due to a auto accident which knocked most of them out, were lethal weapons. Forget the entire Jaws quadrilogy, you want razor sharp action, watch the Duke.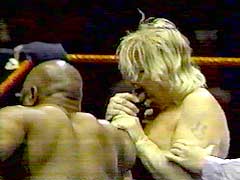 Other highlights for Doherty in the mid-80's would be a Bunkhouse battle royal in 1987 from the Boston Gardens that later showed up on Coliseums Video's Even More Unusual Matches. I still don't know what was more unusual about the match. The sight of Lanny Poffo wrestling in a combination spandex/ knight's armor outfit, one that when topped off with a bunch of feathers in his mask, made him look like RoboGooker…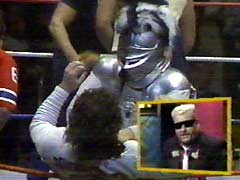 … or perhaps the Duke, who made it to the end of the match, only to be doublecrossed by "Bowling Alley" Bundy.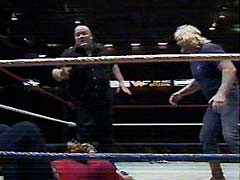 A few months later, the Garden would again be the site of Poffo and Doherty sharing the ring. This time however, it was to be Pete's "retirement" match. Believe it or not, he pulled off the upset of the mighty Sir Gazelle. You had to wonder, without wrestling, what would Pete do? One word……Hollywood.
Wanting to prove he was the superior Duke in Hollywood, Doherty made his acting debut in – what else? – No Holds Barred. Alright, now it may not have been a perfomance equal to that of the Oscar winning "Duke," John Wayne, but hey, even I don't think Wayne could have pulled off Pete's role of Klondike Kramer.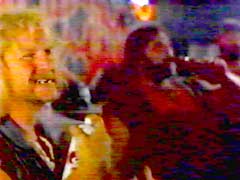 Klondike's gimmick? Well, a toothless white trash biker who liked to spray some sort of aerosol can all over himself. Well, now we all can pinpoint the start of the World Wildlife Fund's beef with Vince. The lack of respect for the ozone layer. No comment about Vince's lack of respect of the audience's intelligence, by trying to pull off the first of many Hogan sh*tflicks. Those who didn't leave the theater halfway through got to see something that in retrospect, is the stuff that Wrestlecrap dream matches are made of: yes, the first and only encounter between the Duke Of Dorchester and Zeus. Faster than you can say "jockass" however, Zeus disposed of Klondike.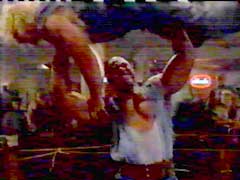 With his acting career behind him, Pete forgot about his retirement match and went back to his part-time career. His "second" career would see a few highlights for him, including a big win over Haku on his home turf of Boston, as well as a spot in the 1991 King Of The Ring tournament. His first round opponent? None other than Bret Hart. Two words….early night. Doherty spent the rest of the early 90's filling in for no showing wrestlers whenever there were house show in the local area. Careers don't last forever though, as as Pete approached the age of fifty, he finally stepped away.
Now 61 years old, Pete still resides in the New England area. His still makes appearences from time-to-time, most notably for http://www.newawrestling.com where he has the role of a member of the board of directors, and occasionally refs a match or two.
In conclusion, Boston is perhaps one of the most loyal and fanatic sportstowns. The championships and numbers put up are historical. Memorable numbers that include the year 1918, for the now exorcised Red Sox curse. The number 21, for the twenty one wins in a row by the New England Patriots. Both of those numbers live on in Boston fan's minds for years to come. But for me, when I think of Boston and sports, the number three will always come to mind. Three? That's right, three. The number representing all three front teeth that the Duke Of Dorchester had, which he used to terrorize opponents for decades.
Long live the Duke!!!