One of the few bright spots in the slowly burning out WCW of 1998 was Chris Jericho transforming into the witty, smartass who later went on to headline the sport. One of the most memorable bits of Jericho's WCW tenure was his side angle where he kept challenging world champion Goldberg to a showdown. The fans, who at the time were marking out like crazy for ol' Bill, were dying to see Jericho taste the spear. And those the fans in Winston-Salem, NC would get their wish at Fall Brawl 1998.
Before the first match of the PPV started, Jericho came out to be interviewed by Gene Okerlund. He stated that after all the time he spent hunting him down, Goldberg had finally accepted Jericho's title vs. title challenge. It was one of the few highlights on a show where the only match the fans had to look forward to was the War Games main event, which the Warrior promptly turned into a half-assed sequel of John Carpenter's "The Fog." Since Goldberg wasn't scheduled to be on the card, maybe it was gonna happen. What a bonus!!!
Jericho, with bodyguard Ralphus in tow, did his token Goldberg-style walking from the dressing room to the ring. The night started to take an omminous turn there, as Chris' walk to the ring took on Spinal Tap proportions as he got completely lost in the back and it took him minutes to find his way to the ring.
Finally, however, the familar music would hit and the crowd got on their feet. The fireworks and pyro fired. The chants for the 143-0 champion started. And out from the sparks came…..Goldberg.
Well, not quite.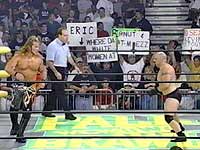 Instead, this version of Goldberg more closely resembeled everybody's favorite potty-mouthed midget actor, Bodyslam's Billy Barty, on growth hormone. Viewers at home could actually feel the live crowd's pain and letdown, as the "bullsh#t" chants started up and never died until the match ended.
Thankfully, the pain didn't last too long. Despite hitting the spear on Jericho, our little mini-Berg would wind up in the Liontamer and tap out in under a minute. Jericho, in a moment that wouldn't be equaled until he claimed the WWF-WCW undisputed title, would claim "Goldberg's" child's foam championship belt, to add with his TV title. In a Shane Douglas mood, he later tore up the foam belt and threw it into the crowd.
I've got to give this week's 4'1″ JOTW credit. Despite the crowd not enjoying it, he pulled off a rather amusing parody of Goldberg, predating the more famous Gillberg by a few months.
Fans can sit around and wonder about the Austin vs. Goldberg match-up we'll never see.
You do that.
I'll daydream about the atrocity that would be the Impostor vs. Gillberg match.
Heroes Of Wrestling promoters…that's your cue!