Whenever the words "enhancement talent" and the NWA are brought up, the first thought that comes to most people's mind are the Mulkeys. I disagree. Argubly, the premier "underneath" wrestler of the 80's and early 90's had to be George South. Not only for the jobs he did as himself, but also for representing my adopted hometown of Parts Unknown like no other man did. The WWE once put out a video entitled "The Three Faces Of Foley," chronicling Mick Foley's various gimmick changes. WCW obviously missed the boat by not releasing a rival cassette entitled, "The Many Masks Of George South." Well, since WCW messed up, it's up to me to pick up the slack by honoring this week's Jobbers Of The Week, the Cruel Connection.
Undercard wrestlers George South and Gary Royal had been mainstays of Jim Crockett Promotions for many years. While both may have come up on the losing side of things for 99.9% of their matches, it was clearly obvious that they were both talented grapplers. So much so that in 1987, Mr.Crockett decided to make them work a little overtime. Rather than bringing in additional enhancement talent, Crockett figured he would just put South and Royal under hoods and get an extra match or two from them nightly. One quick stop by Crockett to the local outlet mall in Parts Unknown, and the world would fall victim to this: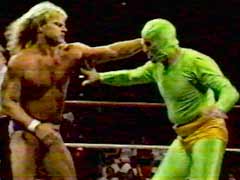 The most hideous outfit that is not poultry-related in the history of professional wrestling. Look at that outfit. It looks like Jim Henson subjected Kermit the Frog to massive injections of growth hormone and outfitted him in Hogan-style yellow tights.
While the bizarre notion of Henson juicing up his puppets to cash in on Vinnie Mac's ideas may be a bad dream, sadly, the tag-team fashion nightmare known as the Cruel Connection was not. South and Royal, now known as #1 and #2, became mainstays on TBS programming, losing weekly for the whole world to see. They even got a little taste of the big time in 1988, by gaining a spot in the Crockett CupTournament pay-per-view. Luke and Butch, the then-Sheepherders, made sure that despite the PPV appearance, it was jobbing business as usual for the lime-green losers.
After the Crockett Cup defeat, masked life went on for South and Royal. Not only as the Cruel Connection, but also as the Mexican Twin Devils, and as the only team the Mulkeys ever beat, the Gladiators.
Unfortunately, like most teams before them, there was the inevitable split. For whatever reason, Gary Royal disappeared from the now Ted Turner-owned WCW. Was it time for South to retire the godawful green suit? Hell no. We kept wearing it and in a bizarre move, even though he was now a singles wrestler, he still used the name Cruel Connection.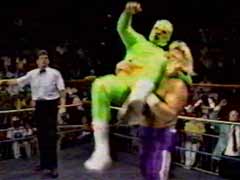 That one still has me confused to this day. Just what exactly was the now solo #1's "cruel connection?" Did he have a bad long distance provider? Some sort of testicle/ penile problem? Well, whether it was SBC or his "twig and berries" causing his connection to be cruel, #1 hung around until the early 90's, before heading back to Parts Unknown, presumably forever.
Well, I said presumably. It's now 2004 and guess who's back? Yep, those of you in the south can now see both Cruel Connection #1 and #2, reconnected after all these years, still blinding independent wrestling fans left and right with those downright scary lime-green suits. Be sure to check out http://www.georgesouth.com to see where George and Gary will be defying the Fashion Police next.