Thanks to the growing popularity of Lucha Underground, cable television show AAA and CMLL and the wrestling community looking for alternatives, lucha wrestling is on the upswing. Lucha has a long and rich history with a few luchadores crossing into pop culture icons. Chief among those was El Santo who filmed almost 60 movies. And you were sick of seeing The Rock in The Fast and The Furious.
In many of his movies El Santo teamed with another luchadore, Blue Demon, to battle all sorts of otherworldly demons and creatures. I guess once you've pinned ordinary men's shoulders to the mat for a three-count, vampires and aliens are the only challenge.
While many of their movies are available online, most are in Spanish with no translation. Unfortunately, my knowledge of the Spanish language is only slightly better than Vince McMahon's dancing skills.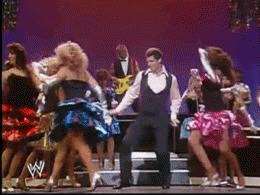 Luckily for us, I've stumbled onto a movie with subtitles. Even better, it stars not only El Santo and Blue Demon, but Mil Mascaras too!
I can only hope we also get El Toro Fuerte from Jackie Chan Adventures

But this is Wrestlecrap which means we're more likely to get El Asso Wipo and Señor Bag of Crap.

Guanajuato is a town located in North-Central Mexico, famous for it's naturally preserved mummies. Strangely, I couldn't find anything about their Yeti population.

The town is also famous for long establishing shots as we see a tour bus go through the city for a good 5 minutes. Full episodes of Impact have spent less time in the ring than that.

The tour bus arrives at a museum featuring the Guanajuato mummies. Our tour guide is a little-person named, and I am not making this up, "Penguin".

It's okay because that's what his friends call him. These same friends probably like giving him purple nurples too.

Egghead, Colonel Gumm, and King Tut must have been with the other tour groups.

Penguin takes the group through the museum showing them a few mummies who have barely decomposed. Many of which apparently wore Dockers. They may be dead, but they're still business casual.

Here we learn about a 7'2 luchadore mummy who wrestled under creative and mysterious name "Satan".

If you think Satan is a bad name for a wrestler, you probably forgot about Lucky Cannon.

And shame on you forgetting about the epic storyline involving Lucky and Maryse's purse.

Note To Self: Induct this soon.

Actually, better Note To Self: Have RD or Art induct this instead. Yeesh.
100 years ago, Satan made a pact with the Lord of Darkness to become world champion. That's only slightly better than selling your soul for a donut.

Penguin explains that El Santo defeated Satan in a wrestling tournament. This gave us one of the earliest examples of a smart mark as a woman explains that El Santo wasn't alive 100 years ago. Funny, she has a much smaller neckbeard than I expected for a smark.

Penguin quickly recovers from this truth smackdown by explaining that it was El Santo's ancestor. After his death, the Goat-Legged One mummified Satan so he could come back a century later to gain his revenge against El Santo. And what's this? The century mark is today? Zoinks, Scoob! That like, totally convenient, man!

After the guests leave, Penguin notices that the mummified Satan is actually moving and passes out. Wow that's a really weird thing to write.

Have you ever wanted to see what it's like from a sandwich's perspective right before the Great Khali digs in? Well now you have.

When he comes to, Penguin goes to a local nightclub to tell his friends Alicia and Lina about what has happened. We are "treated" to Lina singing, but honestly I can't get past her outfit. It's like someone tried to a make a "Sexy Doink" costume for Halloween.

Penguin tells them about Satan moving and asks them to come to the museum to see for themselves. Lina responds as any person would when asked to help a friend: with the threat of murder.

Like any good supernatural mystery, Satan is no where to be found. To paraphrase Aunt Selma , "Huh. It's like he just disappeared into tall air".

In the first of many non sequitur, a terrified Lina and Penguin then go to see Mil Mascaras and Blue Demon in a tag team match. Sure there's a 7'2 zombie mummy walking around, but dang it, they need to see some high-flying action right now!

We've got hurricanranas…

… a potential unmasking from what looks like the non-union Mexican equivalent of the Killer Bees…
| | |
| --- | --- |
| …and double-ramming headbutts that would make the Bushwhackers proud. | |
| | Despite her trauma, Lina really enjoys the match. Or is still terrified. Or hungry. She's got the crazy eyes going on, so it's hard to tell. Either way, this match took up 10 minutes of the movie. Thankfully, there were no "We are Awesome" or "CM Punk" chants. |
| After Blue Demon and Mil Mascaras defeat Las Abejas Asesinas, Penguin explains the missing Satan situation in the locker room area. If a picture is worth a thousand words, this one is a run-on sentence. | |
| | Both wrestlers refuse to believe that a luchadore mummy has come back to life. Weirdos. On the plus side, we randomly learn that Mil and Lina are in love. What a big softy Mil Mascaras is. |
| Just ask Cactus Jack. | |
| | Penguin and Mil Mascaras return Lina to her club. I only bring this up because I need an excuse to show Mil Mascaras, in a suit, driving a green dune buggy with Penguin riding shotgun. I think I've found my 2015 holiday cards. |
| Meanwhile, Satan attacks Blue Demon from behind with a back slap most foul. | |
| | Satan enters the now empty arena and has a flashback to his fateful match with El Santo. |
| Hmmm….this move looks familiar, but I can't quite put my finger on it… | |
| | Ah, there it is. |
El Santo celebrates his wing with a close-up shot of his crotch so graphic that it could win an AVN award.

Like most mummies freshly awoken from their century-long slumber, Satan decides to go on a killing spree. Guanajuato's finest policemen with the barest office walls are baffled by the case.

Back at Blue Demon's house, the 70's are in full swing judging by the clothes, furniture, hairstyle, colors, décor, and stench of "Gee, Your Hair Smells Terrific" Shampoo.

Blue Demon thinks that a professional wrestler could be the culprit, but Mil Mascaras disagrees with his flawless Mil logic that wrestlers don't commit crimes.

I think a few "sportsmen" might be an exception to the rule, Mil.

Thought we were done with the non sequiturs? Look out, because here comes Blue Demon's son Julio that we didn't know about until right now!

Julio stays with Lina and Alicia while Blue Demon and Mil Mascaras look for Satan. And by look I mean stand casually next to their cars in the most conspicuous way possible.

Satan uses his mummy cunning, cat-like reflexes, and ninja-like abilities to casually follow Penguin home in order to brutally murder him.

Wait, what?! Yes, Satan actually kills Penguin. At home. In his bed.

This movie got dark really quick.

Did David Lynch direct this scene?

Ever the diabolical genius, Satan sics his mummy henchmen on the wrestlers who have serious trouble fighting them despite being athletes and, y'know, alive.

Maybe the mummies do CrossFit.
Mil Mascaras watches over Julio and Lina while Blue Demon unexpectedly takes on Satan. It doesn't go so well for Blue.A mask vs. mask match for free? What is this, Smackdown?
Being the evil super-genius that he is, Satan dresses up a henchman as Blue Demon to frame him.Apparently, Blue Demon must smell like a corpse and look like a sack of potatoes with arms because the police fall for it.
In an effort to clear Blue Demon's name, both wrestlers decide to find Satan themselves. Presumably, they use the power of Mil Mascaras's grandpa shirt to find him.
While they're out trying to find the world's craftiest 7'2 ft monster luchadore, mummy henchmen kill Alicia and kidnap Lina.Remind me never to hire Blue Demon and Mil Mascaras to find any lost pets.
Julio, meanwhile, sneaks out of the house and stowed away in Blue Demon's car. Are all children in movies required to be total jerks?
I blame television.
And those pants.Of course, being a stupid kid in a movie, Julio is kidnapped by the mummies. Is Satan a criminal genius or is everybody else just incredibly stupid?
Amidst all this chaos, El Santo arrives in town. I've never been to Mexico, but I really hope the roads are full of luchas in convertibles.
Using the power of lucha and Three Stooges movies, El Santo battles a horde of mummies.
Despite spending most of the movie sneaking around and framing Blue Demon, Satan and the mummies launch an all-out blitz on Guanajuato not seen since Michael Jackson's "Thriller".
Shockingly, the inept police are unable to stop the mummies. They're impervious to bullets and mustaches!
| | |
| --- | --- |
| El Santo, Mil Mascaras, and Blue Demon face off against Satan and the mummies (good band name) in a final showdown. | |
| | The groups are evenly matched and a stalemate is reached not seen since Cameron vs. Wrestling Rules. COUNT IT! |
| Luckily, El Santo has a brilliant plan to defeat the mummies once and for all. | |
| | Oh |
| My | |
| | Luchadore. |
| We've already seen that guns are useless, so there's no way that…oh wait, it totally does work and both Satan and his mummy minions are defeated. Luchas with guns that shoot fire: the ultimate killing machines! | |
| | With Satan defeated, Blue Demon is cleared with a heartfelt "my bad" from the police. |
| El Santo, Blue Demon, Lina, Julio, El Santo's manager celebrate a job well done with Mil Mascaras doing the meal plan… | |
| | …only to be shot down by Lina in the style of network television sitcoms. |
| | |
| --- | --- |
| Sure many people have died and our concept of death has forever been changed, but man is it funny to emasculate Mil Mascaras. HAHAHAHA! | |
You know, it's probably a good thing that most of these movies haven't been translated.
If you Crappers are feeling adventurous or morbidly curious, The Mummies of Guanajuato is available for free via archive.org.