"I always had this feeling that Vince wanted me more to undermine WCW than he did as a talent."
– Sting, "Legends with JBL", 2016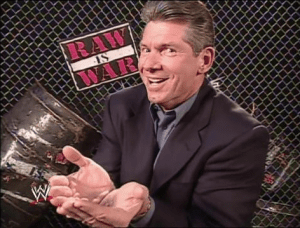 If there was ever any wrestler synonymous with WCW, it was Sting. No one else had been with the company from its beginning to its end without ever working for the competition. Not Rhodes, not Flair, and certainly not Hulk Hogan, Scott Hall, or Kevin Nash. Even after the WWF bought out WCW, and even after his Time Warner contract expired, Sting never signed with Vince McMahon, instead wrestling in places like World Wrestling All-Stars and TNA. Partly, it was to work a lighter schedule to spend time with his family. But there was also the nagging worry that Vince McMahon would try to humiliate him just to get one final empty measure of revenge against WCW, booking him into irrelevance like Diamond Dallas Page and the rest of the WCW stars during the 2001 Invasion angle.
But seemingly everyone (even Steve Borden himself) wanted to see Sting come to WWE to wrestle The Undertaker, to the point where the fan-made Sting vs. Undertaker Wrestlemania poster became a genre all its own.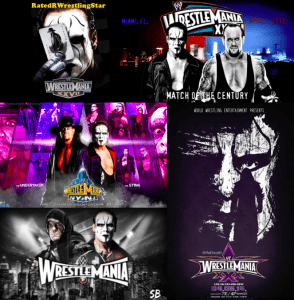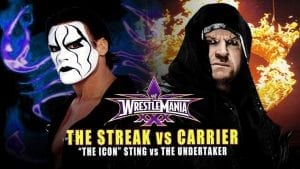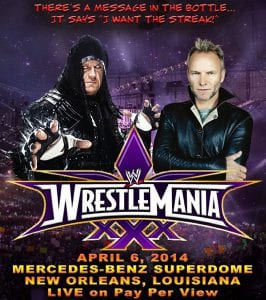 Maybe it was because both men had similar mysterious, dark, brooding, borderline-supernatural characters. Maybe it was because both men were the most respected and loyal members of their respective companies. Whatever the appeal, this was *the* last great WWF vs. WCW dream match that was still even possible.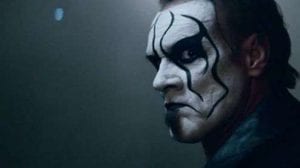 In 2014, with Sting finally working with the company to promote the latest WWE video game, the long-awaited dream match was finally within reach.
But he wouldn't be wrestling the Undertaker. At least, not yet. Instead, his first program in WWE would be against Triple H, whom Sting would force out of power at Survivor Series 2014.
That night, in a match where Triple H and Stephanie's tenure as on-screen authority figures was at stake, Dolph Ziggler and Triple H's proxy Seth Rollins were the last men remaining.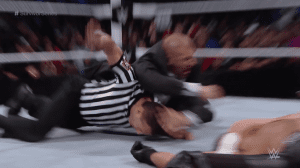 Ziggler hit a Zig-Zag on Rollins, leading Triple H to interrupt the count and beat up the referee. Later, Ziggler hit a Zig-Zag on Rollins, leading Triple H to interrupt the count and beat up the referee. Again.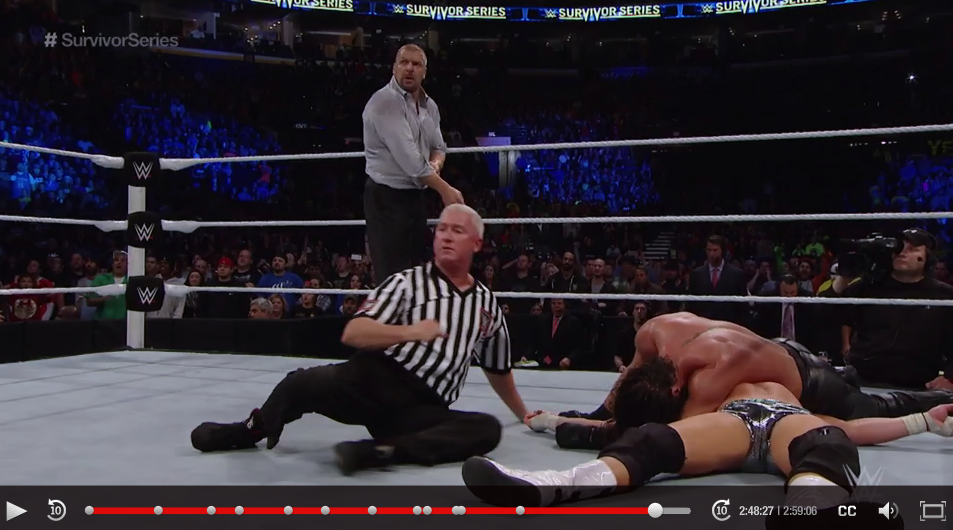 Triple H then hit the Pedigree on Ziggler, pulled Rollins on top of him, and brought in crooked referee Scott Armstrong to make the count. Before he could make the three-count, he was interrupted by Sting's theme music. All Armstrong had to do was hit the mat with his hand just one more time, but he instead stood transfixed for a full minute before Sting took him out.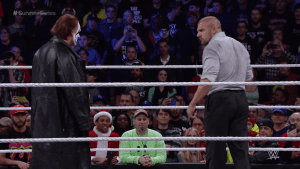 Sting then hit the Scorpion Death Drop on HHH before dragging a lifeless Dolph Ziggler on top of Seth Rollins, who was still motionless after over four minutes, for the pinfall.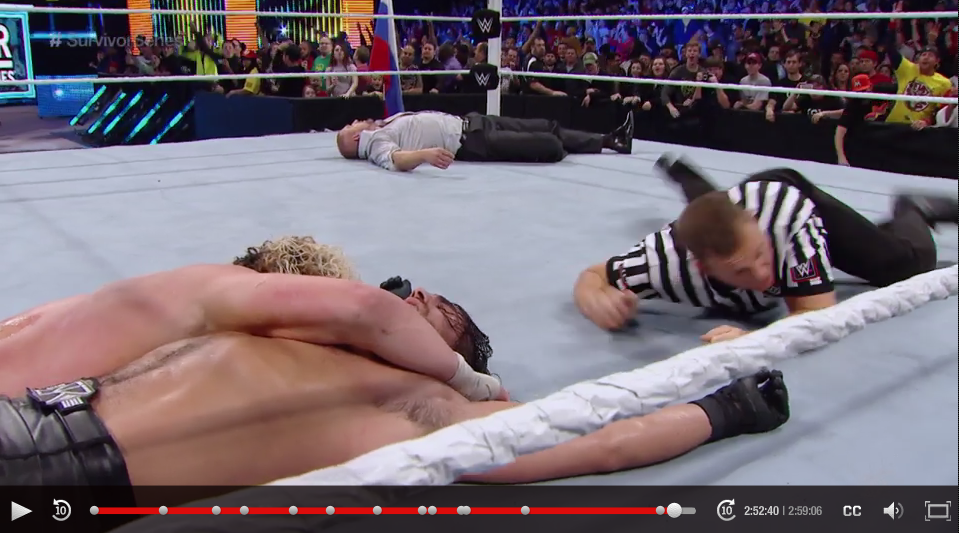 On his very first night with the company, Sting, whom the announcers quickly and repeatedly dubbed, "The Vigilante", had made a lasting impact on the company, closing the door on 16+ years of tiresome "evil authority figure" angles.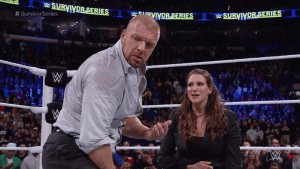 This all happened in late November.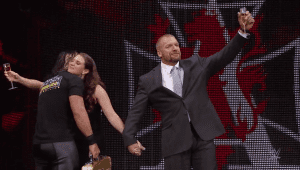 By the end of the year, The Authority was back in power, nullifying everything Sting had done.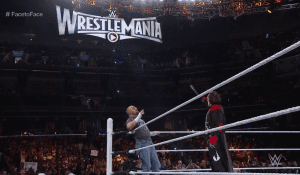 Still, Triple H wanted revenge against Sting for giving him and Stephanie five weeks of paid vacation, and that revenge would take place at Wrestlemania Play Button. It was billed as "the match we never thought we'd see": Sting vs. …any WWE guy, really. This meant that the Taker vs. Sting dream match would have to wait until at least Summerslam, after Sting had a tune-up victory over Triple H under his belt.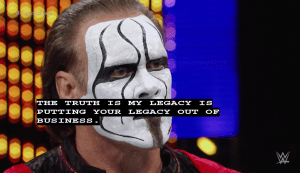 To further goad Sting, Triple H took credit for putting his old employers, WCW, out of business. And here you thought Steve Austin and The Rock were responsible for the Federation turning the tide in the Monday Night Wars.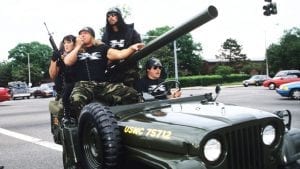 But when Sting finally got the opportunity to speak to the WWE Universe, he declared that his sole mission was to take down Triple H, who had manipulated his way into power over the last 14 years, just as the nWo and others had done in WCW. Hence, the nickname, "The Vigilante." Was he there to fight on behalf of WCW?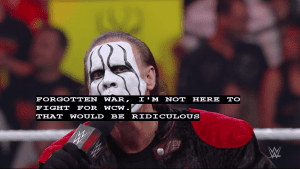 Absolutely not, said Sting, calling such an idea "ridiculous."
He also drove his point home in a video package where, for some reason, his voice was deepened to the point that it didn't sound like Sting at all. However, a quick pitch-correction revealed that it really was Sting speaking (unlike the time someone was stalking The Undertaker's wife, where some pitch-correction revealed that it was, in fact, Vince McMahon).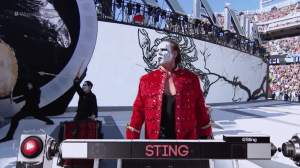 At Wrestlemania 31, Sting made his grand entrance in front of nearly 77,000 fans who were thrilled to see The Icon finally wrestle for WWE and who also wondered why a Japanese percussion ensemble was playing him to the ring.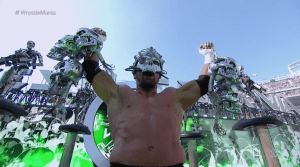 And after watching Triple H's entrance, Sting must have breathed a sigh of relief as The Game had forfeited any right to make fun of his alliance with RoboCop. But he also must have wondered how exactly he could "take down" Triple H as a tyrannical authority simply by beating him in a wrestling match.
This became a moot point, as once the match began, not a word was spoken about Sting being a vigilante (a nickname they had been pushing for months, starting the night after Sting's first appearance) or his mission to take down the corrupt Triple H and save WWE.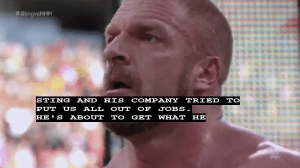 But a lot of words were spoken about Sting trying to put WWE out of business in the 90s and take away everyone's jobs by wrestling for WCW. It wasn't just JBL spinning Sting's career and motivations; supposed babyface announcer Michael Cole agreed with JBL, leaving Jerry Lawler as the sole voice of reason. Never mind the fact that WWE actually did put WCW out of business, putting dozens of wrestlers out of jobs, including Sting.
And as for Sting's whole reason for finally coming to WWE? Despite what fans had seen back at November's Survivor Series and heard in every Sting promo since then, we were now told that it was Triple H who brought Sting into the company, which he did so he could beat him and claim one final victory in the Monday Night Wars.
The fans in attendance didn't hear any of this commentary, though, so they had no idea that this match was supposed to be the Super Bowl of sports entertainment, pitting WWE against WCW. Neither did Sting, who, as you may recall, had declared six days earlier that he wasn't fighting for WCW and that to do so would be, and I quote, "ridiculous".
But the announcers took every opportunity to belittle WCW and Sting, the man who thought he was too good to wrestle for WWE and was now getting his comeuppance.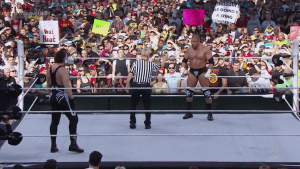 And while that was happening, WWE took every opportunity to throw a bunch of crazy crap into the match.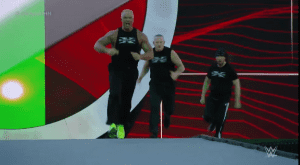 First, there was a run-in by the lesser members of DX.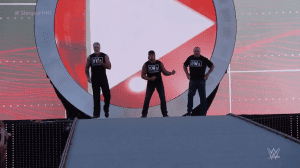 Sting survived a four-on-one disadvantage and a Pedigree before the nWo arrived on the scene to fight off DX and make it a fair fight again for the Stinger. An odd decision by Hogan, Hall, and Nash, considering that two of them were buddies of Triple H…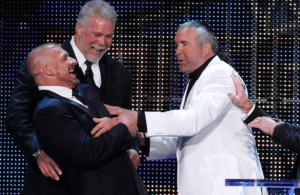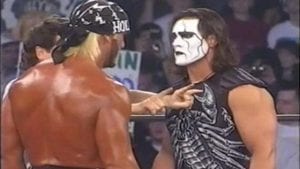 …and that Sting was the nWo's number one enemy for years…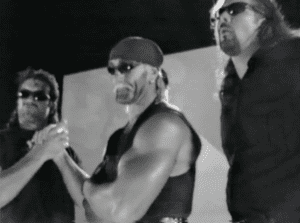 …and that as recently as three weeks earlier, Sting had cited the trio as a main reason why WCW went out of business.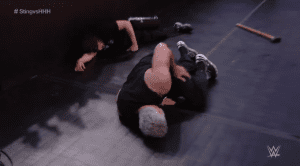 Triple H kicked out of a Scorpion Death Drop before a seniors' brawl broke out at ringside.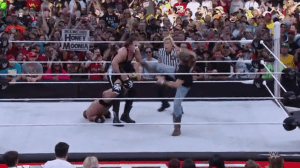 Shawn Michaels then showed up to kick his fellow born-again Christian in the jaw, as his true loyalty lay with the King of Kings (uh, Triple H). It was "the Monday Night Wars come to life."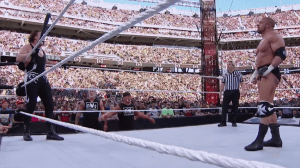 Triple H then brandished a sledgehammer, so Scott Hall handed Sting a bat…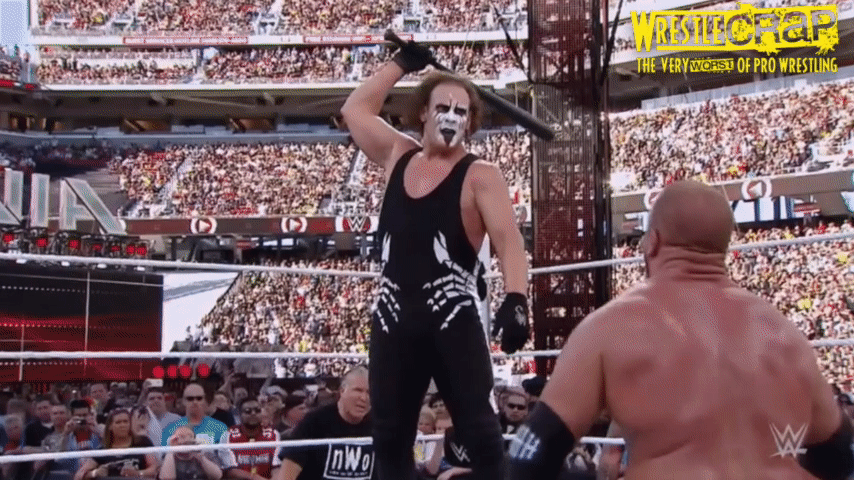 …which he used to somehow snap Hunter's sledgehammer in half.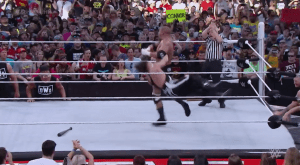 Sting threw away his weapon — all he needed were his fists and a lot of hairspray — and seemed poised for victory until Triple H nailed him in the face with the head of sledgehammer…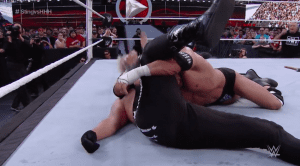 …leading to a pin. JBL declared victory one last time for WWE over WCW.

It was a tough loss for fans to accept, but in the end, legends have got to put over the young guys who really need it.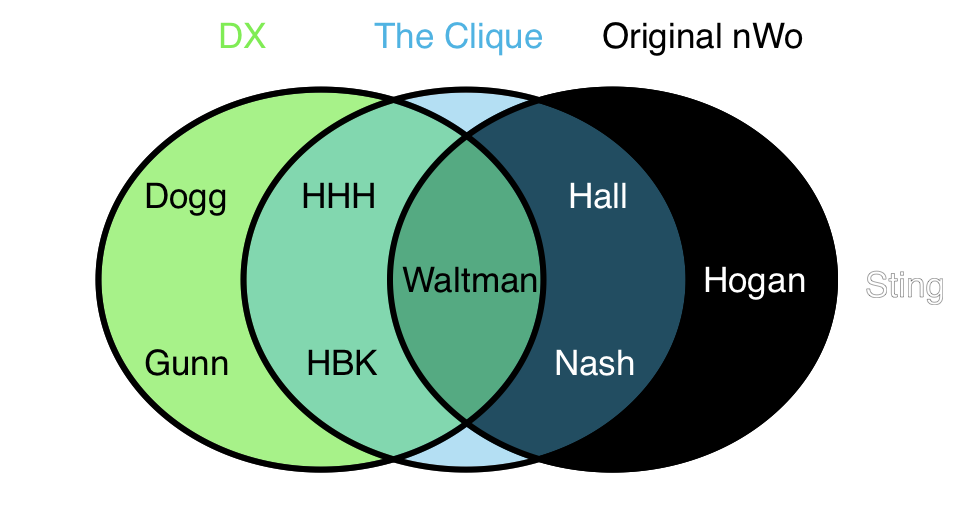 Post-match, there was a stand-off between the two warring factions of basically just Triple H's friends.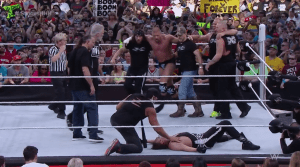 Michael Cole noted the historical significance of this moment, wondering who would have ever imagined these men sharing the same ring.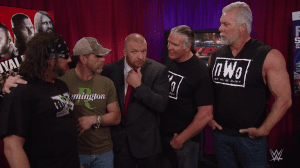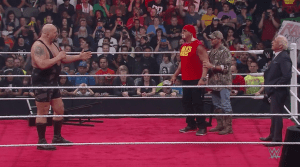 I'll tell you who would have imagined it: everyone who had watched the January 19th episode of Raw.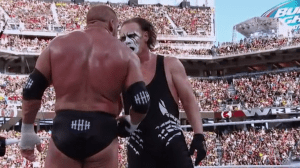 As if he had just forgotten everything Triple H had done to him in the past twenty minutes, from calling on four of his friends to beat him up to knocking him out with a sledgehammer to pick up the cheapest of victories, Sting shook Hunter's hand. I guess the announcers weren't the only ones suffering from amnesia on this night.
The next night after Raw, Sting gave an interview where he graciously accepted the Wrestlemania participation trophy.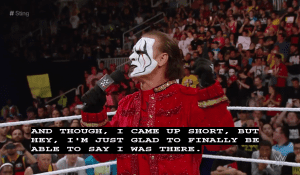 As for his future, Sting resisted addressing the crowd's "Undertaker" chants and gave a worryingly frank answer about taking whatever WWE offered him and how it would be a shame for the company to let their opportunities with Sting go to waste.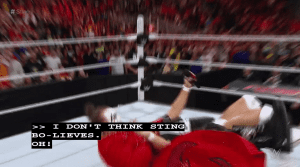 Sting then made it perfectly clear to Bo Dallas that he didn't Bo-lieve. Perhaps he should have, because the rest of his WWE run didn't turn out much better.
Flash forward to August. Sting, having lost to Triple H in his only WWE match to date, was in no position to start challenging the Undertaker (This worked out fine, as the Phenom was embroiled in a feud with Brock Lesnar revolving around Taker kicking Lesnar in the groin and complaining that he was too braggy).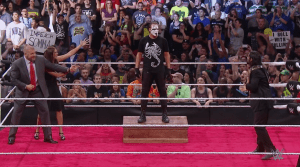 So Sting showed up on Raw in place of the statue Seth Rollins had earned by beating John Cena.
In his first promo back, Sting spoke about how much he respected Triple H.
Yes, he respected the man who recruited four of his goons to interfere in their match.
Yes, he respected the man who hit him with a sledgehammer to beat him.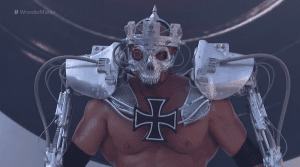 Yes, he respected the man who came to the ring dressed as a robot.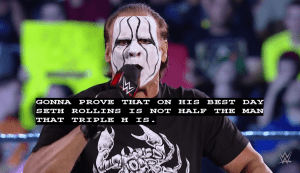 Seth Rollins, on the other hand, was no Triple H. No, Seth had cheated his way to victory to hold on to his title and, to make matters worse, despite having relied on his political stroke to keep his inflated position in the company, he still thought he deserved to be ranked up there with the all-time greats of WWE. I repeat: Seth Rollins was no Triple H.
What he was was a "little boy", and as this Sprite commercial proved, Sting was more than willing to beat up little boys.
Sting's point was that he might not be as great as the great Triple H, who pushed him to the limit (Sting's limit turned out to be a sledgehammer to the face), but Seth Rollins wasn't even as great as Sting, let alone the great Triple H.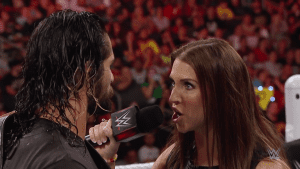 Stephanie McMahon agreed and gave Seth a dressing-down for the blasphemy of comparing himself to her husband.
And so the two men warred over who could better approach the undisputed greatness of Triple H. Well, over that and the missing statue…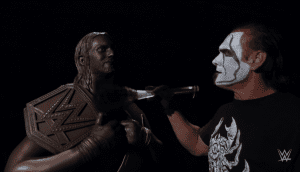 …which appeared to be made of chocolate…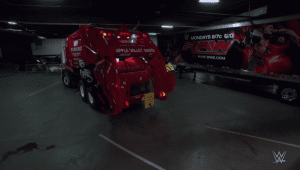 …and ultimately got fed to a garbage truck.
A week before Night of Champions, someone at WWE realized that Sting had lost his one and only match in WWE, and that it made no sense to give a title shot to the only man in the company with a worse win-loss record than Seth Rollins himself.
Therefore, WWE gave its fans something they had never seen before: the Stinger wrestling on a Monday night…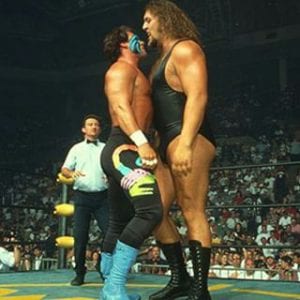 …against Paul Wight.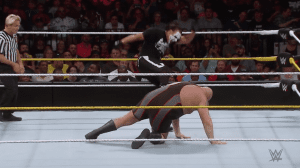 The match soon ended in disqualification after Seth Rollins interfered, technically giving Sting the victory and upping his all-time record to 1-1.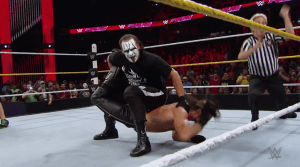 This result led to a tag team match between Seth & Show and Sting and Cena, which ended with Sting getting the submission to earn himself a 2-1 record.
This tag team win boded well for Sting, especially because his opponent for Night of Champions had to wrestle John Cena immediately before wrestling Sting.
Two things happened at Night of Champions with big implications for Sting's career: First, WWE announced that the rubber match between Brock Lesnar and the Undertaker would take place at the next month's Hell in a Cell pay-per-view, rather than Wrestlemania. This meant that in Dallas the next April, The Undertaker would now be free to wrestle…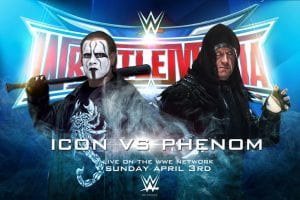 …well, you tell me.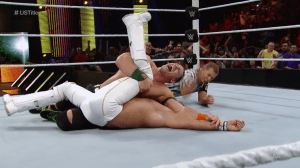 And second, Seth Rollins lost his US title to Cena that night in a hard-fought 15+ minute match.
Right afterwards, it was Sting's turn to pick up the scraps. But despite the odds being in his favor, Sting failed to win the big one yet again…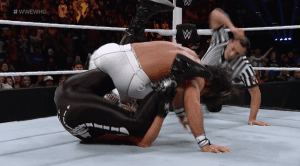 …this time losing via a roll-up.
Between the bells, Sting managed to get seriously injured by taking a dangerous move.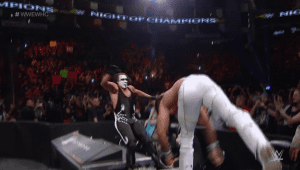 Not this move…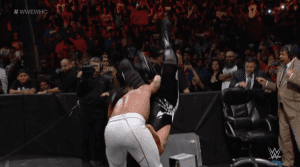 …or this one…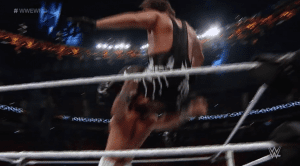 …or this one…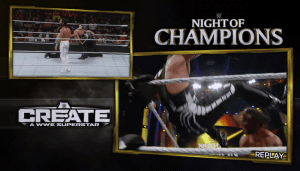 …but this one, basically the same move that Seth would put Finn Balor out of action with the following year.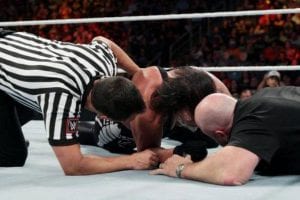 Since Sting was already 56 years old, any injury could potentially end his career, especially an injury requiring surgery, and especially an injury requiring neck surgery.
The fact that Sting's days in the ring were numbered and could end at any time should have been obvious to everyone, but WWE still managed to squander the Stinger's last run by failing to book the only Sting match that people wanted to see, while jobbing him out in two matches nobody particularly wanted to see.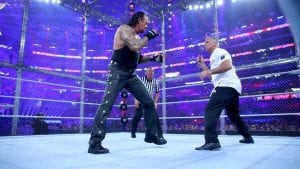 Instead of Sting, The Undertaker's Wrestlemania opponent ended up being Shane McMahon.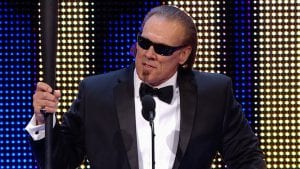 And instead of prepping for a match, Sting spent the night before Wrestlemania 32 being inducted into the Hall of Fame and officially announced his retirement, having won countless big matches in NWA, TNA, and above all others, WCW…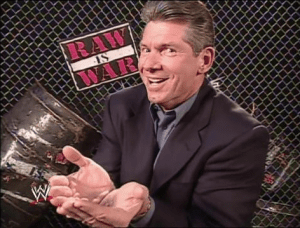 …and having lost all his big matches in WWE.