Bret Hart had a lot of enemies at the beginning of 1995: Bob Backlund, who beat him for his WWF title; Owen Hart, who conned his own mother into throwing in the towel for Bret; Diesel, who now held the WWF title Bret sought; and Jeff Jarrett & The Roadie…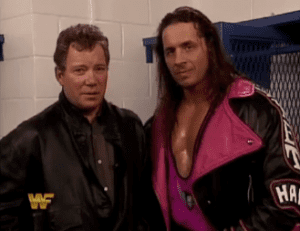 …who took issue with Bret's good friend and creator and star of USA's new series TekWar, William Shatner.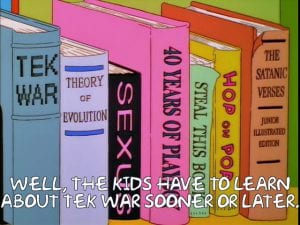 But add to that list Hart's old nemesis, Jerry "The King" Lawler, who was about to antagonize the Hitman once again, this time with some shocking allegations.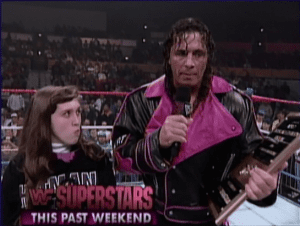 On a February episode of WWF Superstars, Bret Hart was given a plaque on behalf of the readers of WWF Magazine for embodying the spirit of the New WWF Generation or something.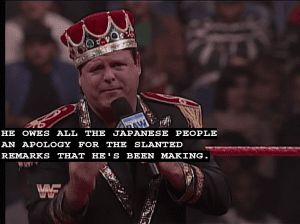 The next night on Raw, Jerry Lawler took a few moments to dispute the results of that WWF Magazine Reader Poll. The Japanese readers must have been excluded from the vote tally, Lawler claimed, because they would never vote for Bret Hart. Hart, said King, had been making very "slanted" remarks (get it?) about the Japanese.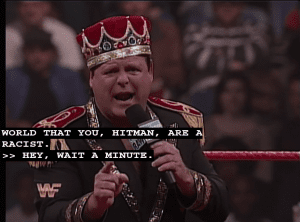 "You, Bret Hart, are a racist!" said King to get the point across.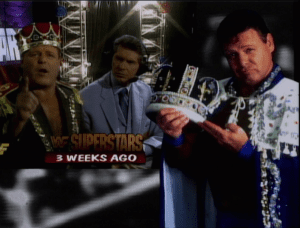 On Superstars, King called Bret "the most prejudiced guy that you've ever seen" and said he treated racism like an Olympic event. (If racism were an Olympic event, Kurt Angle would try for a second gold medal)
Bret Hart, a racist? Surely King must have confused Bret's words with some other comments about the Japanese made in the WWF…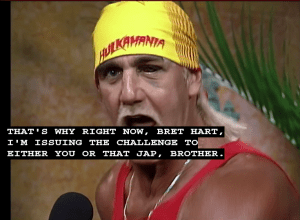 …like when Hulk Hogan called Yokozuna "that Jap"…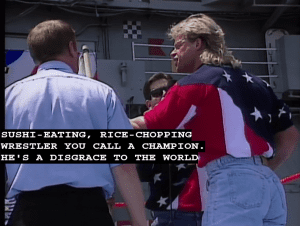 …or when Lex Luger called Yokozuna an "overstuffed, sushi-eating, rice-chomping wrestler".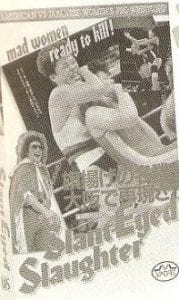 Or maybe he saw an ad for one of those racist mail-order VHS tapes from the 80s.
But Bret Hart hating the Japanese? Unlikely.
That didn't stop other heel commentators like Jim Cornette from repeating the allegations, enraging Vince McMahon, who was still reeling from some other accusations that I'm sure were equally as unfounded as the rumors of Bret Hart's racism.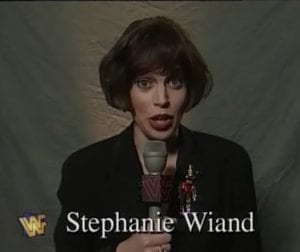 Even Stephanie Wiand weighed in on the racism rumors.
Lawler supposedly had proof that Bret was a racist, and he was going to present his proof (somehow) during his forthcoming match with the Hitman.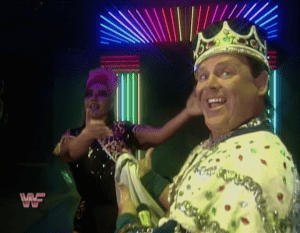 On a March episode of Raw, Lawler didn't bring any evidence, but he did bring a contingent of Japanese wrestlers: Bull Nakano, Hakushi, and Shinja.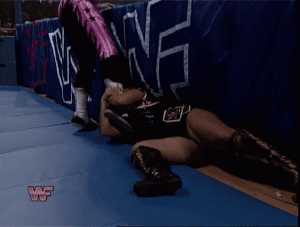 Nakano got Bret counted out (bringing his career record against Jerry Lawler to 0-3)…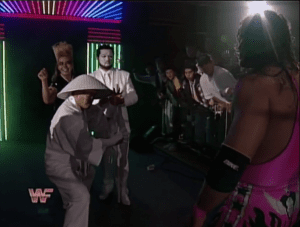 …while Hakushi and Shinja blocked the aisle to prevent Hart from committing a hate crime against the Women's Champion.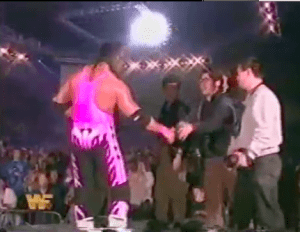 Hoping to clear up the racism allegations before their big event, the WWF hosted members of the Japanese press on the Superstars just one week before Wrestlemania XI. In a special ceremony, Bret was to receive an award… again. This time, it was for his "exemplary conduct".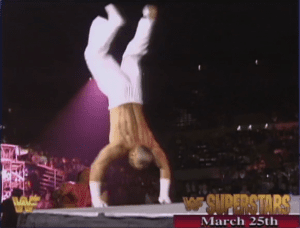 Unfortunately, two of Jerry Lawler's many Japanese friends, Hakushi and Shinja, interrupted the proceedings. Shinja told the Japanese representatives that Hart was a liar who hated Japan, while Hakushi put the boots to Hart and moonsaulted off the stage onto him.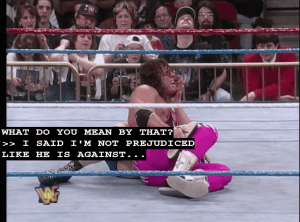 If Bret had wanted to put the accusations of racism behind him before Wrestlemania, he must have been perturbed at Jerry Lawler's commentary during his Mania match, in which The King immortalized this strange storyline for posterity. No wonder the Hitman doesn't want people watching this match (that, and it's garbage).
After Wrestlemania, Bret's feuds with Hakushi and Lawler continued, but the racial element was largely dropped. Months later, Vince tried to ret-con Hakushi's attack on Hart as an act of jealousy.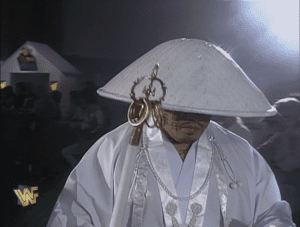 Hakushi peaked with his feud against Bret Hart and was paired with Barry Horowitz for the remainder of his WWF run, despite his sizable collection of brass rings.
As for Jerry Lawler, the King's beef with Bret reverted to the standard jokes about Helen Hart…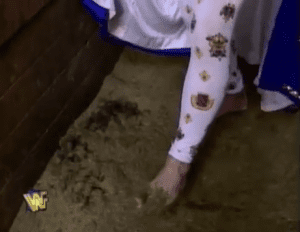 …then became all about feet as the two squared off in the infamous Kiss My Foot match at King of the Ring 1995.
And racism against the Japanese was never an issue in the WWF again…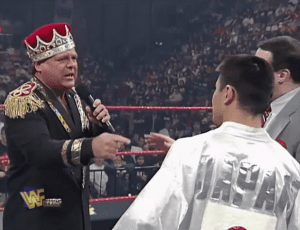 …until Lawler feuded with Taka Michinoku in 1997.