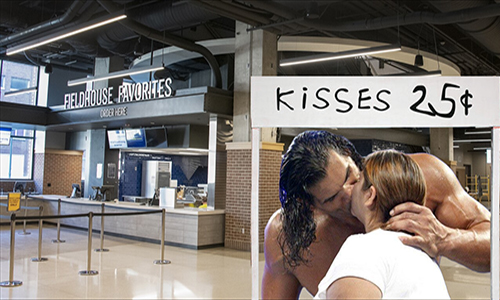 Indianapolis, IN – WWE has announced the return of The Great Khali for a special Valentine's Day edition of Monday Night Raw. The "Punjabi Playboy" will be stationed at a special "Kissing Booth" at the Gainbridge Fieldhouse. For a small fee, fans will actually be able to lay a smackeroo smackdown on the WWE Hall Of Famer.
"Nothing says 'love' like seeing your favorite WWE Superstars in action," say Chief Branding Officer Stephanie McMahon. "Valentine's Day and wrestling are a natural combination. What better way to celebrate this festival of affection and commercialism than smooching an actual WWE Superstar? We're calling it 'Headlocks and Lip Locks'. Bring money."
The Great Khali was a natural choice for such an event. Previously, WWE hosted a weekly Khali Kiss Cam segment where the seven-foot-tall lothario would kiss a woman from the audience. If all goes well, officials are considering making this an ongoing attraction.
Khali will be stationed outside Warehouse District BBQ in Section 15. WWE officials hope the smell of pulled pork sliders and the "Coronary Infarction Burger" will entice people to smooch the former champion. Copious amounts of lip balm and Binaca will be available.
While he is excited to kiss people from Indianapolis, Khali has explicitly stated, "No tongues."