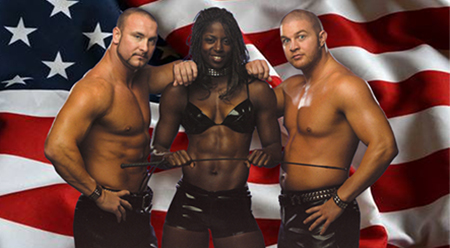 Columbus, OH – Following the success of this past week's The Great American Bash on NXT, WWE has decided to keep the theme going with a new event called The Great American Bashams.
Throughout the weekend, the WWE Network highlighted the career of Doug and Danny Basham. The former two-time WWE Tag Team Champions received the star treatment with an hour-long documentary. Interviews from WWE officials and former members of The Cabinet JBL, Orlando Jordan, and Jillian Hall, gave fans a behind-the-scenes look at the mid-2000s tag team.
The highlight of The Great American Bashams celebration, was their reunion on NXT. Sporting studded Uncle Sam-style hats and red, white, and blue ball gags, the tag team was joined by their manager Shaniqua. In a brief match, the leather clad duo easily defeated NXT tag team champions Imperium in a non-title match.
Executive Director of NXT Triple H explained the reasoning behind the move.
"Well, look. The Bashams were in instrumental part of Smackdown in fifteen years ago," said Triple H. "There's nothing more patriotic than a bunch of weirdos freely expressing themselves. Rockets red glare, sweet land of liberty. That sort of thing. Definitely not because Vince thinks it's funny. Not at all."
While there are currently no plans to continue featuring The Bashams, WWE Shop is already selling American-themed Basham riding crops, Basham sparklers, and Doug and Danny Basham gimp masks.