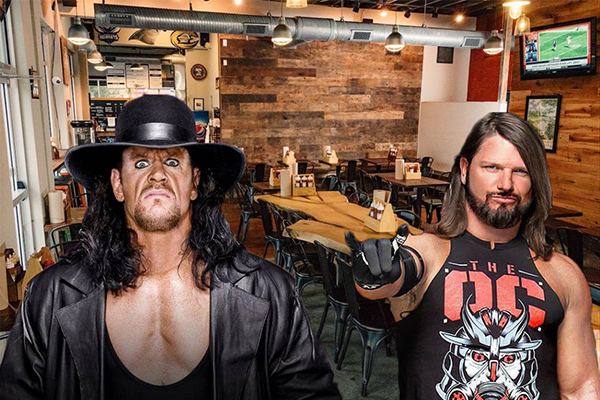 Winter Park, FL – Leaked footage of next week's Boneyard Match between The Undertaker and AJ Styles shows that the two Superstars will be duking it out in an empty barbecue restaurant.
The incomplete video, which first appeared on Youtube last night, features the competitors inside the recently shuttered Bubba's Boneyard Bar-B-Que on Pine Road. Although the footage appears to not be the final product, fans are able to see how WWE is trying to make this match feel like a movie.
The Undertaker slowly walks through the kitchen area as gas stoves shoot out flame bursts. Pots and pans ominously clang overhead. An open walk-in freezer creates an eerie and chilling atmosphere. In the main dining area, he meets a waiting Styles, who has bits of coleslaw in his beard. The Undertaker's iconic music crackles on the restaurant's cheap loudspeakers
As a stare-down ensues, Luke Gallows and Karl Anderson, dressed as waiters, deviously attack Undertaker from behind. The dastardly duo then forgets to bring him the extra napkins he asked for at the beginning of the match. AJ gains the upper hand with a flurry of kicks and pulled pork sundaes. Though staggered, Undertaker counters with a devastating combination of punches, "Old School", and fried catfish. Gallows and Anderson try to interfere again, but are stopped with a double chokeslam into a vat of Sweet Baby Ray's Hickory and Brown Sugar Barbecue Sauce.
With his opponent distracted, Styles removes an equalizer from his boot: a full rack of ribs. The meaty foreign object connects with the back of Undertaker's head, sending him crashing through a stack of chairs. Standing triumphantly over the Dead Man, Styles taunts Undertaker with his signature throat cutting motion. As he goes for the pin, Undertaker sits straight up, looks at Styles and growls "Sauce it!" The video ends before the match concludes.
WWE officials have confirmed that the footage is indeed from the match, but claim that it is not the finished product. They say that the match will have a "cinematic end featuring a plate of cornbread."