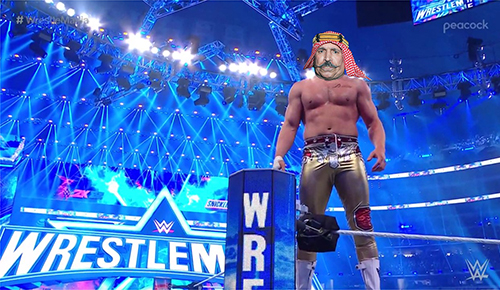 Dallas, TX – WWE Hall Of Famer fulfilled Bobby "The Brain" Heenan's prediction this weekend by finally arriving at Wrestlemania 38.
Eagle-eared fans fondly remember Heenan's call from the Wrestlemania X-7 Gimmick Battle Royale. The Iron Sheik shuffled to the ring so slowly that Heenan stated, "By the time the Iron Sheik gets to the ring, it will be Wrestlemania 38!" While many played the comment for laughs, it was actually the beginning of a years-long storyline.
Sheik's 'Road to Wrestlemania' began in 2001 at Houston's Reliant Astrodome. It has taken him twenty-one years to complete the trek from Houston to Dallas by foot. Despite being incredibly dehydrated and sore, the Iron Sheik interrupted a particularly boring in-ring promo from Rollins. The crowd roared with approval as made his way to the ring at a leisurely pace.
"Hold on, Bubba," called Sheik from the floor. "I break your back in a minute."
Several crew members and camera aided Sheik as he gingerly climbed the ring steps. Rollins politely held the ropes open for the former WWF World Heavyweight champion. After conquering the ropes, the Iron Sheik proudly waved the Iranian flag. After confirming that they were on a five-second delay, WWE announcer Samantha Irvin handed Sheik a microphone.
"Seth Rollins, you jabroni not good piece of garbage," insulted Sheik. "I come all the way from Houston to humble you in front of WW Universe!"
The Monday Night Annoyer tried to respond but was felled by a kick to the shins from a loaded boot. Sheik then placed Rollins in the slowest camel clutch ever applied. The former Shield member passed out, leaving Sheik standing mildly tall.
"The senior citizen dream has become a reality!" shouted announcer Michael Cole.
Riding high after winning, The Iron Sheik has already begun to lay the groundwork for a rematch at Wrestlemania 50.