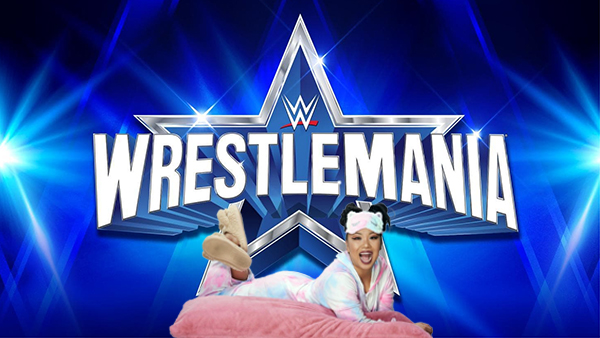 Queens, NY – NXT 2.0 favorite Wendy Choo is incredibly excited for Wrestlemania and has begun planning her watch party. Sporting a stupendous onesie and hugging a Roman Reigns body pillow, Choo expressed her overwhelming anticipation for the event.
"Oh my gosh, you guys. I am so ready for Wrestlemania this weekend," said Choo sleepily. " My bunny slippers are already on. I've got my weighted blanket and extra fuzzy beanbag chair ready. All my friends and stuffed animals will be there. It's going to be such a blast."
The Queen Of Comfy has begun preparing for the Showcase Of The Immortals.
"Turkey is roasting in the oven. Sleepytime tea is brewing. A bowlful of melatonin gummies is out for snacking. I even downloaded lullaby-style covers of my favorite WWE theme songs. The Choo Crew is going ready for Snugglemania this weekend."
Choo went through the two-day lineup with all the excitement of a person waking up from a coma.
"Wow, Charlotte versus Rhonda Rousey," said a drowsy Choo. "That's, like, so cool, you guys. Miz and Logan Paul taking on the Mysterios? Pffft. Drew McIntyre is taking on Happy Corbin. More like I'm-going-to-take-a-nap-py-Corbin. RK-Bro against the Street Profitzzzzzzzzz," snored Choo, drifting off to a peaceful slumber.
WWE officials hopes Choo wakes up in time for the show, but will try to keep quiet so as not to disturb her.