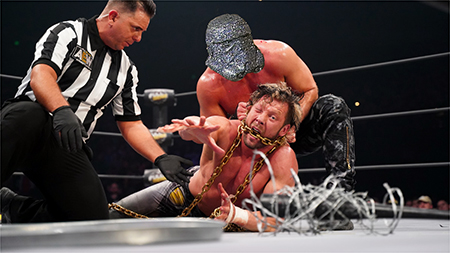 Jacksonville, FL – The bloody battle between Kenny Omega and John Moxley was abruptly interrupted by AEW's latest signing, The Shockmaster.
The two biggest events in AEW's history, the Exploding Barbed Wire Deathmatch and their latest signing, collided in spectacular fashion last night at Revolution. After a grueling bout that included rat traps, light tubes, and rubbing salt and vinegar chips into open wounds, Omega was ready to deliver his finishing move. Wrapping Moxley in barbed wire, Omega readied his opponent for the dreaded Winged Angel.
As the match rose to its crescendo a large explosion shook the arena. While most initially suspected the impact to be coming from the ring, their attention was quickly drawn to a large masked figure bursting through a side wall. Once the smoke settled, fans were shocked to see WCW legend The Shockmaster on the floor, searching for his mask.
"He's here!" exclaimed Excalibur. "It's AEW's newest acquisition, and he's here to shock the world. He is none other than the Sockmaster… I mean, Shockmaster!"
"Not again," said a mortified Tony Schiavone.
Putting his sparkly Stormtrooper helmet back on, Shockmaster spoke in a voice eerily similar to that of AEW CEO Tony Khan.
"So, you think you're The Cleaner?" pantomimed Shockmaster. "C'mon, you want a piece of me? Come and get me. Come after me, Kenny, I'm ready!"
The awkward disturbance stopped the match. Omega and Moxley, only minutes earlier inflicting unimaginable pain to each other, simply shrugged and left. The no-decision will naturally lead to a triple threat match at AEW's next event "Here's Another Guy From A Different Company" in April.
"Oh, cheese and crackers," said an embarrassed Shockmaster after the incident. "Shaq fell onto a table and everyone loved it. This is practically the same thing, right?"