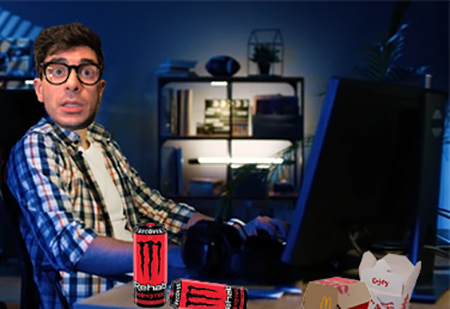 Jacksonville, FL – AEW boss Tony Khan has been working into the late hours, frantically trying to edit this week's episode of AEW: Dark.
Khan volunteered himself to edit the Youtube show this week after a large public outcry followed a disgustingly inappropriate rap from Max Caster. Unfortunately for Khan, the task has taken longer than expected.
"I never wanted to be in this position. Nine days. It feels like I've been editing this show for nine days," said a delirious Khan. "I thought I was the Forbidden Door. It turns out the Forbidden Door is properly synching sound and covering up botches."
The billionaire scion placed his weary head in his hands, struggling to stay awake. His eyes struggled to focus on the multiple computer screens in front of him. Tie eschew, Khan wiped his Cheeto dust-covered hands on his Dockers before restarting Final Cut Pro for the third time.
"The share operation 'Apple Devices 1080p' has failed? What does that mean?!" raged a frustrated Khan, typing the error into Google for help.
After sitting on the phone for hours with tech support, he started the process again. Empty cans of Rehab Monster Energy Strawberry Lemonade and old fast food containers crumpled to the floor as Khan pounded his desk in exasperation.
"How many times can you mess up a drop-down, leap-frog spot? Was this promo shot in a wind tunnel? Stop laughing, Taz! Shut up, Excalibur! Shut! Up!" screamed Khan, ripping off his Focal Utopia by Tournaire headphones and tossing them across the room.
With time running out, Khan began inserting star wipes to ease transitions and cover up glaring errors.
"Whatever. It's fine. I don't care anymore. Star wipe, star wipe, star wipe," said Khan, practically in tears. "People will love it because we'll tell them to love it. We'll make a new show exclusively for Twitch called 'AEW: Star Wipe'. We can start calling Jericho 'The Starwiper'! It's perfect! Perfect!" laughed Khan maniacally before curling up in the corner, crying himself to sleep.
Currently, Khan is still waiting for Youtube to finish rendering. AEW officials hope it will be done by Wednesday.