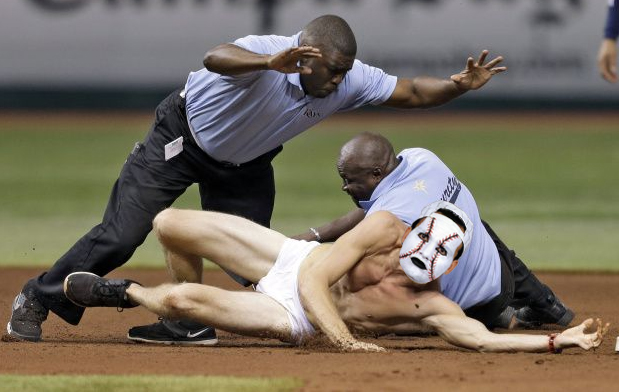 Bronx, NY – Former wrestler Abe "Knuckleball" Schwartz has received a lifetime ban from all Major League Baseball stadiums following an unfortunate Opening Day steaking incident. The gratuitous display occurred during the 8th inning of the New York Yankees – Boston Red Sox opener.
Stripping down to an off-brand pair of underwear and cleats, Schwartz ran through the grass. Fans booed vociferously as the 60-year-old pranced and preened. All Star right fielder Aaron Judge shook his head in disgust at the upsetting sight. Ducking and dodging several security guards, Schwartz tried to scale the wall into Monument Park. After several failed attempts, he was apprehended to the roaring approval of the crowd.
After an exciting extra-inning win by the Yankees, both managers briefly weighed in on the wrestler's escapade.
"This is…this is a dark day for baseball," said Red Sox manager Alex Cora after the game. "I mean, we're still going to try and see if he can steal signs for us, but it's still a bad look."
"I thought it was Mr. Met, but his head was too big," laughed Yankees manager Aaron Boone.
MLB Commissioner Rob Manfred declared the ban at an impromptu press conference Saturday morning.
"Major League Baseball strictly forbids fans from entering the field during play," explained Manfred. "We also frown upon implied nudity and garish face paint. Mr. Knuckleball is hereby banned from entering any MLB ballpark for life. We are also strongly recommending to our minor league affiliates to prevent Mr. Knuckleball from attending any concerts, 'Bark In the Park' events, or wrestling fan fests."
Schwartz's motivations for bearing almost all while potentially ruining a game between two storied rivals remains unclear. Despite being barred from all 30 stadiums, the "Most Violent Player" remained positive.
"What do you do when Abe Schwartz has three balls?" asked the wrestler before being taken away in handcuffs. "You walk him and pitch to the Goon!"