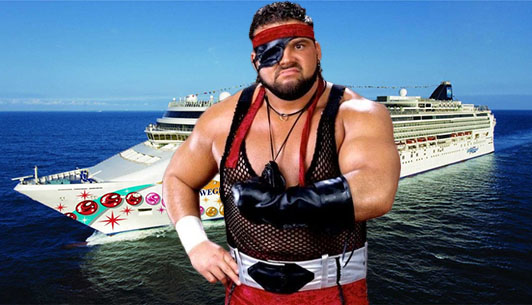 Miami, FL – Miami Police have reported that the Norwegian Pearl cruise ship that recently Chris Jericho's Rock 'N' Wrestling Rager, was stolen by former WWF star Jean-Pierre LaFitte.
The ship, which was used to tape the January 22nd episode of AEW Dynamite, was docked at PortMiami for an extensive hosing and scrubbing. Somewhere between Saturday night and Sunday morning, the ship was taken.
"It's standard procedure to thoroughly clean, delouse, and bleach the entirety of the ship after a pro wrestling event," said Norwegian Cruise Line CEO Harry Sommer. "Do you know how hard it is to get spray tanner and Four Loko out? We actually had to sink the ships used for the WCW Bruise Cruise. The smell of 3D Doritos and Buff Bagwell's hats was just too much."
Jericho admitted that he may be at fault for the theft.
"The details of the night are a little hazy for Le Champion," said a groggy Jericho. "We were hitting the shrimp cocktails and white wine spritzers pretty hard. The last thing I remember was Jack Hager doing a killer rendition of Rapper's Delight. I, uh, may or may not have left the keys in the ignition when we docked."
LaFitte, wearing Bret Hart's jacket, sent a video to Jericho and the authorities bragging about his crime.
"It is I, mon ami, the dread pirate Jean-Pierre LaFitte!" taunted the eye patch-wearing wrestler. "Mousier Jericho, I am obviously now in control of your Good Ship Lollipop, no? Quel dommage, but have no fear. I shall take good care of her as I sail the Seven Seas in search of treasure and indie wrestling titles. Au revoir!"
The ship was last seen headed towards the Bermuda Triangle before disappearing from radar. Police are currently questioning Paul Burchill for any possible leads.