Said it before, I'll say it again: your ol' pal RD Reynolds loves Christmas. And believe it or not, once upon a time, I loved pro wrestling! In fact, I loved them both so much that one blessed holiday season, myself and running buddy Trash Losagain combined our love for these two items into one magnificent display. We called The Wrestling Tree: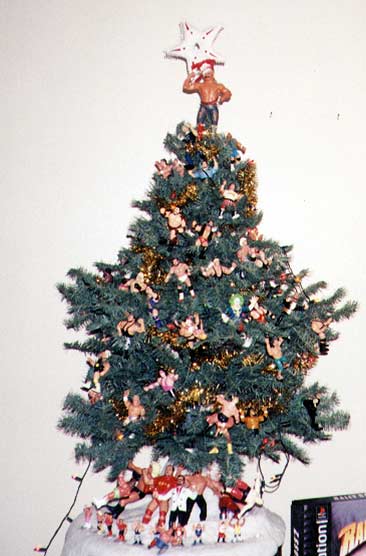 No glass ornaments clogged up our tree, oh no. Instead, we just shoved our favorite wrestling figures on the branches. You can look near and far, and trust me, you won't find a tree that features both Narcissist Lex Luger AND King Tonga. Go ahead, try. You will fail.
See, back in the day, there were no wrestling ornaments…nor any other Christmas-WWE tie-ins. We knew Vince was missing out on a golden opportunity, and it was only a matter of time before he figured it out. And sho' nuff, he has! Why just check out all the fantastic stuff you can get for the most wonderful time of the year:
Wow! Now that there's a stocking! I dare say that jolly ol' St. Nick himself would cream himself having the likes of Candice Michelle and Shawn Michaels staring at him from his mantle. Major props for WWE putting what appears to be El Santo on the toe.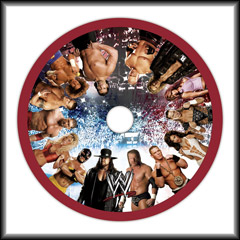 WWE Christmas Tree Skirt
No, that's not a DVD, kiddies – it's a tree skirt! You know, that thing you put around the base of the tree so Fido doesn't go over and lift his leg on it? Yep, that's a "tree skirt." I did not know that prior to visiting WWE's fine website. And what a killer tree skirt it is – after all, what says "MERRY CHRISTMAS" more than Carlito and the Great Khali? Sure, you might watch It's a Wonderful Life on Christmas Eve, but 'round these parts December 24 means repeat viewings of the Punjabi Prison Match. Khali-Lujah!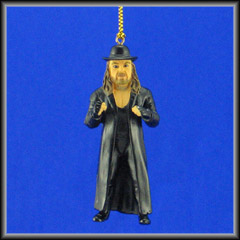 Undertaker Ornament
"Are you loyal to the "Phenoms Death Crew"? asks the helpful folks over at the Shopzone. "Whether the menacing superstar is "Living or Dead, it's still his yard." Celebrate this holiday season with this new Undertaker figurine ornament."
I like that we are supposed to celebrate the holiday season by being part of a "DEATH CREW!"
But maybe hanging undead zombies from the tree ain't what you need for Aunt Gladys. Then might we suggest this fine DX Snow Globe? "Shake things up this winter and watch as "D Generation X" brave the elements within this one-of-a-kind collectible!" While I wouldn't shill out the $25 for such an item, I would gladly donate that moolah to a fund that somehow puts both Shawn and Trips someplace out in the snow where they could, in fact, brave the elements, preferably for months on end. I'm thinking something like maybe Barrow, Alaska. Anyone else what to pony up some fundage?
You know, this crap kinda sucks. Surely there has to be better wrestling Christmas crap out there…let's see: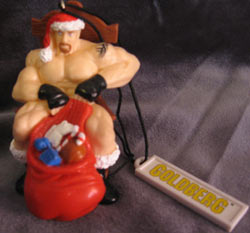 Goldberg Ornament
"Goldberg plays Santa with his bag of Toys" proclaims the ad. Hmm, I've seen Santa Goldberg before. It ain't pretty. And wouldn't something for Hannukah be more appropriate anyway?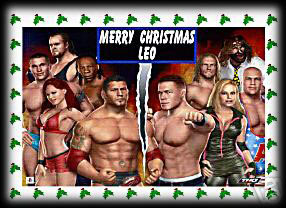 Handmade Large Greeting Card
Leo's Christmas will be Merry indeed if he gets this fine handmade Christmas card. And if bizarre renditions of Batista and Christy Hemme aren't up your alley, they can make cards featuring other celebrities, such as Abba, Barney, and Barry Manilow. You think I'm lying. Oh no. Read fer yo' self. After seeing all this other crap, I'm thinking an Abba Christmas card wouldn't be so bad.
Eh, I think I'll just go back to wrapping pipe cleaner 'round Dusty's neck.