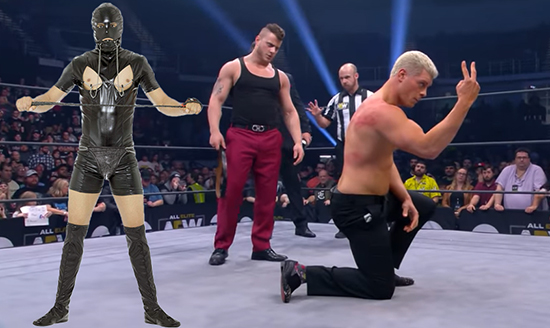 Chicago, IL – Following his brutal ten lashings given to him by MJF, Cody Rhodes has announced that their match at AEW Revolution will include a special guest gimp. Still sporting welts on his back, Rhodes announced the stipulation in an interview with Jennifer Decker.
"I gave my word that I would endure everything that MJF could dish out," explained Rhodes. "My word is bond and I took every stinging shot. You know what? As my skin burned and bruised, a wave a pleasure washed over me. MJF showed me that it can feel good to feel bad. It was like I was reborn!"
"At Revolution, I'm going to show MJF that I can dish it out as well as I can take it," Cody continued. "Bring your straps, MJF. While you're at it, bring a flogger, a whip, and some handcuffs. All the implements of pleas…I mean torture! Don't forget your chaps and little leather biker hat that says 'Daddy'. You want to know why? Because I'm bringing in a special friend to even the odds. I'm bringing in The Gimp!"
A mysterious man covered head to toe in leather joined Rhodes and Decker.
"MMMmfffmm ffrrruummphh hurrurruh," said the Gimp through his ball gag.
"That's right!" exclaimed Rhodes, slapping The Gimp's backside. "The Gimp will be there to make sure things stay…disciplined."
Reaction to the announcement has been mostly positive.
"I love it," said Dave Meltzer on Wrestling Observer Radio. "This is a classic angle that goes back to the apartment wrestling days. Cody has really done his homework. AEW is really great at keeping one foot in the past and one foot in the present. I can't wait for Revolution!"
"Gross," said MJF. "Super gross."