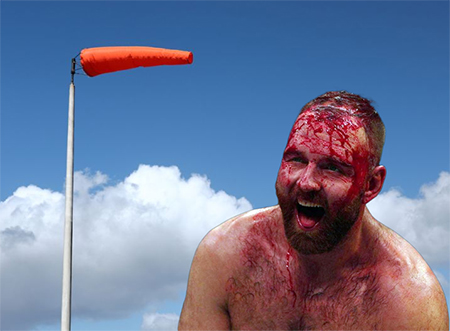 Chicago, IL – Former AEW Champion Jon Moxley was busted open early this morning after a gentle wind hit his face.
The injury follows Moxley's brutal battle with CM Punk for the AEW championship last night at All Out. The epic conflict saw the two former WWE stars giving it their all, leaving both competitors beaten and exhausted. The bodily harm endured during the bout left Moxley in a bruised and tender state the next day.
Moxley, known for his hardcore style of wrestling, was exiting his hotel when the act of weather occurred. Trees rustled slightly, a harbinger of the unmitigated violence about to occur. The cool September morning air was the perfect catalyst for lead of 12 Rounds 3: Lockdown to bleed profusely.
Onlookers gasped as Moxley's face became a crimson mask while waiting for the airport shuttle. One hotel guest pushed his continental breakfast away in disgust.
"Oh," muttered Moxley to himself before wiping his brow with the sleeve of his shirt.
"Stupid wind. I'll kick your ass," Moxley threatened, looking off into the distance, his fists balled up in anger. After several moments, Moxley finally relented.
"Yeah, that's what I thought, you natural movement of air," growled the former champion before getting into a cab and heading to the airport.
AEW CEO Tony Khan is currently considering a match between Moxley and the breeze for next week's Dynamite, now entitled "Break Like The Wind".