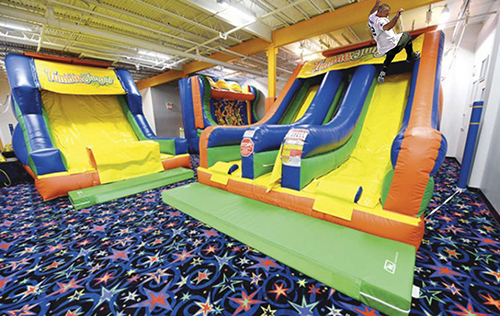 Norwalk, CT – Seemingly confirming rumors of his departure from WWE, Shane McMahon was seen wandering around southern Connecticut, carrying out daredevil-style antics in exchange for food.
Amateur video uploaded to Youtube have shown the younger McMahon jumping off bus stop enclosures, store awnings, and roofs.
"I've seen some crazy stuff in New Haven, especially late at night. I've never seen the son of a billionaire dive off a taco truck just to get a burrito supreme," said a stunned Patrick Sapp.
"Then he limped to the next truck, did a swanton off the roof, and grabbed a soda. It was wild!" exclaimed Carrie Sok.
McMahon's high-risk antics even disrupted a local gymnastics center.
"We get all sorts of types coming in here. I assumed he was with a kid's party or something," explained Tumble Jungle manager Alicia Gutierrez. "He looks pretty disheveled so I offered him something to eat, but he mumbled something about 'being one of the boys' and 'earning his keep'. Before I knew it, he was on top of the Gymboree."
According to several eyewitnesses, McMahon climbed to the top of the indoor jungle gym. He posed dramatically for several seconds and leaped into the ball pit below. Stunned onlookers watched as McMahon was helped out of the ball pit by two Tumble Jungle associates. Struggling to his feet, McMahon handed his phone to Gutierrez and asked her to play his "Here Comes The Money" theme song while he ate in silence.
Police and AEW fans are on high-alert for more death-defying dives from Shane McMahon over the next few weeks.