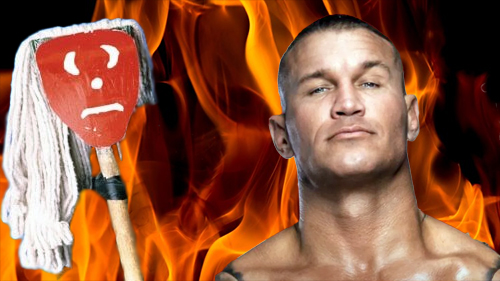 Orlando, FL – Randy Orton's fire-fueled frenzy continued this week after he set beloved superstar Moppy ablaze during Legends Night.
The gathering of legends, meant to honor former stars and definitely not to boost ratings, started off as expected. Icons such as Hulk Hogan, Ric Flair, and Alicia Fox thanked the nonexistent crowd for their support and well wishes. Hillbilly Jim blew into a jug while Sgt. Slaughter played his washboard and Ivory danced a jig. Before Michael Hayes could read from his new book of poetry, Orton's music hit.
The pyromaniac Apex Predator, who recently burnt The Fiend and Alexa Bliss to a crisp for the entertainment of less than 2 million people, slowly sauntered to the ring. Twenty minutes later, he finally entered. The former champion scanned the ring until he set his sights on his next victim: Moppy.
Legends scattered from the ring as Orton grabbed the beloved mop. The Thunderdome screens turned black as cameras zoomed in and out in nauseating fashion. After several frustrated clicks on a Bic lighter, Orton's face illuminated in a sinister glow. Announcer Michael Cole pleaded for Orton not to do it, but his cries were ignored.
Moppy's wooden body and microfibers acted as a natural accelerant. Flames rose as thick, black smoke filled the arena. A defiant Orton posed over the charred corpse, raising his victim count to three.
With no end in sight to his rampage, WWE officials have discussed possible disciplinary options.
"If Randy Orton lights two or three more people on fire, we might have to fine him," said Vince McMahon.