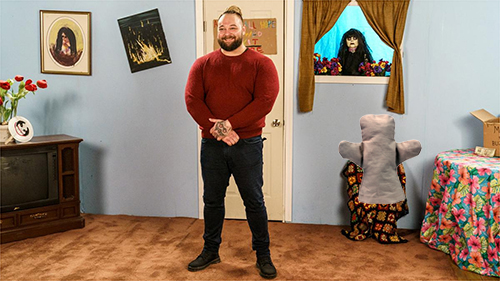 Snake Bight, FL – Bray Wyatt's Firefly Fun House has grown by one with the addition of his newest friend, The Phantom Fan. The featureless Phantom Fan joins fellow Funhouse friends Ramblin' Rabbit, Sister Abigail, Mercy, Huskus, and Wobbly Walrus.
"Yowie, wowie!" exclaimed Wyatt. "Phantom Fan, I haven't seen you since Wrestlemania! Welcome to the Firefly Fun House! Now that you've show up, the fun can really begin."
"YAY!" cheered the puppets.
"Maybe Phantom Fan has been here with us for longer than we've known," said Wyatt in a sinister tone. "The arenas have sat empty for months, but Phantom Fan was always there. Filling the void. Calling out to each and every member of the WWE Universe. An avatar for their frustrations at a company that routinely ignores their wishes. A representative of a vastly dwindling audience that has given up on the thing they love because of bad booking, worse creative, and a general contempt for all things that make wrestling great."
Ramblin' Rabbit, Sister Abigail, and Mercy began to shake in terror.
"Phantom Fan is every single person who has become fed up and dismayed with the endless cycle of boring matches, ridiculous storylines, and horrible comedy. Each time an all-time low rating is reached, his power grows. Soon, he and The Fiend will be one, ready to send this world into oblivion."
"I'm just kidding!" laughed Wyatt, the Fun House lights brightening. "We'll just go to Saudi Arabia a few times and everything will be just swell!"
"YAY!" cheered the puppets.
"WWE is an essential business! Get back to work or you're all fired!" yelled The Boss.
"Ouch!" giggled Wyatt. "Better do what The Boss says, guys, or else you'll be fired during a global pandemic while the company makes record profits!"