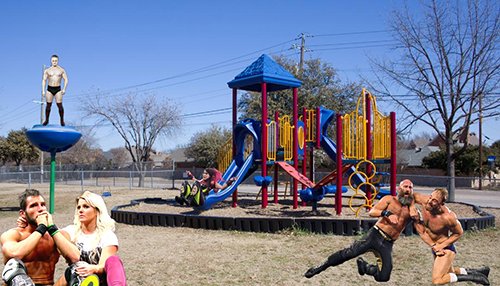 Winter Park, FL – Further changes have been made to NXT this week featuring a new, more colorful, kid-friendly set. Among the additions are a full-sized jungle gym, a slide, and a ball pit.
"The old NXT was too dark, too dingy," explained WWE CEO Vince McMahon. "I moved sports entertainment out of the smoke-filled bingo halls in the 80's for a reason. If we want to attract the younger demographics, NXT 2.0 needs a splash of color. A little pop. The old razzle dazzle."
Along with a new logo and a push for different wrestlers, officials believe the new changes will bring in a new audience.
"Everyone wants to be a WWE Superstar," said WWE Chief Revenue Officer Nick Khan, contrary to recent events. "For too many years we've been saying 'Don't try at home.' That no longer works for us. We're shifting the paradigm with the new NXT. We're got twisting slides, climbing bars, ropes, even a little tree house. Now, children will see their favorite future stars doing maneuvers off things they can find at their local playground and they'll want to do it too. That's synergy!"
The new direction for WWE's developmental show has been helmed by Executive Vice President Kevin Dunn.
"Wrestling is so yucky," said Dunn. "WWE is sports entertainment and what's more entertaining than a jungle gym? Running around, mindlessly swinging and falling off stuff that we got from a closed Discovery Zone. It's perfect for what we're trying to accomplish. Plus, now that certain NXT stars are gone, we're now allowed within 500 feet of playgrounds."
Fans can expect to see their favorite NXT stars using the set in fun and innovative ways. Visions of WALTER splashing around a ball pit, Io Shirai diving off monkey bars, and LA Knight getting stuck in a slide have already sent the internet wrestling community into a frenzy.