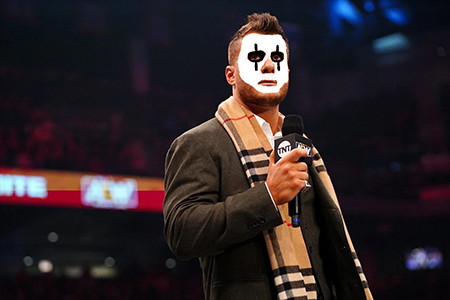 Rochester, NY – All Elite Wrestling star MJF was recently seen hanging out in the rafters of the Blue Cross Arena this past week at Dynamite. The unexpected appearance and startling new look has sent wrestling world into a frenzy.
Although he has not been seen on AEW television since his foul-mouthed promo directed towards Tony Khan, eagle-eyed fans were thrilled at MJF's return. Blurry footage of the wrestler sprang up on social media over the weekend confirming this new, dark persona.
Sporting a Burberry trench coat and Dior black and white face paint, MJF silently watched the evening's matches. Occasionally pacing back and forth, MJF would point a black baseball bat at various wrestlers below. He was eventually joined by a large bird, possibly a vulture or condor.
Speculation has run wild with fans trying to determine if he will be returning soon. Some believe it is a sign that MJF will be rejoining the fold. Others think this could be the start of some sort of new faction. For his part, Tony Khan has instructed his cameras to only shoot MJF for a few seconds and for his announcers to constantly ask whose side is he on.
When questioned about the new-look MJF, Sting said "If he starts repelling down to the ring, I'm suing."