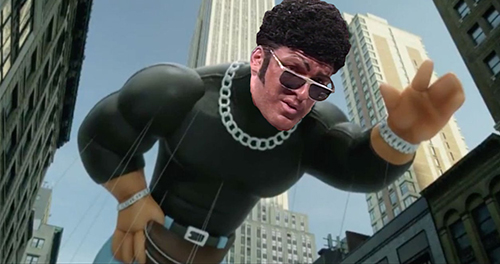 Greenwich, CT – A giant balloon of WWE Hall of Famer Triple H dressed as The Rock debuted at this year's Greenwich Thanksgiving Day Parade.
The balloon, referencing the infamous in-ring segment where Degeneration-X impersonating The Nation of Domination, featured WWE Executive Vice President Triple H dressed up like beloved movie star Dwayne "The Rock" Johnson.
Sporting a fake wig, sunglasses, and a very questionable tan, the Triple H Dressed As The Rock balloon floated through the Greenwich city streets. Children oohed and ahhed as parents murmured uncomfortably to each other. Many feared that an X-Pac Dressed As Mark Henry balloon would appear as well.
"Obviously, this is an incredible honor," said Triple H. "My beloved hometown recognizing my most memorable wrestling moment is truly special. I can't believe they even got the giant fake raised eyebrow right!"
"Normally, we don't even have a Thanksgiving Day parade," said Greenwich mayor Fred Camillo. "Some of the more well-established families…look down on parades, festivals, and having fun. A large donation from a mysterious benefactor named T. Ryzing donated all the money specifically to hold a parade. As long as you have money, you can do whatever you want here."
The Greenwich Thanksgiving Day parade featured the Greenwich High School Marching Band, Shriners, and a float being driven by the Gobbledy Gooker.
The parade, dubbed a complete success according to WWE's press release, is expected to continue next year. Fans are already hoping for balloons featuring Katie Vick and a handful of spaghetti.